Here's part one of a two part interview with authors, C. S. E. Cooney and Carlos Hernandez!
Listen to "Interview with C. S. E. Cooney and Carlos Hernandez (Part 1)" on Spreaker.
---
Claire and Carlos are both multi-talented creative powerhouses. Here's a picture of some of their books: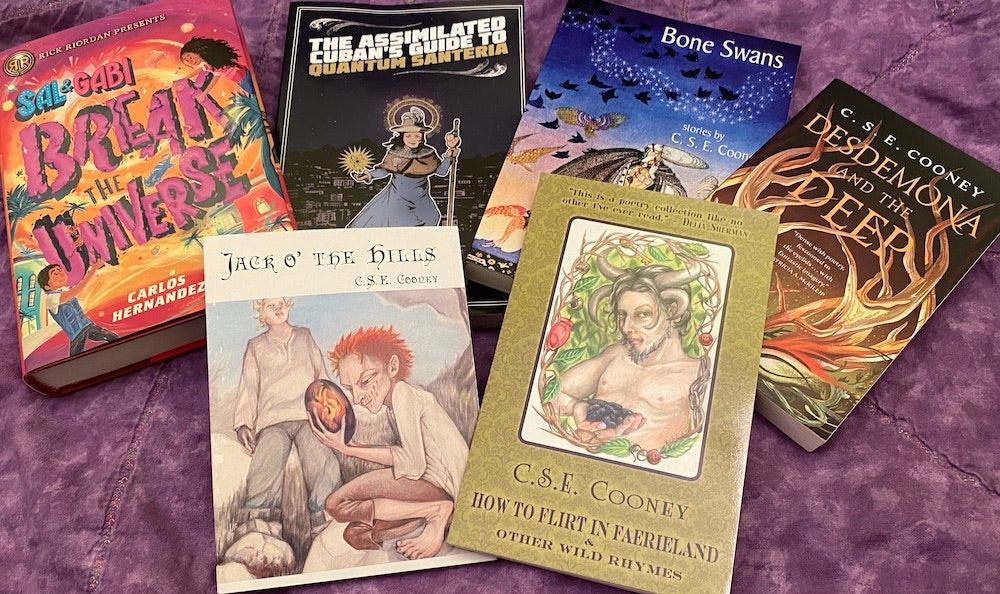 Image Description: Sal and Gabi Break the Universe and The Assimilated Cuban's Guide to Quantum Santeria by Carlos Hernandez and Jack O' the Hills, How to Flirt in Faerieland and Other Wild Rhymes, Bone Swans, and Desdemona and the Deep by C. S. E. Cooney.
Carlos's Sal and Gabi Break the Universe just won the Pura Belpré Medal for Latinx creators whose work portrays Latinx experiences well for young readers! And when I say he just won this award, I mean this happened literally yesterday at the American Library Association's Midwinter conference in Philadelphia. How exciting!
In 2016 Claire's Bone Swans won the World Fantasy Award for Best Collection. But they don't JUST write books! Both of them are poets, musicians, screenwriters, game writers, and more! Claire has also narrated over 100 audiobooks, and has an alter ego as a rock star named Brimstone Rhine.
In my last post for my paid subscribers, I talked about the common advice that creative people should choose one niche in which to specialize. In this interview, we're exploring just how many grains of salt you can take that advice with.