OMG Julia Podcast
Iori Kusano talks about their novella, Hybrid Heart
Today I have with me Iori Kusano to talk about their novella, Hybrid Heart, which is coming out from Neon Hemlock.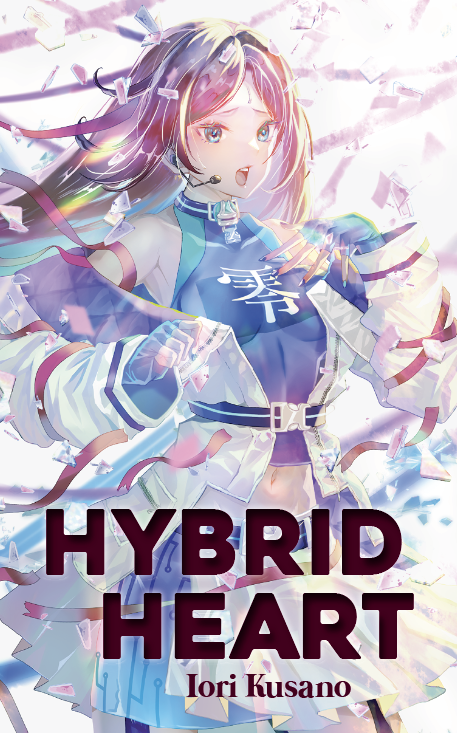 In this episode of the OMG Julia Podcast, I have a conversation with Iori Kusano about their novella Hybrid Heart, about which author of the Murderbot Diaries series, Martha Wells, said, "A near-future but all too contemporary story of how young women are  exploited and manipulated, this searing and ultimately hopeful story is an absorbing read."
Hybrid Heart officially releases on the 28th, so you still have a few days to preorder it over at Neon Hemlock! You can also visit Iori's bibliography to get more of their stories right away!
Listen to "Iori Kusano talks about their novella Hybrid Heart" on Spreaker.
You can listen to this interview on Spreaker, or read the full text of it below.
Content note: Because of the nature of the subject matter of the novella, we are going to get into some topics that might be a little bit difficult for some people to listen to, and I wanted to warn you up front. Those include emotional abuse, eating disorders, the objectification and commodification of women, and other things related to that, and especially in the context of pop idols.
The following are some links to things Iori references in our conversation:
Morning Musume
Yaguchi Mari: https://www.youtube.com/watch?v=oag0-v9SuaE (lead singer with brown updo)
Fujimoto Miki: https://www.youtube.com/watch?v=-vCvbMEZV6I
Ishikawa Rika: https://www.youtube.com/watch?v=UdpqXcQ3CYc
AKB48
Sashihara Rino: https://www.youtube.com/watch?v=XOevfPVGOFM
Minegishi Minami: can't find a solo song, but there's an english language CNN report about the fallout of being discovered dating, where she shaved her head and made an apology video to her fans: https://www.youtube.com/watch?v=TErrnKeRMqM

---
Transcript:
juliarios
Welcome to the OMG Julia podcast, where we discuss creative lives and processes. I'm your host, Julia Rios, and today I have with me Iori Kusano to talk about their novella, Hybrid Heart, which is coming out from Neon Hemlock. It's a really great novella. I have had the chance to read it early, but we're not going to spoil it in this podcast, so you can listen to it even if you haven't read it. Because we want you to learn about it and be excited about it and pre-order it. But we don't want you to be spoiled for it. However. We do have some content warnings. Because of the nature of the subject matter of the novella, we are going to get into some topics that might be a little bit difficult for some people to listen to, and I wanted to warn you up front. Those might include emotional abuse, eating disorders, the objectification and commodification of women, and other things related to that, and especially in the context of pop idols. So just FYI, if those things sound too difficult for you and you don't want to get into them, you can opt out now, or at any time.
With that said, let me welcome Iori. Welcome, Iori!
iori
Happy time zone!
juliarios
Yes, happy time zone, you say, because you are in Japan and I am in Boston, so we are... I think we're 12 hours to 14 hours apart maybe?
iori
14. I mean, it floats depending on where we are in the daylight savings time cycle. That always throws me off.
juliarios
So it should be what? 10:20am your time right now?
iori
It is ten twenty for my time.
juliarios
Yes, and for me it is 8:20pm, so 14 hours difference. Thank you so much for taking time out of your day to be with me.
iori
Thank you for having me.
juliarios
Do you want to tell us a little bit about your novella? Just give us a little elevator pitch.
iori
So, what happens in this story is that an idol has just a really bad few weeks at work. And what it's about is my deep-seated anger towards everyone who ever made me perform sexual and emotional availability for their social or economic benefit.
juliarios
All right, I feel like this is a good start! Can you explain pop idols for anybody who's listening and hasn't any familiarity with that term?
iori
Yeah, because you know pop idols here are a little different than they're treated in America, right? I mean okay, in America, we had Britney Spears. We had the weird countdown to Britney Spears turning 18 that was extremely creepy. It's worse over here because like in America we let Britney Spears date. That was definitely a thing she was allowed to do. And in the modern era I mean a lot of the companies in Japan say that there isn't a dating ban anymore. But in practice, there is absolutely a dating ban, even if it's not on paper, because fans are super gross and entitled, and if they find out that their favorite pop star has a boyfriend or something, they will do completely unhinged stuff like shred all their merchandise, set things on fire, stalk the idol and the boyfriend on Twitter and harass them...
There's this horrific culture of like public ownership of an idol where she's not allowed to have a private life. She's dating all her fans. And, I mean, male idols get this, too, but it very much happens on a huge, weirdly socially acceptable scale to female idols. Like, when a male idol gets a girlfriend and his fans freak out about it, the public reaction is usually "look at these unhinged jealous women" whereas when a female idol gets a boyfriend and her fans freak out, there's this weird split in the coverage of people who are like "these men are entitled and you know, possessive and very scary" and "yeah, but he spent so much money you can kind of see why he feels betrayed" ... and I'm just sitting over here with my head in my hands like no, no, it's still creepy and like this also sounds super hetero normative because it is That's also just a whole thing.
juliarios
Oh gosh. Yeah, definitely still creepy.
iori
So I mean, the machine of idol music is really powered by a lot of very toxic heteronormativity gender stuff. The image of romance. Parasociality. Very creepy, very scary, very meaty. Like there's a lot to unpack there and it's a hugely profitable industry in Japan. I mean, the government's really embraced this cool Japan push where our soft power via media is one of the big selling points that brings in tourism money that brings money through exports of toys, books, CDs, games... So because it's such a massively important pillar of the economy, people are not terribly inclined to fix anything with it.
juliarios
Right. And they are more inclined to do the things that actually lead to treating women like property.
iori
It gets worse and worse, honestly, because the industry is just growing. Like, at the rate it's growing, in 30 years I think they'll probably just make all the kids do a required like 2 years stint as an idol to have enough of them. That's the only way we're going to meet demand.
juliarios
My gosh wow, all right. Well, we'll get into more on all of that in just a little bit but first before we go into that, this is usually a podcast where I talk about people's creative processes and breakdown how it is that art gets created, so I'm wondering if you could tell me a little bit about what your process was for writing this novella. I mean, I don't know if you had an outline, or if you are more of a discovery writer. That's one thing we could talk about. We could also talk about any writing rituals you might have that help you get into the mood, or what you do when you get blocked. Any kind of insight into how how this came about and what was it like writing it.
iori
Oh, I am fully the worst person in the world to talk to about process. Like if you ask anyone I went to Clarion West with, they will tell you that. They spent a lot of time seeing me cry because I would ask a teacher or guest lecturer, "How do you find your process? How do you create your process?" And I would be told that is an individual problem and that is for you to solve, and then I would go off and just burst into tears about it. Because all I want is for someone to solve the problem of process and give me a consistent process that lets me consistently make the words go. So there were points where I got real desperate during this, like, we're lighting candles. I bought a crystal.
juliarios
You bought a crystal.
iori
Yes, I got so upset during this that I started just like ... I went on Etsy. I researched different kind of crystals. I bought a moonstone to try to like unblock my creative processes. I meditated with it. It did nothing. A lot of my process is like sit there for half an hour, burst into tears, get up, and cook some food about it.
juliarios
Oh no, oh no. I mean, that's a legit process. I feel like bursting into tears, cooking food... Just yeah.
iori
You notice though that writing isn't part of that process.
juliarios
But you have to have your emotional time and then you have to eat to replenish the energy that you spent crying. Then once you've kind of done all of that, maybe you're in a better place to actually get the words on paper.
iori
Yes, totally, I've generally found that.
juliarios
Well it obviously worked because you have a full book.
iori
I mean, novella, right? So It's like it's a book. It's not what a lot of people traditionally consider book size, so when a lot of people I know IRL found out I had a book coming out, I've had to do a bit of setting expectations here.
juliarios
It's still a book. It's going to be a physical paper book that people can hold in their hands.
iori
Yes, yes, I'm still freaking out about that A little.
juliarios
Ah, so does this mean that I'm guessing you don't have like an outline and a plot starting out?
iori
Um, you know, this was originally going to be a short story and it was originally going to be about something completely different.
juliarios
Whoa. Really? What was it originally going to be about?
iori
In the original short story, an idol inherits a bunch of money when one of the middle aged men who is her fan suddenly dies.
juliarios
Oh wow.
iori
And she is able to use that money to take a sabbatical to look for the other half of her idol unit who previously retired and it was going to navigate parasociality on a more interpersonal level. The protagonist was going to be going out and interacting much more directly with people who have the preconceived notion of who she is, based on her public persona.
juliarios
Right. Huh! Ah, but this obviously turned into a very different story, because in the story that we have, and I don't feel like this is a spoiler, we're mostly in the world of the pop idol that is carefully curated for her by her management.
iori
Right. It became very entrenched in the industry as I worked. Partway through, I was able to get an outline going and then, after about I want to say 20,000 words, when it looked lightly complete, was when I went back to the outline and figured out where I could safely insert B plot material. And then I would just go back, and in revisions this is something I'm very particular about, and it's terrible, but the only way that I can do revisions – particularly when I'm rerouting stuff or inserting new material – is I have to do it longhand. And frequently that will require me like copying out a couple paragraphs of the draft.
juliarios
Oh Wow. Okay.
iori
Up to the point where I'm going to diverge from it, and then going off on a new tangent on paper. This is a terrible, terrible, terrible way to revise. I do not recommend it at all. But it's also the only way I'll ever get through my ink collection.
juliarios
So do you have special pens that you use? Are you a fountain pen person?
iori
I am one of those terrible fountain pen people. What I am using varies a lot depending on what I'm doing. Like if I am editing directly on the page, then okay, that's time for Twsbi eco extra fine point with red or purple or pink ink. Something really eye catching that I will always catch, but a fine enough tip that I can get really a lot of stuff into the margin.
juliarios
Ah, important. Yes.
iori
I'm very picky about that kind of thing. But also I think I need to make the process of writing aesthetically pleasing in order to engage with it, because otherwise it's unpleasant all around, so it needs to at least be pretty.
juliarios
Yeah, no, that makes a lot of sense. That's a really cool idea. I feel like that's a good potential exercise for anybody who's listening and feeling a little blocked, is if you have a piece that you can print out, and you want to like make notes on it in a different color and choose the prettiest color, that would be one way to get yourself into it. I feel like I should try that. I have something that I've been trying to revise, and I've just sort of been banging my head against a wall on it and I'm like ... maybe I should pull out a pretty color ink and use a fancy pen. I don't have any fountain pens, but you know maybe I can go do some research and buy one on Etsy.
iori
But the doodling also helps. Another thing I do sometimes when I'm rough drafting is stickers. If I am having trouble getting in stuff down, I will put a sticker partway down the page and be like you only need to write as far as the sticker today.
juliarios
oh yeah.
iori
Which is a lot easier for me to track than stuff like word count. If I try to quantify things through word count, I'm going to have anxiety about it. That's just the person I am.
juliarios
But if you just have to go down to that sticker, do you find that if you set that kind of goal, you end up surpassing it?
iori
I mean, that's so wibbly, based on a lot of other factors like when did I last eat, how caffeinated I am, is there something I'd rather be doing... There's always something I'd rather be doing.
juliarios
Hahaha, true. I totally understand that. So how many drafts do you think that you go through before you consider something ready to show your agent, your editor, anyone in particular that might be considered sort of like a new set of eyes?
iori
I'm very much an edit as I go person. So usually I get like rough draft, couple rounds of edits, a round of revisions – I tend to classify edits and revisions separately, where edits I'm working with what I have, and revisions I am diverging and creating new material. So yeah, like rough draft, couple rounds of edits, round of revisions, round of edits on that, and then I'll usually show it to a couple friends.
juliarios
And then after you do that, do you end up doing full revisions again?
iori
I mean, it depends on what the feedback I get about it is, but yeah, usually.
juliarios
Interesting.
iori
And at that point hopefully I put the thing on sub. I actually acquired my agent in sort of in the middle of doing the contract for this novella, so I have not yet learned how to navigate when will I show this to my agent. That's a problem for future Iori.
juliarios
Ah, fair enough fair enough. So what was your process like with actually editing this? I'm assuming you worked with dave over at Neon Hemlock. How much editing did you go through after you submitted it and he accepted it? Was it like multiple drafts or was it kind of like you had done the work ahead of time and it was mostly just smooth sailing and line edits.
iori
We threw it in a Google doc and kind of just jammed together for a while. zthere was a few sections that I did more substantive of handwritten revisions on, but for the most part, I would say that a lot of the work we did was at the line level. Just dave is great at clarifying things or pointing out to me what is so hyper specific about the setting that people aren't going to understand it. Which was tremendously helpful.
juliarios
Yeah, yeah, that's a really good and useful type of feedback. I'm always curious about these sorts of things and I imagine that a lot of people who are listening might be as well, because I know that for a lot of people the process of a book getting published is pretty opaque. It's like they just appear magically on shelves and...
iori
I Still feel that way. Honestly.
juliarios
I remember starting out as a writer and thinking like oh what happens is you know you write a novel, probably during nanowrimo, and then you submit it and then it gets published and like there's no editing after you finish it. Like after you get an agent, the agent loves it, so therefore you're done, right? That's the end of your work on that book! And that is not how that works at all. But I remember a time when I thought, okay, yeah, that's probably... That's it. You just write it once and you're done. In fact, as far as I can tell from my experience, and from the experience of every other writer I've talked to, at least 99% of the time, it's actually more the case that you spend a lot of time writing your book to begin with and then you maybe have an offer of representation and revise it a bunch based on your agent's feedback and then maybe you sell it and you revise it a bunch more based on editing letters and it's like oh yes, it takes multiple years and multiple revisions to get one shiny book.
iori
Yeah, yeah, and like that's something I really struggle with. I mean I knew what was going to happen, but repetition is one of the things that kills me inside. So having to look at the same piece of text over and over and over is not a pleasant experience. I've all parts of the draft put the first draft particularly the dialogue I did write in Japanese and I have those say. Somewhere but I have also made a promise to myself that I am never going to be the translator for my own work because it would feel like doing more revisions I think the only case in which I would agree to do it would be if I could get the publisher to let me do different endings and then just you know set off a fandom war.
juliarios
Wow. Ok. Oh fascinating, or maybe make it a choose your own adventure.
iori
Right.
juliarios
I have some suggested endings but I don't think I can say them because they'd be all spoilers.
iori
Oh there is completely an alternate universe where this is the first third of a full novel which diverges immediately after chapter 7, and it turns into just cyber punk Kill Bill.
juliarios
Ooh.
iori
But I couldn't get it right. Like when I tried that, I could not land it. It felt cheap and hollow every time. So what you read? That's what we get now and maybe if we're all very good. We can get the murder cut in 10 years.
juliarios
Ah, excellent. Well, I'll look forward to that one for sure.
Okay, so I feel like we're kind of edging back into the topic of what the book is actually about and I think this is a good time to segue over into talking about how you decided to write about pop idols and how much of what you wrote is true to life versus like how much you've made up, especially considering that you've got a like a near future setting?
So I feel like I've asked you two different questions here and you can kind of jump into them as as much or as little as you like. One is how did you decide to do this and why? What was it that spoke to you and why did you want to write about this subject? And two is sort of like how much of what you wrote is just pulled directly from what already exists and how much is stuff that you thought of for the future? And I think that this is probably also a place where we're maybe going to get into some of that upsetting stuff that I mentioned earlier.
iori
Well like how do I decide to write about anything? I turn over the junk drawer of my brain I see what falls out, and then I see what bits I can jigsaw together into a coherent picture.
juliarios
Fair enough. Have you always enjoyed listening to popular music, and do you have any favorite pop idols of your own?
iori
So I was always a pretty huge Morning Musume fan, which was very much the vanguard of the giant idol machine. I mean, one can argue that it really started with Onyanko Club, which was helmed by Akimotal Yasushi, who became the guy behind a AKB48, which is the current idol juggernaut franchise. But Morning Musume was the giant hit that took over the country in the early two thousands, and I mean they started with like 5 girls, got up to close to 20 I think at the time I was following them, and culture around it was very fascinating. Because everyone had their favorite, right? Their oshi. And each girl had her special official nickname, her signature color... There is a subculture that has its own sort of artistic choreography called wotagei, which is light stick dancing in set choreographies designed by the fans for songs.
People get really obsessive about this stuff, and when I was young like I definitely wanted to be an idol, and when I came back to Japan a bit more than five years ago, I did wind up signing in a modeling agency, and part of that is they sent me on a couple auditions, none of which I passed of course. Which honestly very grateful in hindsight. For once the finger on the Monkey's Paw did not curl for me.
juliarios
Ah, excellent. How much did you know about what it was actually like before you started writing this book?
iori
Quite a bit actually, because I need to emphasize how much I'm not joking when I talk about how many idols there are. Because like not everybody is at the AKB48 level, right? There are lots of smaller groups. There are underground idols in small clubs and venues and it was just a constant thing in my life that you know you're out somewhere and you meet a girl who used to be an idol and quit because the pressure was too much, or you meet someone who is like, "oh yeah, my cousin's an idol. I'm really worried about her." So because I'd talked to people whose family members had been idols, or who had quit it themselves, something that was on my mind a lot was that – okay we have to back up and say that even though I'm non-binary, even if I try to be out in my personal life, it's not something that's respected or acknowledged. The people I interact with IRL are like I'm a woman and they're going to treat me like a woman and any insistence that I'm not a woman is me you know, just trying to dodge the rightful dose of sexism that is my due as a woman.
juliarios
Oh god.
iori
So because of that, and because Japan is very very aggressive about gender, I Realized that a lot of what idols go through is just a heightened version of the pressure that was being applied to me regarding how I'm supposed to present myself. How much I'm supposed to weigh, how available I'm supposed to be to other people... and I mean another thing I have to acknowledge in the process of that, of course, is that these expectations are enforced more rigidly towards me because I'm mixed. Essentially, because I deviate by being mixed, I am more actively pressured to conform in all other ways to demonstrate that I am a proper person and that I am behaving correctly as a member of society.
juliarios
Right.
iori
My ability and/or willingness to act the part of a thin pretty woman is essentially the major determining factor of whether or not other people find me socially acceptable.
juliarios
Right. So I guess kind of what I'm hearing here, and feel free to correct me if I'm wrong, is that your experience of being expected to perform gender is maybe one of the things that really drew you to writing about specifically pop idols.
iori
Yes, totally.
juliarios
I think it's really interesting because you don't say that the idol identifies as anything other than a woman. Like she's always using she/her pronouns, she's treated like a woman, and she doesn't seem to think of herself as not a woman... but in some ways I would say this book is definitely also clearly nonbinary because it's like it's examining so much the gender thing, and I don't think you can kind of like separate that from the experience of feeling like I'm trapped in this and it's all a performance.
iori
Yeah, like I mean for me I've always felt gender is a performance. The audience is not enjoying my performance. They are throwing tomatoes, but no one is letting me leave the stage.
juliarios
Um, ah this is too accurate.
iori
I just have to stand here being pelted with tomatoes.
juliarios
Oh no, oh this resonates very well with me.
iori
And like you just find yourself praying for that guy with the giant hook, right?
juliarios
Ah, just like take me offstage, I don't want to be here. Nobody likes it. Ah I don't like it and no one else does either! Why is this happening? Oh yeah.
iori
Exactly. None of us are enjoying this show bring the curtain down.
juliarios
Yeah, and then of course the kind of the horror side of the pop Idol situation is of course for pop idols who are successful, it's because that performance is being enjoyed and that's its own special kind of terror.
iori
Mmhmm!
Okay, let's talk a little about Vocaloid and V singers. How much of that is already happening versus how much did you like think ahead and make up for this story?
iori
All of that is already happening, like vocaloids are very out there. They're fantastic. I mean, okay yeah, voice box is a little uncanny but it's given so much power to a lot of the best composers and songwriters that we have in Japa. In the book, I present a slightly more appealing version of v singers because these ones are independent. In real life, there's a huge delineation between the v singers who are independent, who have smaller audiences but have autonomy, and the ones like Nijisanji singers or Holopro singers, who are part of an agency, who are beholden to the agency and its standards in the way that a pop idol is, but whose physical bodies cannot be objectified in the same way because they have the mask.
And I do think that vocaloids and v singers are important for de-objectifying the self, and for sort of democratizing music. Because let's be real: pop music is not about how good your music is. It's also about whether or not you're hot and people want to look at you, and watch you dance. But when you are using a Vocaloid or a vtuber's rig, you can at least partially take your body out of the equation, which I think is great. I think you know there are a lot of ways in which we can all benefit from being a little more disembodied, and the anonymity inherent in these things is tremendously valuable, I think. Just, how great to have a disposable identity. How great to rebrand and start fresh if you want to, or to just be able to abandon that identity if someone's trying to stalk you or something.
juliarios
Yeah, that's a very very good point.
iori
Having that escape hatch is wonderful. Honestly I'm pretty sad that I debuted as a writer in America when I did because then I came to Japan and like, oh wait, you mean I can wear just like a bag over my head at a bookstore reading? That was an option? Or I did a reading with another Japanese author, a virtual reading. He did not show his face. He had a vtuber rig and he was a dog in sunglasses and a baseball cap, and I was just like that's the most rad thing in the world. I wish that none of you had ever seen my face. I wish I hadn't had photos on my stories. I wish that I too was a dog in a baseball cap. What a lovely way to preserve your privacy.
juliarios
Wow, yeah I mean definitely.
iori
There were a lot of idols I thought about in the process of writing this book. Like from Morning Musume, Yaguchi Mari and Huji Motomiki both had to resign from the group because they were discovered to be dating. On the AKB48 end of things, definitely thinking about Sahshihara Rino and Minegishi Minami, and then I also kept coming back to another Morning Musume member thinking about Ishikawa Rika who was never in like a big scandal and not a scandal about dating, but caught a lot of fire on fan forums because once she was overheard talking about how she was uncomfortable with the fans because the majority of the fans she was interacting with were middle aged men going to the handshake events to have opportunities to touch her, and she knew that, you know, they were saying lewd things about her body on the internet, and she was uncomfortable with that. And she said, rightfully, "These guys are creeps and I don't like them." And that turned into this internet firestorm about how dare she say that, how dare she be such an ingrate? We've been betrayed! It's just like, no. No.
38:52.17
juliarios
For real definitely.
iori
Something else that I was thinking a lot about during the process of this book was the way that idols are made to account for everything to the public to the point that Yoshizawa Hitomi, well the heck after she had retired, was in a drunk driving incident, right? This is something she had up to apologize for on her blog. Um, oh god, I forget who it was... another idol had to make a blog post apologizing for rear ending a taxi at a stoplight. Just like this is the level to which people think that they are invested in your life and in a lot of ways. It made me think about just modern internet culture and Twitter and having to account for every small thing you've ever done. Even when it's offline, even when none of the people affected are present. Because in our current society, we're all public figures. This is hell. This is the worst of all possible timelines.
juliarios
Oh well, that's grim and possibly true.
iori
I mean, I think that existing in public is just a complete nightmare.
juliarios
Fair. I can certainly understand that. So let's talk about something more exciting and nicer, which is the cover for your book. Because the cover for your book is just gorgeous, and I was wondering if you wanted to tell us a little bit about it. I know that you had a little bit of input into it. Did you help choose the cover artist?
iori
Yes, um, Dave was specifically wanting a japanese artist for this and he went through the profile day hashtags on Twitter found some candidates he liked I also went through and and came up with some and that I was interested in. And then we put our lists together and looked at what other art they had posted and who we could get in touch with. And once we had done that, Natsujirushi was my first choice, so I am so glad that we managed to get her to do my cover.
Natsu does a lot of very gorgeous art for vtubers. She designs Vtuber rigs, she does music videos, fan art for mobile games... And part of what was important to me was getting someone who speaks my language in the pop culture sense. So when I saw, ok she's fans of some of the same things that I am, she plays stuff in similar genres, so she's going to understand the terminology I'm using to communicate my ideas. And it means that I can just sort of get my worldview across to her in allusions and references. So that made her very easy to collaborate with, and communicate with.
The major thing I was saying to her throughout this process is, "I want this to feel like an SSR card." Because in Japan, gotcha games are huge, right? And SSR, that's Super Super Rare. That's the stuff with like a 0.05% drop rate. It's what everybody wants. It's what everybody wails for, you know, emptying out their wallets for these pixels. And I was like, I want that kind of feeling, like you see it on the banner and you're like okay yeah I got to go get my credit card. You know that very sparkly exciting, "Yes, I want this picture!" feeling.
iori
And she did the costume design for Rei and it's just fantastic. Like if that was 3D modeled, I would be using that character all the time in rhythm games.
juliarios
It's a very cool picture. I could definitely understand why you would get out your wallet to try to get that SSR card.
iori
Thank you.
juliarios
I think it's really cool also that you were able to get your first choice artist. That's the dream.
iori
I mean it's also very cool that I got any say in that at all. dave has spoiled me.
juliarios
Ah, yeah, that is not the norm, but it's great that it happened for you, and it's wonderful that you got such an exciting cover out of it.
iori
Yeah I really love it. I think that it more firmly ties me into the genre which I am working in as a reference point which is less about English Language SFF and more about light novels, which tend to have much convoluted titles than I do, but have the same sort of like short, pulpy sensibility.
juliarios
I am really excited for everybody to go out and read this book. If you are intrigued by any of this, you should definitely pre-order it over at Neon Hemlock and get your copy. In the meantime, Iori, I know you don't want to be public. But in case people want to find more of your work where should they go?
iori
That would be kusanoiori.com. My name is spelled I O R I – there are Is coming and going. No Ls in my name. People struggle with that.
juliarios
Yeah, it's hard because a capital I in a sans serif world looks like a lower case l and I think this is also difficult because there are people like for instance dave ring over at Neon Hemlock who choose to use lowercase letters for their names. So it's like oh well, that must be someone who is named Lori, a very common name in the english speaking world, who's just using a lowercase letter... but no.
iori
Yeah, sans Serif fonts are the bane of my existence.
juliarios
So, do you have any other exciting work that's coming out, or that's already out that people should check out?
iori
I have a story on the Nerds of a Feather 2022 recommended reading list. "can i offer you a nice egg in this trying time" in Uncanny Magazine issue 49. On the Locus recommended list, I have a story from Apex 132, "Have Mercy, My Love, While We Wait for the Thaw" – both of those came out 2022. I have a story forthcoming in the Luminescent Machinations anthology from Neon Hemlock, and Hybrid Heart will be out on 28 March.
juliarios
Everybody listening, you have your orders. Go find these things, and go read them. And if you're wondering where to find them, we will put links in the show notes over at juliarios.com. If you are listening to this and you downloaded it, there will be a link in your podcater to the complete show notes with a transcript, because we like to make sure that there are transcripts for people who need them.  
Thank you so much, Iori, for taking the time to talk to me about Hybrid Heart. I loved it. I hope other people love it as much as I do. If nothing else, buy a physical copy just so you can have the high quality cover picture in your life.
iori
Thank you so much.
juliarios
Thank you for listening and I'll catch you next time.