OMG Julia Podcast
Maya MacGregor Talks The Many Half-Lived Lives of Sam Sylvester (part 1)
Maya MacGregor joins me to discus their process in writing The Many Half-Lived Lives of Sam Sylvester. This book is a delightful YA mystery/ghost story with an autistic and non-binary main character.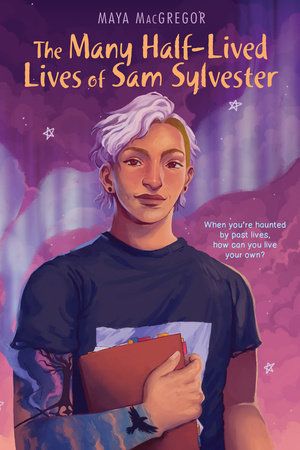 It's another writing process conversation! This time, Maya MacGregor joins me to discus their process in writing The Many Half-Lived Lives of Sam Sylvester. This book is a delightful YA mystery/ghost story with an autistic and non-binary main character. I was fully engrossed in the mystery aspect of it, and also loved to see the main character finding a supportive community.
Part 2 of this interview is here.
Content note for this book: it does mention trauma and hate crimes. That said, it's overall very much about surviving and thriving and not about sensationalized suffering.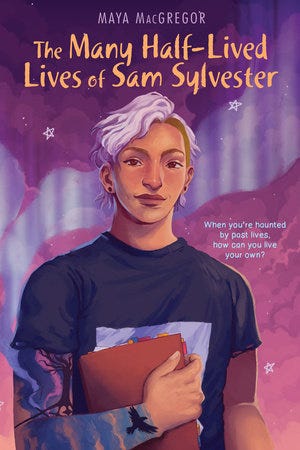 You can listen to the interview and/or read the full transcript below.
Content warning for this interview: We briefly discuss hate crimes, including murder, and homophobic language used on school playgrounds. This discussion starts around 23 minutes into the podcast and lasts for about a minute and a half, so please skip ahead if you don't want to hear it.
Listen to "Maya MacGregor talks The Many Half-Lived Lives of Sam Sylvester (part 1)" on Spreaker.
---
Julia
Welcome to the OMG Julia podcast, where we talk about creative lives and processes. This time I have author Maya MacGregor with me to talk about their book, The Many Half-Lived Lives of Sam Sylvester. Welcome, Maya.
Maya
Thank you so much for having me. I'm excited to be here.
Julia
It's very exciting to talk to you. I recently listened to the audio book version of this book, and I loved it. It's a super fun YA mystery book and Sam Sylvester our main character is autistic and non-binary, and I thought this was a wonderful time to have you come in and talk to us about that your process of writing a YA novel, a mystery novel, and autistic and non-binary characters, and the ways that you approached all of those different things. How they intersect, and also just in general your writing process and your road to publication with this particular book. I know you've been published before so it's not the first time for you, but I know that every book has its own journey, so I'd love to get into all of those things.
Maya
Yeah, absolutely.
Julia
Before we start with all of that, would you please introduce yourself to us and tell us a little bit about you and your career as an author?
Maya
My name's Maya MacGregor. I live in Glasgow, Scotland and I was US born, but I've moved around a lot during my life and I'm settled here. I'm a fluent Gaelic speaker. In addition to my writing career I also sing in two Gaelic choirs, including the Alba choir that competed at Eurovision in 2019.
I have mostly written adult fiction through most of my career. Sam Sylvester was my seventeenth finished novel, and ended up being my seventeenth published novel as well, I think.
For a long time, I was fairly adamant that I was only going to write adult. And then in 2017, this character just sort of popped into my head and wouldn't really let me go, so I sat down and wrote the book quite quickly. It came really naturally, and I had no idea what I was doing when I started writing it.
One of my good friends,  Sarah Glenn Marsh, who's amazing and a fantastic author herself, read the book chapter by chapter as I wrote it. I was just sending it to her just sort of like, "Can you just at least tell me if this is terrible?" and she was so enthusiastic. She just devoured the chapters the second I sent them to her, so she gave me a lot of confidence with what I was doing.
Getting into YA has been fascinating and really different, because I've always read it, but I wasn't sure that I was ever going to write it. So my career has really spanned a lot of adult fantasy from sort of gritty noir superhero novels, to urban fantasy that's sort of Buffy The Vampire Slayer meets Supernatural, to sprawling epic fantasy. And so I've done a lot. It's been really fascinating to do a lot of diverse projects. Sam's just been a really wonderful part of my development with my craft and my career.
Julia
So when you you said this just popped into your head and you wrote it right away, what was the thing that kind of started it? Was it the mystery? Was it the character? Was it something else?
Maya
I think it was actually the title that popped into my head first. Originally the paranormal aspect of this book was that these lives were actually Sam's past lives, like Sam's reincarnated lives. But we got a revise and resubmit request from a major publisher after we were submitting it and one of the things that they said was they wanted it to be more of just a straight contemporary. So I took that out and ended up folding a lot of a lot of that aspect into Sam's autism, and these half-lived lives as a special interest, which I think worked really well.
But when when we sold the book a lot of that sort of migrated, and so like when I look back I feel like a lot of what initially sort of kicked the book off didn't end up staying in it, which is fascinating to me. The soul of the book is exactly what I wanted it to be, so I think it just, through that evolution, sort of found the core story that I was originally trying to tell, even if it doesn't look exactly like I expected it to.
Julia
Was Sam always autistic, even in the first draft?
Maya
Yes.
Julia
Okay, so you just decided to roll the reincarnation into a special interest, but you already had Sam as an autistic character?
Maya
Sam was already autistic, already non binary. The only things that really got taken out were the the the literal aspects of past lives. So pretty much everything in the final draft is there. The book actually grew by 25,000 words over the course of editing, so less got cut than got added, and so pretty much everything that's on the page was also in the first draft.
Julia
Okay, so really quickly pitch us the book, like the premise of the book as it is finished now, so that in case anybody's listening to this who hasn't read it, they know kind of what it's about.
Maya
The Many Half-Lived Lives of Sam Sylvester is about an autistic, non-binary teen who flees Montana after a traumatic incident and settles with their father in Astoria, Oregon, in a home where, thirty years before, a young boy died mysteriously. And the house has its own feel to it, and its own presences within it, and through that Sam has to solve this mystery as well as come to terms with their own past.
Julia
Yeah, okay, great. I feel like the mystery is definitely a central part of the the plot, like everybody in the town is aware of it, and Sam digging into it kind of also stirs up lots of old business with the people in the town.
Maya
Yeah, absolutely. I got asked a question last night about the setting of the book and why I chose to set it where I did in Astoria, Oregon. It's not a huge town. It's quite small. I wanted a place that was big enough that you could feasibly avoid people that you didn't want to see, but that where you're going to see familiar faces when you go out. and the people who have been there a long time know each other, and they're aware of the big happenings and the things that transpire within its boundaries. And that really played a role in the story itself, because you have people who've been in Astoria for 30 or 40 years, and the events of the backstory actually acted on their lives and their experiences and we see that throughout the story as Sam interacts with them as a newcomer.
Julia
Right. Had you ever been there before?
Maya
Yeah, so one of the eight states I've lived in is Oregon. With my moms, I lived in Portland, and so we would go to Astoria on the coast for holidays and wee day trips. I spent, not a heap of time there, but I always liked visiting it because there's just a beautiful, really stark coastline and I remember haystack rock being this just enormous stack of rock out in the surf, and it's so imposing. It's just an amazing view from there. And it has a certain feel to it in the Pacific Northwest. It's a lot like Scotland, honestly. Like lots of rainfall. Lots of cloud cover. Wind, and, along the coast particularly, there's a severity to it that is something that suits the sort of ambiance of the story. It has a lot of memories to me as both a place of comfort and a place of that sort of stark beauty.
Julia
Okay, so talk to me about your process in writing this character as a non-binary, autistic teen? I asked my patrons if they had questions —that's one of their perks is that they can get the chance to ask questions of anyone that I'm interviewing— and one of the questions that came up was of course what resources did you draw on when writing an autistic and nonbinary character? I'd love to hear what resources you drew on, but also just how you approached it, and what was important to you to include in that portrayal.
Maya
So this is a really particularly personal book for me because the main resource I drew on was my own life. I am an autistic, non-binary person and there are a lot of aspects of Sam's experience that are straight out of my own. When I started writing this book, I wanted to write the book that I wish I'd had when I was a young gremlin.
It's really fascinating for me to look at now because I wasn't diagnosed at all until I was about 30, and I didn't get my formal diagnosis until I was 36, so I went most of my life just feeling like a freak and not having a clue why I couldn't seem to understand social cues, or that I always seemed to get everything wrong when I did something. And people would get angry at me and call me names for reasons that I couldn't understand, and it didn't make any sense to me.
And I wanted to write a story where where Sam actually had the language, and they they had the ability to know what was going on with them from an early age. Sam was misdiagnosed first, but their dad is such a wonderful character and he really pressed to make sure that Sam got the correct diagnosis.
So a lot of that came out of my experience. Sam is not just me on the page. Sam is quite different to me in a lot of different ways. But as I was going through the editorial process on this book, it was during 2020 and 2021, and I actually got my formal diagnosis as I was going through the editorial process. And at the same time I was experiencing some very personal very targeted harassment from someone, and one of the things they were consistently attacking was my autism, and me as an autistic person. That came out in the revisions of the book quite a lot.
I had gone in writing the book, but being sort of timid about it because there isn't a lot of autistic representation in general in fiction, and when it is there, it's usually written by people who are not us. And what is there is also tends to be highly focused on the experience of cis white boys, and and it's very different. Autistic phenotypes vary hugely between gender differentiations and racial differentiations and it's so frequently missed in anyone who isn't a cis white boy.
I think that the resources that I drew from were my own experiences, and also the sort of life reframing that comes from going through a really invasive diagnostic process. I don't know if you're aware, but the diagnostic process for an autism diagnosis is a huge ordeal. I think I did 12 hours of different screening paperwork, and all these assessments that you take just a hundred questions asking you all these different things, and then hours of face to face. Well, Zoom to Zoom. And diagnostic questioning, and discussion with the clinician. It's really fascinating because two people who had known me my entire life also participated in it, and they confirmed things — that I didn't speak, that I didn't make eye contact at all, like I would not look people in the eye. And I remember that, but you know it's strange from yourself to look back on those things.
And with writing Sam, I just really wanted to put those things on a page in a way that was already integrated into a person the way I was integrating it myself as an adult.
Julia
Yeah. So for you as an adult getting diagnosed so late, what was important to you that made you pursue that rigorous process.? Why did you need that?
Maya
I'd be lying if I said the harassment didn't have something to do with it. I think the main thing was to speak with someone who was an expert in their field, and an expert with autism and also with trauma. The person who diagnosed me specializes in autism, trauma, and ADHD, because those are very common comorbidities.
For me personally, I had self-diagnosed and I'd been okay with self-diagnosis for a long time, but with the pandemic came a lot of uncertainty. And I'm also an immigrant. I do not have ah a UK passport. So I am here on a tier one migrant visa. I think that writing a book that was so personal to me with an autistic character in it  as the protagonist, the main character, I really I felt like I owed it to myself to actually get the diagnosis that I'd given Sam.
Additionally I needed this sort of … I hesitate to say validation because I want to also really make clear that the formal diagnostic process tends to be incredibly difficult for people who are not cis white boys to get diagnosed. There's so little research comparatively speaking into other genders and autistic phenotypes that don't look like a very specific stereotype. I was aware going into it, but it was really important to me to do, and to actually seek it out just for my own validation, for my own understanding of myself.
And also what I told my clinician was —she asked me how I would feel if she told me I was not autistic— and I said I would be okay with it if she told me something that fit my experiences better. If she was able to say, "I don't think you're this, but you fit this here. Here's your explanation for all of this. This is what I think is is actually going on here." I would have accepted that, but as it was, after an hour of speaking to me, she was like, "Yeah. I'm certain."
It's tough because there's a lot of people who cannot access a diagnosis, and there's a lot of massive barriers to it. So I was very privileged. I ended up getting a private diagnosis after a fairly disastrous first attempt. I am really glad that I did it.
Julia
Has it helped you understand more about how your interactions with the world work?
Maya
Very much. Yeah, and I experienced that with self-diagnosis as well, where it helped me frame things. When I look at times where I've had external feedback of someone telling me that I was rude or cold or non-responsive or aloof or something like that, I look back on those moments and they are, without exception, things that happened when I was overstimulated, in a sensory state of overwhelm, socially deeply uncomfortable, not able to fully understand what the expectations of me were in that situation.
I look back on that, and I am able to be a lot more forgiving of myself, and I think that has been a huge huge boon for me with this, looking back and realizing people's reactions to to me were predicated on me being in a state of distress. It think that that's something that has become easier for me to recognize as well, and having the language to be like, "This is what's happening. This is why I feel like I'm about to burst into tears. This is why I can't speak right now. This is why this is happening."
It's been a huge huge boon for me, and it brings up a lot of other emotions as well. A lot of autistic people who are later diagnosed feel very angry. I wish I'd known it sooner, and I think that that's really common. If you spend a lot of your life being very othered by the people around you, as well as feeling very other and not being able to articulate why, or what's happening besides the fact that you just feel like you're always on the outside with your nose pressed against the glass, having the language for it is powerful.
Julia
Yeah, so talking about that some, you mentioned that one of the reasons why it was so important to you to write Sam as an autistic, non-binary teen is so that you could give that to other other people who are younger who don't have that representation. And I'm assuming that you didn't you didn't see that representation when you were younger.
Maya
Yeah, I definitely did not see that. As I look backward, some of the books I really gravitated towards and there are a lot of characters in them here who are cued autistic. You know, Meg in A Wrinkle in Time was a character who I really gravitated towards, and while Meg was definitely an externalizing type of person in terms of how she dealt with her obstacles —she acts out a lot; I was the opposite, and I internalized things— but I was always really drawn to her. She had a way of doing things that worked, but other people weren't willing to accept that. That was something I related to on a very deep level.
So I looked for that sort of stuff, even if it wasn't explicit. But with Sam I really wanted to make it explicit and just be like, "Well, no, look, there's a word for this and this is okay. It's okay for you to feel this. It's normal for you."
Julia
Yeah, and you have Sam also processing a huge traumatic event in their past, and having to join a new community and open up to people there, while also processing the the deep betrayals of their past. How did you go about creating the community? Because I think one of the wonderful things about this book, and I think it sort of has this in common with the the Netflix series and the graphic novels Heartstopper by Alice Osman, is that Sam really does actually get a very supportive community.  There's scary stuff happening in the book, and there's this mystery and there's danger ,and there's the trauma in their past, but there's also a real network of people who care about them. And I think that that's honestly one of the most hopeful and comforting things that I can imagine seeing in a book as someone who … I'm non-binary, I don't have a formal diagnosis for autism, but I definitely have sensory issues that I've always had my entire life, and there are other things that, like, I suspect probably I'm on the autism spectrum.
Maya
Ah, yeah.
Julia
I have not pursued a formal diagnosis myself because there's no real reason that I should need to in my life. I've got a life that basically works okay for me. But since I learned about the ways that autism presents in different kinds of people I'm like, "Oh, this makes sense of a lot of ways that I've experienced the world!" And so seeing someone else like kind of having this same experience, and finding a community that really cares about them, seems really important.
So I was wondering how did you go about doing that? What was important to you to include, and and how did you do it?
Maya
There are definitely some elements of wish fulfillment in this book, in terms of how I wrote it. I didn't really have core friend groups when I was at school. I went to seven different schools as I was growing up.
I really wanted Sam to have that, and to have a place where they were accepted, where they were scaffolded by people who might not share every aspect of their identity, but who understood at its core what it meant to be queer, what it meant to exist in a space that is sort of liminal.
I went about writing it with the intent of not making Sam go through all of this alone, and to have people who like them genuinely for who they are, and to accept them for who they are. So the characters really came out of that for me.
Shep is someone who, when we met her in the book, she's very much grieving the loss of her closest emotional tie in her family: her abuelita. She's processing that by sort of hyper fixating on this mystery. When she meets Sam, who's this like tall, interesting person with really cool hair who moves into the the mystery house, and she is just immediately just you know so heart eyes.
I love her enthusiasm, and I love her warmth and how much she cares. You see her really struggle throughout the book with her own stuff. I tried to create characters around Sam who fit together well in the sense of they all understand what it's like to have tough stuff going on, but they also don't let it harden them to everyone around them. So, creating a friend group that was a bunch of squishy cinnamon rolls who act tougher than they are.
Julia
Yeah, yeah, so you have Shep and you have Skye, and then you also have Sam's dad Junius. They kind of all accept Sam in different ways. Shep, immediately, like you said, there's the heart eyes thing. Skye is just a really cool friend and they're supportive. And I loved also that you included, at Sam's new school, there's actually like a gay straight alliance club type thing.
Maya
Yeah.
Julia
And that is full of different kinds of kids presenting different kinds of queerness, and the adults at the school are actually supportive of that. This is all very different to— I grew up in the 90s. I graduated from high school in 1996, and I know that at some point in around 2010, I discovered that my old high school had a GSA now, but when I was in school that did not exist.
Maya
I also grew up in the 80s and 90s. I graduated high school in 2003, and I finished my schooling in Montana. I actually moved the opposite way to Sam. Sam moves Montana to Oregon. I moved from Oregon to Montana, and Portland of the 90s was definitely not a queer bastion of progressive values at the time. Oregon in general has a longstanding history of white supremacy, really bad hate crimes, and even on the queerness spectrum, there was the Portland Lesbian Choir, which my mom sang in, but in terms of acceptance on a wide scale, there was a lot to be desired still. I had friends who weren't allowed to come over to my house.
And that was about as good as it got. When we moved to Montana, it became much much worse, and I was very aware when Matthew Shepard was murdered in Wyoming in 1998.
There's a moment in the book where Sam mentions schoolmates playing a game called Smear the Queer.
Julia
Right.
Maya
And that's right out of my history. That's literally something that happened at my school when I was growing up as a closeted queer kid with queer moms, like that is a game that was played on school time in full hearing of the teachers, if not with their benediction. They never stopped it being called that, and I'm pretty sure they called it that, too. So yeah.
Julia
Yeah, I Also remember that game from I was a child, and definitely kids did play that. I don't feel like it was played in official P.E. class, but people played it on the playground and teachers knew about it and no one did anything about it.
Maya
Yeah, no one said anything. Yeah.
I have the same sort of thing where I look back now and it's amazing right now to have come a significant distance from that. There's very few places that would let that slide these days. If they did, they'd be the Twitter character of the day, probably.
So I think with Sam's experiences, to try and tie it back into their friend group and everything, I really wanted to celebrate the distance that we've come, because we have come a very significant distance in terms of acceptance. And I know things are really scary right now in particular, but we have made progress and we will continue to do that, I think.
Every once in a while, something really sort of innocuous will catch me and come out there sideswipe me in a good way and I think seeing younger people right now on Twitter or on TikTok just being like, "Oh, I'm so gay!" Like swooning with their own gayness at an attractive person.
I think, man, if someone said, "that's so gay" even ten years ago, it meant something else.
Julia
Yeah, like even ten years ago it was sort of an insult and derogatory, and now it's like I see younger people saying that as in, "It's great that we're gay!"
Maya
Yeah, exactly, and that to me is just magical. I see that and it makes me really happy. And having Sam get to go from an unsafe place to a safer place is such a huge part of the story for me. To have the Rainbow Island people, and to have their dad, who's adamant that they will get to be somewhere where they can be out and they don't have to hide.
Julia
Yeah, I love that their dad is so supportive. Making sure that when he takes them to school to meet with people and and have their IEP meeting, he is very adamant that they have they/them pronouns, for instance.
And I love seeing that supportiveness. When I compared it to seeing how people have been receiving Heartstopper on Netflix, I feel like there's a similar thing going on there, where it's the main character —in that there's no autism— but the main character in that, Charlie Spring, is gay and he's out as gay at school and his parents know.
Maya
Yes.
Julia
And there are people who harass him, but everyone who is a main core character of his community supports him, and he has friends. He has supportive teachers. He has supportive parents.
And then of course it's a love story, so he gets to fall in love with a boy, and that's great. I feel like I can't even imagine having seen a story like this presented to me when I was a teen, when I would have been struggling with a lot of these things. And I loved that in that one as well, just like in your book, there's a group of kids who are presenting queerness in different ways. We have the gay boy, and then we also have representations of bisexuality, Lesbians, trans, it's not overtly stated, but it's probable that one of the other characters is an aro/ace character, and there's a lot of the existence of different ways of being queer, and that also being accepted. And the idea that, even if there are bullies and there is harassment, you can thrive.
Maya
Yeah.
Julia
And I love that about Sam Sylvester as well. It's like they have all this trauma in their past, but they find a community, and they're going in with already a very supportive parent, but they also have some supportive adults at the school, and friends who accept them for who they are and model ways of existing. It's possible to exist this way and thrive.
Maya
Yes, that was really hugely important to me, and you know, I think the only story we were allowed for a really long time was tragedy, and it's so beautiful to me right now to be seeing just… You know, Sam Sylvester was one of eight queer YAs that came out on the same day.
Julia
Wow.
Maya
One of eight! And on one hand, I'm like, "Oh god, I'm going to get lost in the shuffle."
But what a privilege to be able to write a book like Sam and have to fear getting lost in the shuffle. That's such a strange thing to say, but five years ago that wasn't true. We are actually given the opportunity to have so many different kinds of stories now that we weren't allowed to have for so long, and that's really beautiful to me. To have Heartstopper, which I you know you and I have been absolutely fan flailing at for weeks, and anything comparing Sam to Heartstopper is making my heart explode in tiny little fireworks. It's such a cool thing to see this happening, and to have a lot of this sort of status quo has shifted. And I think that's something that's really important to me to see, but also just I'm living for the variety, and the myriad facets of queer experience that are being given a platform these days.
More, please! Keep going.
---
That's where we'll leave off for part one of this interview. Maya and I had a long conversation, so there will be another part. We'll see how the editing goes, and how long that takes me.
I'm happy to report that I am officially negative for COVID again after getting it, taking antivirals and having a few days of reprieve, and then getting Paxlovid rebound and being sick for another stretch. I'm still pretty tired, and I've got a lingering cough, but I am on the mend! Still, if you are wondering when you'll see more stories from the Worlds of Possibility project, or more interview episodes, just know that they definitely are coming, but I'm taking things slowly as I recover.
If you've enjoyed this interview and you're not already a patron or subscriber, please consider joining my Patreon at www.patreon.com/juliarios, or my website juliarios.com. All subscriber fees and Patreon pledges directly support me in my work, and also subsidize the stories I buy from other writers to share with everyone!