News
News and Notes, August 2022
Dream Foundry Contests, a class I'm currently taking that you can take too, and news about Worlds of Possibility.
Hello! If you, like me, live in an area getting heat wave after heat wave of late, I hope you're in a nice cool place while you read this!
Here's a little roundup of my August news for you.
The Dream Foundry Contests for Emerging Writers and Artists are open!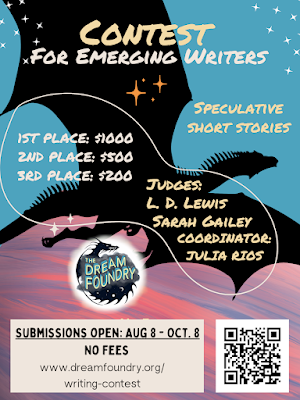 I'm the contest coordinator for the writing contest, and it's free to enter and comes with a cash prize! The contest is open to new and emerging writers who have had fewer than 4,000 words published. If this describes you, or anyone you know, please spread the word! You are welcome to copy the image from this post and re-share it.
Entries are welcome until October 8th, at which point I'll be passing ten finalists on to this year's contest judges, Sarah Gailey and L. D. Lewis. L. and Sarah have both done amazing work in the Science Fiction and Fantasy field, so this is a great opportunity to have your work potentially read by real live experts.
Full rules on the contest are at https://dreamfoundry.org/writing-contest/, and there is also a separate art contest, coordinated by Dante Luiz, the Art Director for Strange Horizons. Like the writing contest, the art contest is also free to enter and offers a cash prize to the winners. Full details on that at https://dreamfoundry.org/art-contest/.
Writing Horror for Teens Class by Raquel Castro
I've signed up for this intro to writing horror for teens class by the excellent Raquel Castro. The audio and supporting text are in Spanish, but there are English language subtitles (as well as subtitles in a few other languages) for those who don't understand Spanish.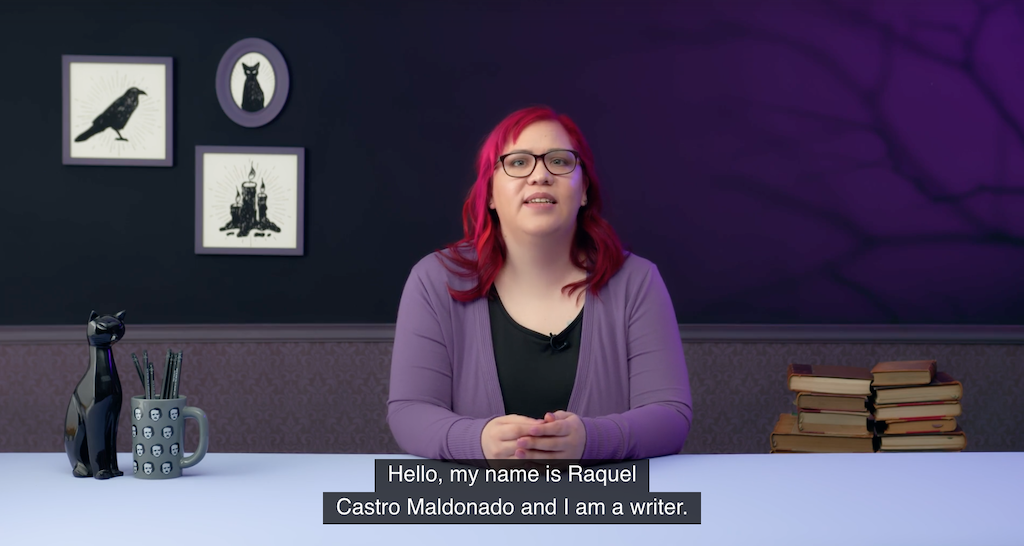 Raquel has written and published several books in Mexico, and I'm excited to learn from her. If you are also interested, the course is currently discounted to $19.99 for just a couple more days before it goes up to the regular price of $59.99.
The August issue of Worlds of Possibility is coming soon!
In April I had an open submission period for Worlds of Possibility, my project where I publish original creative work by others on my own website. It's taken a while to pull things together, but I'm very excited to share the first big issue with my paid subscribers in the near future. Here is a sneak peek at the cover:
If you are a paid subscriber, you will get access to the full issue including original stories by Megan Baffoe, Die Booth, Keyan Bowes, Marc A. Criley, and Lena Ng, and original art by four Ukrainian artists, including the cover art by Julia Kim. This will be delivered in ebook and PDF formats in the near future!
Click here to sign up or upgrade your free subscription.
If you are not a paid subscriber, there's still time to subscribe! Subscribing is the only way to get the full issue in one ebook, and every subscription helps me continue the project and pay creators for their work. Paid subscribers at the $3/month level get the ebook and also the chance to vote on what gets released next. Subscribers at the $5/month level also get the chance to ask questions of creators I interview for the OMG Julia! Podcast.
What I'm reading and watching right now
Summer is a great time for relaxing with a book or having a night in with the TV and the air conditioner. Here are a few things I've been enjoying lately:
Husband Material by Alexis Hall – This is the sequel to the hilarious Boyfriend Material. Both are romantic comedies that revisit the plots of well loved romcom movies and weave in a lot of other romcom tropes, trivia, and references. You don't have to be familiar with the things these books reference, but if you are, you'll get a little extra fun. I love the tone, the style, and the wonderfully silly and sweet ensemble cast of friends, family, and coworkers surrounding the two main characters, Luc and Oliver.
Only Murders in the Building on Hulu – This comedy mystery series with Steve Martin, Martin Short, and Selena Gomez is in its second season. Season one wrapped up the mystery of who killed one of their apartment building's residents, but it left us with a huge cliffhanger about another murder. So far season two is just as full of twists and turns as season one. It's also full of expert level comedy. I'm really enjoying it.
The Unblancing by R. B. Lemberg – This is the latest in Lemberg's Birdverse series, featuring lush and poetic writing and sweeping fantasy plots. I received an early copy since I gave this book a blurb. It's a gorgeus book! If you haven't gotten into the Birdverse yet, there's plenty of time to read The Four Profound Weaves before your pre-order for The Unbalancing comes in September!
The Sandman on Netflix – This is a live action adaptation of the series of graphic novels by Neil Gaiman about the king of dreams, whose powers are stolen, and whose realm must be rebuilt. It's a surreal show with a goth aesthetic and lots of fantastical and supernatural adventure that sometimes veers into horror. I'm only a few episodes in, and I'm really enjoying it.
Beverly Hills Diary by Luis Rios – This is a memoir by my brother, who was a limo driver in Los Angeles in the 1970s! It's all about the various celebrity encounters he had while he was doing that job.
That's all the news for me this month. I hope you're keeping cool and staying well, wherever you are!