News
Shadow Atlas and Balticon
Check out this amazing cover for Shadow Atlas: Dark Landscapes of the Americas, illustrated by Aaron Lovett!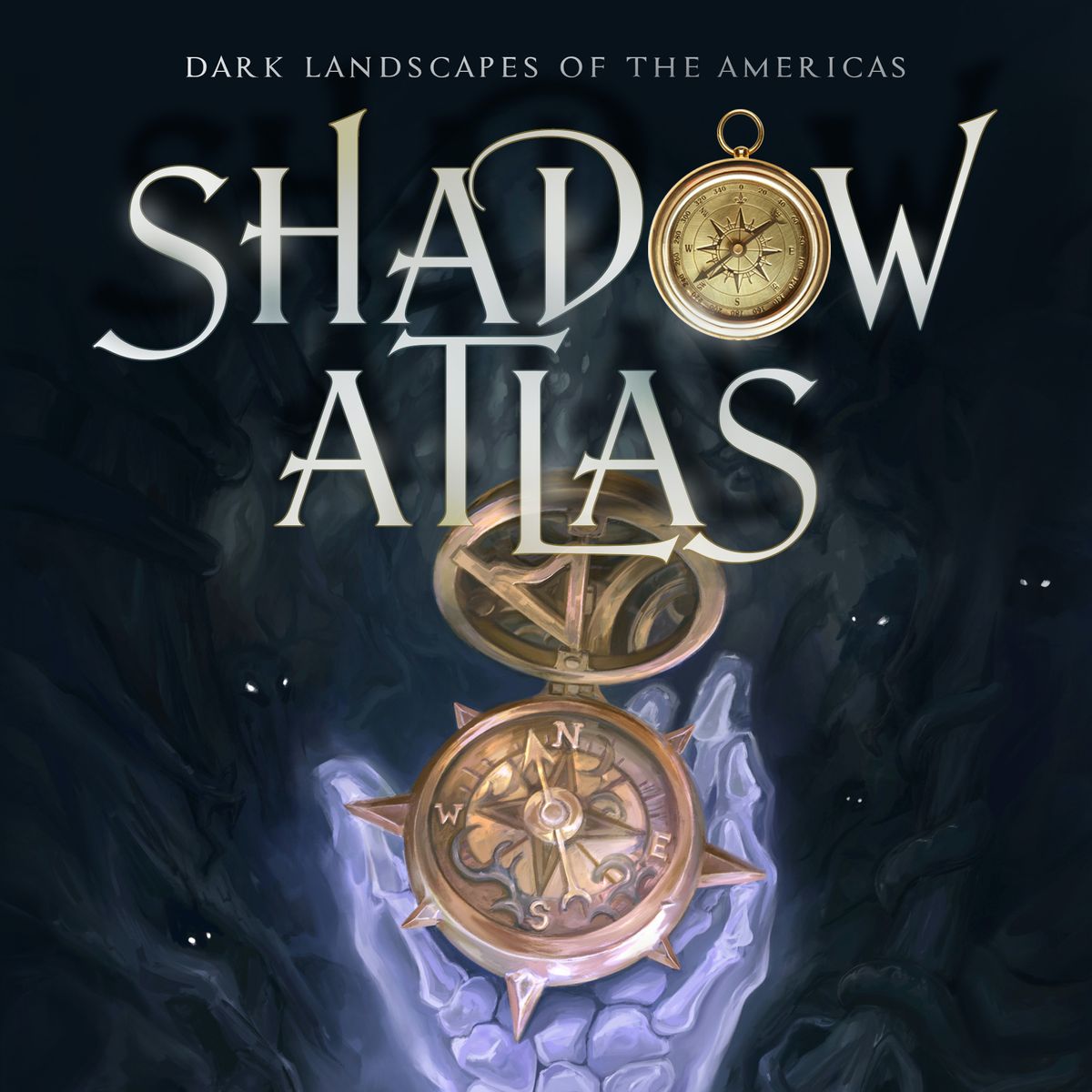 Hello! Today is my birthday! To celebrate, I wanted to share the cover for an anthology I've got a story coming out in, AND to tell you where you can find me doing a couple of panels and reading a draft of the story that will be in this anthology!
The anthology is called Shadow Atlas: Dark Landscapes of the Americas, and it will be coming out later this year from Hex Publishers. Check out this amazing cover, illustrated by Aaron Lovett:
I am thrilled to be sharing a table of contents with so many awesome authors, and I can't wait to see the whole lineup and read all the stories and poems!
So that was a really cool birthday present in my inbox!
This won't come out until October, but if you want to hear an early version of my story, come hear me read it for free at…
Balticon
This is a free virtual convention, which is happening all weekend! I will personally be on two panels and have a reading, all on Saturday the 29th. Details below! Please do come if you feel so inclined, and while you're at it, check out all the other fabulous programming!
Here's my schedule:
---
Flash Fiction: Tips, Tricks and Travails - Saturday, May 29th, 1pm Eastern US time
Flash fiction has increasingly been given the attention it deserves as a distinct, distilled pleasure. Writer Nuala Ní­Chonchúir suggests that "A good flash story is intense, urgent and often a little explosive, but also deep and clear, so the effect on the reader is like that of a poem  – as you read it you admire its concision and, afterwards, it lingers."   Our panel will discuss sterling examples of the genre, pitfalls  they've encountered, and suggestions for further reading.
Moderator: dave ring (of the super awesome Neon Hemlock press)
Panelists: Mari Ness, Julia Rios, Angela Yuriko Smith, Gabriella Etoniru
---
A Walk Through Short Fiction Editing - Saturday, May 29th, 2:30pm Eastern US time
Many authors start their careers with short fiction sales. Our panel of short fiction editors will walk you through their side of the process, from the chances of your story making it to the main editor to the number of revisions you might expect to produce.
Moderator: Gabriella Etoniru
Panelists: Neil Clarke, Monica Louzon, dave ring, Julia Rios
---
Reading: Julia Rios - Saturday, May 29th, 7:30pm Eastern US time
I will be reading an early draft of my Shadow Atlas story! This will not be recorded, so it's come hear it live or not at all!
---
Here is a handy link to my scheduled items on the Balticon site. If you click on individual ones, you can register to attend them. I hope I'll see you there!
Finally, in case you missed it, the latest story I bought for the Worlds of Possibility project is a delightful piece by Allison Thai! You can read that here!
Coming very soon, and premiering for my paid subscribers here first, will be a series of ekphrastic poems by Héctor González.