Transcript for After These Messages: Thingmaker with Chia and Dan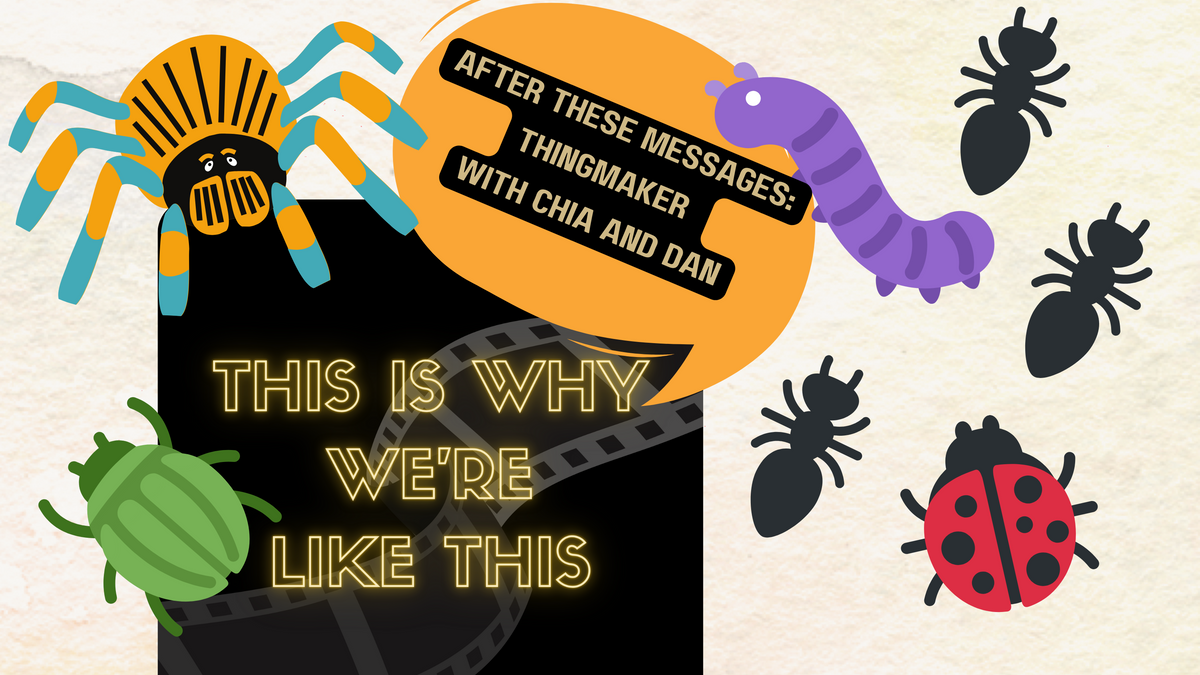 Show notes with links to the commercials and the audio version of this episode.
Julia
Welcome to This Is Why We're Like This: After These Messages, where we talk about the possibility of maiming, dismembering, and otherwise hurting children. I'm your host, Julia Rios.
Geoffrey
I'm your other host, Geoffrey Pelton.
Julia
And back with us are Chia and Dan, who were joining us on our Child of Glass episode. Welcome.
Dan
Continuing the theme of burning children.
Chia
Yes burning children and and and Vincent Price. Oddly.
Geoffrey
I feel like Julia was was sort of subtly responding to my critique from from the main episode that she didn't go dark enough on her intro I'll show you dark. This is the show about maiming children.
Julia
Um, you want it darker? All right! ah. So we watched we asked Chia and Dan for some thoughts on toys that they remembered from their childhood and Dan brought us creepy crawlies, the Thingmaker from Mattel, and Chia brought us GI Joe which is a completely different kind of way that children can get up to violent play. So creepy crawlers the thingmaker, we watched 3 different commercials. The first one was from 1964 the next one was from a bit later and it was for thing maker 2 and then the third one was from the 90s and they all had very different commercial styles.
Chia
So the the one from 1964 was either vincent price or somebody doing a much better vincent price impersonation and than anyone on...
Dan
Than Geoffrey does
Chia
I wasn't gonna name names, but
Geoffrey
Ah.
Julia
I don't think that was Vincent Price, but I do think that the person who did the narration for that was given the brief try to sound like Vincent p
Dan
yes, as much as possible. We couldn't afford him but we have you.
Geoffrey
Pour the goop into the trays and put it into the stove you will get disgusting colorful creepy crawly insects.
Julia
I feel like Geoffrey is sort of like a mix of Vincent price and the swedish chef... Put the creepy crawly in this tray bork bork bork.
Dan
[swedish chef nonsense noises]
Chia
I remember the second one we watched from the seventies because I wanted the toy and my parents absolutely refused. what I didn't remember was that the narrator of that 1 sounds like Gilbert Gottfried um freaking make me.
Julia
for real.
Chia
His memory for a blessing... and and that there's this really odd cut where they go from the toy to the plug going into the wall which in a horror movie means that somebody is about to get electrocuted, but apparently here just means some kids are going to have fun.
Dan
It's an electrical toy.
Julia
Yeah, it's it was very clear that this is an electrical toy that you have to plug into the wall.
Dan
this was high tech shit right? They didn't have the internet. I do like that was a bigger deal, that it was the thingmaker 2 like it was a sequel right? Sequel toy.
Geoffrey
I liked how the one from the sixties played up this woo-kyness but also the you know "look at these things you're making" whereas the one from the 70s is like look how gross this shit is. It's disgusting. You want this, don't you?
Dan
Um, yeah, yeah, throw that your sister that'll be gross.
Chia
Yeah, the the one from the sixty s was definitely the one with the cutaway to the plug but you actually had the toy
Dan
I did I did have the toy. Yeah and and you got a certain amount of this goop. Whatever this is called.
Chia
PlastiGoop
Dan
What a great name, and once you once you used it all up, you were supposed to be able to order more only my parents never did so then there was this useless toy that just sat in a corner and never got plugged in again. I did discover, however, that you could use the molds and you could put Knox unflavored gelatin into them and you didn't even need to plug it in! you just made unflavored Gelatin. and that led me into a career of doing movie effects and and special makeup effects.
Julia
So this toy was directly responsible for your career path.
Dan
Yeah, partially you know, responsible for my career path because I got into molding like weird gashes and warts and things like that and sticking them on my face and doing makeup effects and that led me into wanting to do special effects in animation. So yes, thank you creepy crawlers. Thank you Mattel.
Geoffrey
I didn't know this was going to be an origin story.
Julia
You can tell it's Mattel because it's swell.
Dan
Former media lab member
Chia
and then we get the nineties which is all about how gross this shit is and not at all about how cool it is that you get to make things
Dan
and the music definitely sounds like it's Danny Elfman right and it's like we need a Danny Elfman knockoff
Julia
Yeah, they really change the style of everything and that one's all about like how you can gross out your sister and embarrass your dad. You can be a bad kid without being really bad.
Geoffrey
I kind of have to hand it to mattel. they they they took their easy bake oven and they said hey what if we made bugs with it and they kept it going with
Dan
We can sell it to boys too.
Geoffrey
yeah sell to boys and they kept their finger on the pulse of Popular culture for at least a good three decades.
Julia
So did any of you have the easy bake oven.
Dan
No. My my my one female cousin had the easy bake oven. Yeah, and it worked.
Julia
Okay, because that that was another one where you had to order special stuff for it.
Dan
you had no order although it turned out you could actually just go get cake mix at the store and make like a quarter of it because it was actually like Duncan Hines I believe or or whatever, whatever the other one is just came in a properly sized um envelope for the little teeny dish.
Chia
Yeah I had a neighbor we we had a neighbor who had granddaughters who are a little bit older than I was and they had an easy bake oven which I remember turning on a few times, but there was never any cake mix and also it didn't get very hot. And I could bake big cakes in the real oven so I was like oh it's an easy bake oven. That's really this is kind of useless I'm going to bake a real cake because that was the kind of childhood I had.
Julia
Yeah I feel like I at some point in the eighty s they made a new version of it and they advertised on Tv and I think I like asked my parents for it and they said no and I pretty much think I wanted it so that I could have an excuse to eat sugar which was very strictly not allowed in my house and I was like but if it's in the toy like they'll have to let me eat it because I have to bake the cakes or else. What's the point and they were like you definitely don't need this and if you want to bake a cake. That's the thing you can do in the actual oven which I was I was at that point already like making recipes from the joy of cooking. So there's no reason that I couldn't have made a cake if I were allowed to make a cake.
Dan
But you remember when the 80 s when they redesigned it be specifically so that you couldn't reach inside and burn yourself. They actually came out with a redesign that something had to pop up. There was some safety mechanism because so many kids just reached in and touched the bare light bulb.
Julia
Fascinating. so I feel like the thing that was advertised in the 80s wasn't called an easy bake oven. It was called a micro bake and um, the The Jingle for it was "if I knew you were coming I'd have baked a cake in my micro bake in my micro bake."
Dan
but it still used a light bulb
Julia
Yeah, it's it was in fact, just a light bulb that made cake for you.
Chia
I did have a really cool donut maker that was an as seen on TV kind of thing. But
Dan
yeah I just feel like this is the bluth baller thing that  
Chia
the cornballer.
Dan
Yeah, ah every time. Ah.
Julia
so did any of you have the snoopy snow cone maker because I feel like that's also in the sort of like vein of toys that you give to kids so they then make things and you also have to get special things for it.
Dan
Um, yes I did have did have that. Yep, you do. you have to keep ordering. Yeah the the syrup. Yeah, that came in the little tubes. Although that one we figured out you could take otter pops and you could actually just empty those on like onto the thing. But yeah, remember that thing with that thing took work This snow con thing you were like shaving that right had to yeah, had to freeze a block of ice. Yeah came in a mold and you had to freeze it and then you basically had this thing that was it was woodstock right and had as the scraper and like took hours. You're like oh my God I'm just gonna go to the ice cream truck.
Julia
Yeah, see I didn't have it but I knew people who did so like occasionally I would be at someone's house and we would get to make snow cones with the snow code maker and I feel like. It was kind of a genius toy because like you said it's a lot of work. It keeps children busy for a while. Ah.
Dan
but you had to take turns. your arm gets tired. is this sugar worth it. Yes.
Geoffrey
See I can't get it out of my head. The the idea of innocent, "Oh yeah, the easy bake oven. I had one of those. I used to cook up insects in it." It's like "oh you had that one with the thingmaker with a plastigoop." ... "The Hell's plastigoop? what's a thinkmaker?"
Julia
Did any of you ever get the little toy that came in tubes and then you could like blow a balloon through a straw.
Chia
Yes, yes, that was all it did That was the whole thing but it was like it was it was
Dan
there was goop. They were plastic and it was popeye themed usually for some reason. But yeah, you squeezed this stuff out of the tube and you put it on the end of the straw and you.
Julia
And then you blew.
Geoffrey
Oh yeah.
Dan
Very carefully, a very colorful because it was an iridescent...
Chia
I Just remember it being red they'd last maybe a couple of days and then they get all wrinkly and weird.
Julia
I Feel like all of this is true and also I was never allowed to get them. So like I only saw them if other people had them that I happened to be at their house because I would beg for them. They were at the supermarket and my mother would be like no definitely not it.
Dan
it's going to get ground into the rug and never comes out. Um.
Julia
Like it's it's It's a terrible toy and I want no part of it was my mother's opinion which I am pretty sure those are both toxic and terrifyingly dangerous because if you inhale instead of blowing. You're just yeah.
Geoffrey
Are those still on the market or do they get pulled for being made of Lead and asbestos?
Julia
No... because if you inhale instead of blowing...
Dan
whatever that solvent was, yeah it was like oh you get high... just probably really flammable too I bet.
Julia
Yeah, yeah, I'm sure that they really should not have been selling that as toys but it was a different time. It was a time when they really didn't care if they gave kids dangerous things to play with.
Chia
it's the 70s.
Dan
you could you could buy ampetamine chewing Gum.  
Chia
Yeah, there was lead in the gasoline. It was.
Julia
Ah so true. Ah, there definitely was. ah okay, so then we moved on to watch a commercial for a snake eyes action figure from gi Joe because snake eyes was your favorite character chia.
Chia
Snake Eyes was my favorite character. You may notice a little bit of a theme here. I remember things by how romantic I thought they were and I thought Snake eyes was. I wrote fan romantic fan fiction about Snake eyes and a character I created in the in the Gi Universe who was a swamp witch who wore a belt of black opals and was in love with Snake guys and had known him before the accident this terrible disfigurement.
Julia
Wow. So did you like did you think of yourself as the swamp witch or was she not you.
Chia
No, she was way cooler than I was.
Dan
but did you have a belt of black opals?
Chia
I did not have a belt of black opals. I did want one.
Dan
You should have one now. You can also be a swamp witch if you want to.
Julia
Yeah, there's no reason why you shouldn't have one. You should be a swamp witch and you can burn Dan hideously.
Geoffrey
Yeah.
Dan
That's true and then I'll never speak again. But I'll have amazing martial arts ability
Chia
and the tragic back story. He's tall dark and tragic.
Geoffrey
That is how it works.
Julia
It'll be so romantic. the look on Dan's Face... Dan's like should I be worried??
Dan
he was like a mime and a ninja together. I think he's a dual class character.
Chia
There was there was a small group of friends who wrote gi joe fanfic and and snake eyes was my chosen beau and my friend wrote about about Shore Leave and she also had created an in universe character called Astrolabe who he'd had a relationship with in the past and.
Julia
Like so you really had a whole a whole like Fanfic Empire about g I Joe and it was all based on romance this is fascinating so like.
Geoffrey
That's awesome.
Dan
Um, yes, well and and then there was there was the period where GiJoe was actually actively having people send in a character and you would actually get the card. do you not remember this thing.
Julia
No.
Chia
It Was part of the toy campaigns which is how we ended up trying to pitch our original characters to Mattel. We actually found a phone number and called them and they thanked us very much and hung up on us.
Julia
Um, Wow you were giving them free money right?
Chia
Yeah, but there was never a swamp witch or astrolabe.
Dan
but I mean having the character called Astrolabe who is the one who was in love with Shore Leave... I mean clearly it's internally consistent.
Julia
So when I was a kid I wanted GI Joe and my mother was against it because she did not like any toys that condoned violence. And she felt like GI Joe was too militaristic and gun holding and she did not want any of us to be playing with that. So we weren't allowed to have them and instead the kids in my neighborhood – like most of the other kids in the neighborhood did have them –  but we would play live action GI Joe. And we would just have wars basically you know, usual kid stuff. It's fine. It's not dangerous at all. But I would always be really upset because I grew up in a neighborhood where it was mostly boys and they were mostly older than me and then there was 1 girl across the street.And she was like a bit of a bruiser. So ah, she kind of dominated and I was the youngest and also like socialized as a girl so they were like you can't do anything. You can be covergirl. And coverg girl has to stay at the base.
Chia
okay, but Lady Jane and Scarlet kicked everyone's asses.
Dan
Yeah!
Julia
Yeah, yeah. So I was like no I want to be one of the cool characters and do stuff and they're like no, you can't. But yeah, basically instead of instead of playing with military action figures, we just played live action warfare games. So that's great. My mom's trying to stop that from happening really panned out well for her but I did not associate it with romance at all. It was just straight up like adventure and war.
Chia
No, we pretty much would put a gloss of romance on anything else. Romance and or tragedy. When we played when we played Barbie, she was forever getting into terrible accidents and ending up in the hospital and Ken would have to come and and comfort her and usually they'd have sex.
Julia
Ok, see like when we played barbies, Barbie would often get like kidnapped and ah then captured and tortured hideously. Um sometimes Ken would make it in time I don't know that he always did there was less of the comfort more of just the like kidnap and torture. I also had a bunch of like Breyer horses so because of course my mother was a big horse person. So I feel like everybody I knew had Breyer horses and those were about the right size for Barbie to ride so there would be a lot of like Barbie gets kidnapped by bandits on horseback type scenarios.
Dan
Only you can only sort of like tilt her a little bit and put her across the horse. You couldn't actually get her legs...
Chia
No
Julia
Yeah she could ride side saddle. Basically yeah yeah.
Dan
Yeah, because their knees didn't bend until ah, at least the 90s.
Chia
Well and sometimes they'd stop bending. Whatever the mechanism in there was would like get stuck.
Julia
Yeah I feel like so they had when they made the jointed ones they had like balls that clicked and you could bend it but it would click Click Click Click click.
Dan
Yeah, there was some kind of ratcheting mechanism when they finally allowed their knees and elbows ,which yes did get stuck. Yeah, but they changed the plastic that went over it because it had to be able to bend multiple times so like her arms and legs were like some weird sticky plastic that was different than the plastic on the torso. It was like this is weird I don't know.
Geoffrey
See the thing I remember most about the GI Joes because I wasn't a GI Joe kid but my cousins were. I was a Star Wars figures kid and so the GI Joes all had the articulated elbows and knees.
Dan
Yes.
Geoffrey
And and the the Star Wars figures did not.
Chia
I didn't have any of the Star Wars figures, but my friend did, so we would have Wars between the GI Joe characters and the Star Wars figures.
Dan
But since both GI Joe and Star Wars Kenner figures had the little holes in the bottom of their feet for putting in the pegs for it so they could stand up, those of course just became rocket boots in both franchises. So everyone had rocket boots so they could fly.
Chia
Yeah.
Julia
Yeah, of course. Well, that's just what happens when you're an action figure. You develop rocket powers.
Julia
Did you play a lot with the figures themselves or were you mostly just writing fan fiction?
Chia
We did play with the figures. I was very picky about which ones I had.
Dan
A connoisseur, I see.
Chia
Yes. I had all of the female characters and I had Snake Eyes and I had one of the other guys because they were the only ones I cared about. And then my friend had Shore Leave and a couple of others. And we didn't really have any of the vehicles. Although she had some of the Star Wars vehicles. So there there was a lot of cross-pollination between the franchises there.
Geoffrey
Oh yeah, the best. The best thing was to have your your your Star Wars figures defend the Voltron Castle against like a Godzilla.
Dan
Shogun warrior, just knock it down.
Chia
I also had some She-Ra figures but they weren't the same size. They were like way smaller so you couldn't really... and I only had those because I didn't like He-Man and I wanted to support the the like female empowerment version of He-Man. I didn't actually really like the cartoon, but I had to buy the characters to support this.
Julia
Okay, so you so you bought these toys on principle but not because you liked them.
Chia
Yes, yes.
Julia
Amazing.
Chia
For the same same reason I watched Xena Warrior Princess when it first came on only then I ended up liking Xena Warrior Princess a lot more than I liked Hercules, and I have been born out in that.
Dan
That's right, vindicated. Yes.
Geoffrey
Everyone did.
Julia
Yeah, I feel like one of the best things to come out of all of these things is ah that Lynda Carter on Twitter is amazing, and she's great, and so all of my very young memories of watching Wonder Woman and taking all the couch cushions off the couch and jumping around the living room and pretending I could fly are completely great because Wonder Woman's great. Like she is! She is great; she is not Hercules.
Chia
Yes, yes, she is awesome. Lucy lawless is also awesome as far as I can tell.
Dan
Also great, and smacks down Kevin Sorbo every time he opens up his big fat conservative mouth.
Chia
Regularly just trolls him on Twitter and it's wonderful. Yeah.
Julia
Okay, well, any other things you want to tell us about your childhoods.
Chia
I had a Twisty Twirls Barbie, if anyone remembers that one, who had really long hair and this weird contraption that
Dan
I remember that, yeah.
Chia
It was like it was a handle with a squeeze trigger and and this like clamp thing that came up at the top and you'd put her hair into the clamp thing and then you could twist it into curls, and eventually I got bored with doing that and gave her a mohawk.
Dan
Essentially it was a rope maker.
Chia
Yeah, yeah, yeah, she had hair like almost down to her feet.
Julia
Wow, I do not remember a Twisty Twirls Barbie, but that sounds impressive. My sister had Lady Lovely Locks. I was a little too old for it, but they were very cool because.
Geoffrey
Oh yeah.
Julia
Lady Lovely Locks had blonde hair, but she had little hair extensions that you could clip in that were colored and you could put them on her but you could also put them in your own hair because they came with little plastic clips.
Dan
Yes I remember that. Yes.
Julia
I remember being like I would like to put little colored extensions in my hair.
Chia
I didn't have them, but there were girls at my school when I was really young who had these ... they were basically the mannequin heads that beauty schools use and you could put makeup on them and then wash their faces and they had long hair that you could style. And some of them had hair that you could like sort of pull it all into their head and they could have short hair and then you could pull it back out so you could actually change the length of their hair somehow.
Julia
Fascinating.
Chia
I don't remember exactly how the mechanism worked. It was better than the baby dolls that pooped. That's that's what I remember.
Julia
There were baby dolls that pooped? I knew there were baby dolls that peed. There was Betsy Wetsy.
Chia
Yeah, there was one that actually you would like feed it. It was basically baby food. You weren't really supposed to feed the baby food because that got nasty. There was like some kind of special thing that you were supposed to
Dan
It was probably plastigoop.
Chia
Probably, and it would like go through them and then you had to change their diapers because they'd pooped. But of course everybody tried feeding them baby food and then they would just...
Dan
They'd start growing mold.
Julia
Oh man that sounds horrible.
Dan
Then you put them in the easy bake oven.
Chia
This is never going to show up on The Toys That Made Us
Dan
Child of Glass Larping now.
Geoffrey
There's a really good sketch on second season of I Think You Should Leave about the doll Tammy Craps.
Julia
Oh my god. No I never had a doll that could poop. I had a doll that if you tilted her back, her eyes would close. I had Chatty Patty when I was 5 or 6, and that was a doll that was supposed to be able to talk to you and I was very excited for her to be able to talk to me. But in fact, she just had like 4 phrases that she said in rotation and it was not in fact, like having a doll to talk to you. You were supposed to like ---Her hand was in a fist and it had a hole in it and then there were like plastic props that came with her and you were supposed to put one in her hand and then like pull the string on her back. So she talked and in the commercials she always knew exactly what to say So if you put the hairbrush in her hair, she'd say "oh will you brush my hair?" and if you put the puppy. She'd be like "oh I Love my little puppy" or whatever. But in fact, it was not. It was not a smart doll.
Dan
You had to be smart enough to line up the correct prop at the time.
Julia
It was just a plastic hole in her hand that did not differentiate and it was a randomized thing so wouldn't just cycle through --Obviously the fourth one is going to be the comb-- It was just it was kind of like I think the mechanism must have been like the spinning the wheel things because there were those toys that had little wheel and you pull the string and whatever thing the wheel landed on is the phrase that it would say I think that's effectively the mechanism that was going on inside Chatty Patty. So you wouldn't know which phrase you were going to get and it wasn't like you could anticipate it by putting the right thing in her hand and then having her say it. So instead you put a puppy in her hand and she'd be like "Will you brush my hair?"
Dan
With the puppy? No. Now we just put in an RFID chip with the puppy. Then it would know. Our toys were so dumb.
Julia
Exactly but this was before that. So yeah, that was the most advanced toy that I had was Chatty Patty. Okay, well, it's been a pleasure talking to you about the toys that didn't burn you but could have.
Geoffrey
Hooray.
Chia
Toys that didn't kill us.
Julia
Yeah, do you have anything else you want to tell us before we before we end this?
Dan
Don't reach into the easy bake oven.
Julia
You know I realize that there's something else. This doesn't have to do with toys at all. This has to do with Child of Glass and we didn't talk about this in our main Child of Glass episode, but I actually I have beef with it and I want to bring it up and that is.
Dan
Through the magic of editing, however, you can...
Julia
Oh no, it's staying in this episode. It's staying here. Can we talk about the Frère Jacques soundtrack?
Dan
The only French song I know.
Julia
Like they were like we need a soundtrack for this movie. We don't want to spend budget. Let's just make the whole soundtrack, all the score, everything...  Frère Jacques in multiple iterations.
Chia
And like was it supposed to be a reference to the dude who killed her because his name was Jacques? Or was that it's the only french song...
Julia
No, it was just a song that Inez knew because she was a French child.
Dan
So french. Every french child knows that song.
Chia
I mean I learned it in the French unit in my elementary school. Clearly this is the song that you sing if you're...
Julia
I Learned that song in like preschool or Kindergarten and not even with like a French unit. It was just like this is a song that you learn. Um, so the the movie starts with like a kind of romantic version of it, I wanna say?
Geoffrey
Yeah, it took me a second. I thought wait a minute are they playing Frère Jacques. Ah.
Julia
And then at later points it becomes more urgent and spooky. And then at a climactic point Inez sings Frère Jacques -or I guess it's the denouement after she's been reunited with her child of glass.
Chia
Yeah.
Julia
She cradles Babette and sings Frère Jacques lovingly.
Chia
Yes, yes, she does.
Julia
And like all of that is – it acts as though the song is very important in some way. It's not. It's just there.
Geoffrey
Someone was trying to weave a leitmotif into a diagetic and non-diagetic theme that could carry the emotional stakes of the movie.
Julia
Well I'll tell you what it reminded me of. Have you all seen A Talking Cat!?!
Geoffrey
A Talking Cat!?!
Chia
Yes, but I have almost no memory of it.
Julia
A Talking Cat (exclamation point question mark exclamation point) is a terrible wonderful movie about a talking cat who can only talk once to each person.
Chia
Not to be confused with the cat who drives...
Dan
Who made up these rules???
Julia
And the soundtrack for that is just like midi files of Twinkle Twinkle Little Star and La Cucaracha, and the love theme is La Cucaracha as a midi file.
Dan
But it's somebody somebody's Casio keyboard, like these are presets. Yeah yeah, use those. Go for it, it's in the public domain. Nobody'll sue us.
Julia
It's Fine. It's fine. But yeah, like A Talking Cat!?! has a plot where like the the older dad character has a little romance with the mother of some other kids and ah every time they are together and having their little romance, La Cucaracha plays.  And I was like... this came before A Talking Cat!?! so I guess A Talking Cat!?! is even more derivative than I thought, and it's derivative of Child of Glass. I'll leave you with that thought...
Dan
Nothing gets me going like La Cucaracha on Casio keyboard.
Chia
[hums La Cucaracha]
Julia
Well, you're doing it too fast. It's like slowed down. It's like [slower humming]
Dan
La Cucaracha: low speed
Geoffrey
La Cucaracha ... alla notte
Chia
La Cucaracha, but make it sexy.
Julia
Exactly, well, or you know Frère Jacques but make it romantic.
Chia
Make it spooky. I mean it's actually a really spooky song...
Julia
It is a spooky song, but that has no bearing on the plot of this movie.
Julia
Okay, well, on that note, I think we're going to return everyone to their regularly scheduled programming.
Dan
Hooray!
Geoffrey
Yes, but I have one more commercial to play that you can cut out if you want to.
Julia
Oh no
Geoffrey
[singing] GI Joe!
Narrator: GI Joe was still in the fight.
GI Joe: Look out, Snake Eyes! It's Cobra Commando and Destro!
Cobra Commando: I have you now, Joe!
GI Joe: Not so fast! Here comes Swamp Witch!
Swamp Witch: I love you, Snake Eyes.
[singing] GI Joe!
Narrator: New Swamp witch figure with action opal belt.
Julia
So on a scale of 1 to 10 how close is that to your fanfic?
Chia
Oh, at least an 11.
---
Julia
This Is Why We're Like This is brought to you by Julia Rios and Geoffrey Pelton. We've recently changed our hosting situation, and we're kind in the middle of still doing it, to be honest. But if you want to subscribe, you can do that by going to juliarios.com and clicking on the This Is Why We're Like This tab up at the top of the page. It will give a whole list of links from different podcast providers. You can choose any one of those, or just look for us on your podcatcher of choice. We're probably there!
We're on Twitter as @thisiswhy_pod and we're also on Instagram as @thisiswhy_pod. You can always email us about the weird movies from your childhood at thisiswhywerelikethis at gmail dot com. We have decided, as part of our big move, to stop asking people to pay for bonus episodes, and we're actually going to be releasing all of our previously paid episodes for free! Starting with our next episode, which will be The Country Bears with Kelly. That was a trippy movie and we definitely had a weird conversation about it.
We thank you so much for listening and we hope you didn't get burned by an easy bake oven or a creepy crawlies thingmaker while you were listenign to this episode.
If you love our theme music as much as we do, please go check out Loyalty Freak Music and consider supporting them on bandcamp.