Worlds of Possibility
Upper Hand (art) and Interview with the artist, Cody Jimenez
Our featured artist for this issue is Cody Jimenez, and I invited him to do a little interview about his process.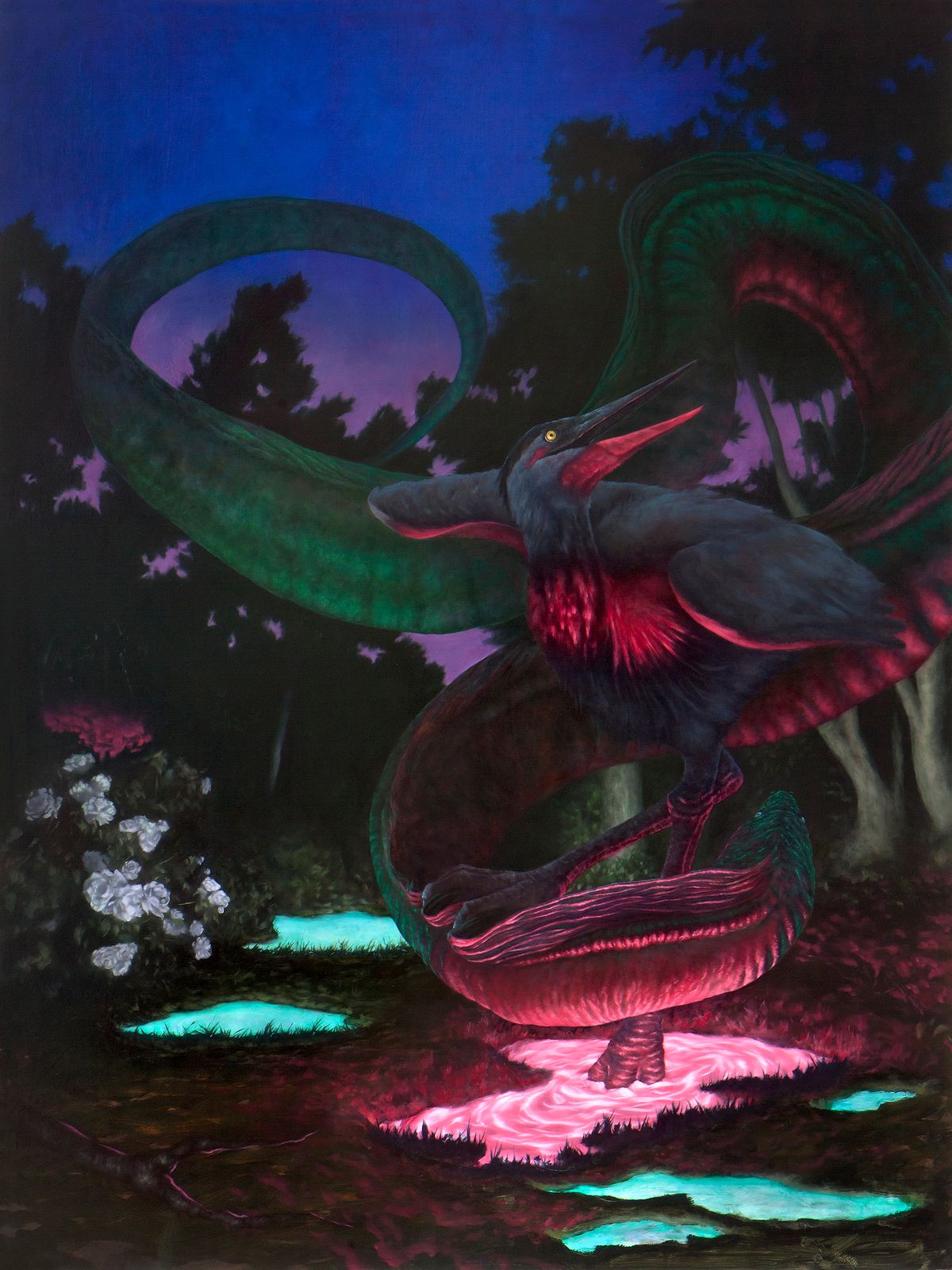 Upper Hand is one of the pieces from the October Worlds of Possibility issue. Our featured artist for this issue is Cody Jimenez, and I invited him to do a little interview about his process.
Listen to "A Conversation About Art with Cody Jimenez" on Spreaker.
You can listen to the interview as a podcast episode, and also read a full transcript below.
---
Julia
Cody, tell us a little bit about your background, how you got started as an artist, and what, if anything, you would say is the central sort of theme of your art.
Cody
I'm an imaginative realist painter. I think that's a good term for it that I've come across over the past few years. Basically my work is kind of like surrealism, sort of sci-fi, and fantasy, and all these things kind of coming together.
My background: I've always drawn and been really attracted to animation, and I was really into music and arts as a kid. Nothing super formal, but I was like I want to play guitar and draw, and in high school I was in a band. I had to go to college because of my parents. They were like you have to go, and I was like I guess. So I did it without really knowing what I was doing, and got really into oil painting in college, and since then I've kind of just been obsessed with it. That was in 2010 that I started really being more serious about artwork.
Julia
Sometimes on social media, you'll post speed processes of painting something on a canvas. What got you really excited about doing that specific medium?
Cody
I think it honestly has to do a lot with trying to make something look real. Early on, that was a very big part of why I was doing it. I was like there's some sort of skill involved with this and I really want to figure out how to do it, how to get the ideas from my head onto a canvas and have it be believable.
Julia
So how often would you say you're painting?
Cody
At least a few hours every day. Painting and drawing sketching, at least one or two hours a day. As I've gotten out of graduate school and tried to support my daughter and myself, it's been tricky just because the fine art world is very fickle, and it's a little competitive in a weird way. And yeah, having to have various jobs, or a full-time job, or something like that. But I try and find moments of the day that I can, and luckily right now I've kind of built a schedule for myself that allows me to work from home a lot and be able to do stuff in between.
Julia
Okay, so we're going to go back to the themes a little bit, and I'm going to get into one of the subscriber questions, because I always let my subscribers ask some questions if they want to, and so one of them says, "It looks like your work features a certain amount of horror. Do I have that right? if yes, can you talk about your horror inspirations?"
Cody
Yeah. I don't think I'm thinking shock value necessarily, but there is kind of like the creepy elements or some unnerving elements going on in my work. A lot of horror for me was monster movies like Alien or Predator. I think that leans more towards  sci-fi and action, I guess, but yeah. I think that it's mainly just the unnerving feeling and the visual stuff in horror movies that really inspires me.
Lately, it's been a lot of animation stuff. I'm at a point where I'm kind of delving away from the realism a bit, and I'm really inspired by movement and color. And I'm finding a lot of like animation really conveys that a lot more than traditional classical realism paintings. Studio Ghibli movies are inspiring. Some more contemporary stuff, like the Avatar: The Last Air Bender series, and things of that nature, I guess.
Julia
You mentioned color. I noticed that even when your paintings are dark, they do tend to incorporate a lot of bright colors inside that dark sort of overall atmosphere. is that something that you've always been drawn to, or is this something that you've been exploring more recently?
Cody
I think I've always been drawn to it in some regards. I was really into, when I started painting, the idea of chiaroscuro, which is like Caravaggio paintings where it's like there's a dramatic scene and there's like one really bright light source and everything is lit accordingly. But when I was really influenced by that in my undergrad, I wanted to do more of a modern take on it, so I was like what's a modern version of that? Neon lights are brightly colored.
At that time, it was like there's a candlelight in the dark, so it really illuminates that because that's what was there at the time, and now it's like there's all sorts of colored lights. And I think once I started doing that, I wanted to push it more and more and say well, how would a green light look? Or how would a bright pink light look? And reflect it onto an animal, or a person, or something like that. And as I've been doing that, I've been trying to see now how I can step out of it being so dark, but still have bright colors, as everything else is really colorful as well. It's been an interesting thing because it's exploring more colors. It's been difficult but really nice.
Julia
Wow. That sounds very cool. How do you get ideas for your paintings?
Cody
Usually it'll just be observing, like the past year so I've been walking a lot more. My girlfriend has a dog, so I've been joining them on walks, and usually I'll see how a bird interacts with a flower, or how there's bugs in a bush, or something like that. It's a lot of paying attention to these little mundane things. I, at one point, I think a few years ago, just noticed how my daughter was looking at the world and just kind of observing these things that I was very oblivious to because I was always go go go, next thing, next thing. And though I still kind of am, I noticed how she looked at the world, and it was really inspiring because there's just a lot she noticed that now I notice. It's a lot of just observing how things interact with each other, and luckily I have some drawing practice and I can just kind of try and create compositions from an idea that sparks from seeing different things out in the world and kind of sketch away and see what works best.
Julia
Yeah, and then you sort of take that and, like you said, you twist it so that it has a little bit of some sort of supernatural element, or something that's not quite usual, I guess.
Cody
Yeah, I liked representing things that were like in nature, but then adding something else that was like, well that's not right, but still somehow it's believable. It's kind of literally the word supernatural. It's natural, but super.
Julia
Yeah, so tell me a little bit about the painting that we're featuring in this issue of Worlds of Possibility, which is Upper Hand.
Cody
I created that during my MFA, and I was really expanding my body of work at that point to feature more environment. I wanted to have this in the forest thing going on, and I was really fascinated with eels and herons at the time. I was like, well what happens if an eel can float in the air and fight with a heron?
In 2010, I had gotten into and a car accident and flipped my car off the highway going seventy five miles an hour. And luckily there were no injuries. It was really weird, and it was one of those things where, if you're religious, you think of god or you think of, you know, something to that extent, like a guardian angel, and you think of death. And since then, that idea, those two opposing forces like life and death have been in my head.
When I came up with this idea for Upper Hand, I liked that battle of life and death. Though, in that painting, I never really depict which is which, because both a heron and eel look menacing and a little goofy at the same time. Animals like herons can be very vicious. They eat ducklings. They eat turtles. They just eat whatever. But also they look really graceful when they fly. And eels, they look really menacing. I don't know, all animals can be dangerous, but they're not like sharks or anything like that.
I like the idea of just kind of subduing which is which. It's this kind of eternal battle, that sometimes life or death gets the upper hand. In that painting, I just didn't like pinning which one was which, and it kind of changes from time to time in my mind. I'm not sure if anybody picks up on that, but I think that's fine.
Julia
Okay, so another subscriber question for you is: Do you ever get blocked creatively? And, if yes, do you have any thing that you do to sort of pull yourself out of it?
Cody
Yes, I do. I think the most recent time was I had a hand injury and I had just moved and I just had to rest, and that was really hard for me to do.
There are a number of things I try and do. I try and like watch some new shows, as unproductive as that may seem. Sometimes it's like there's something there that can spark an idea in my head, or something visually going on in a color palette that's on screen. And sometimes it's as simple as like just looking at what is around you and trying to draw it. I like practicing drawing in that way because it's what keeps up my hand eye coordination. It'll be like a little like action figure I have and it will just be laid down on top of some other color, and I'll just sit and draw that either in my sketchbook or Procreate and just see what happens, and try not to pressure myself into like oh this will be the thing that gets me out of it, because as soon as there's any pressure creatively like that, it just keeps going, I've noticed.
Julia
And has anything like that ever actually led to a bigger project for you?
Cody
Recently I started doing some figure drawing practice. I work online, and sometimes in between setting up these online classes I help run, I'll do some figure drawing practice. I think getting better at my anatomy and how the body moves and contour lines and things like that. I've been focusing more on movements and flow, trying to at least. So I have these two thirty inch by forty inch paintings that I'm working on now for my solo show that were inspired by just having practiced figure drawing and understanding how the body moves and stuff.
Julia
So you mentioned your solo show. Tell us more about that.
Cody
That'll be coming up at The Brand Library and Arts Center. It's coming up in January. I believe the opening is the 14th of January, 2023. As I get more solid information, I'll be posting about it on my socials and in my newsletter.
Basically, I'll just be exploring kind of the themes that are in Upper Hand a little bit. I've built my own narrative and world in my paintings where there's like these glowy elements that are kind of like emotions manifested into the physical world. So there's like figures with these big glowing crystals, and globules just floating in the air. And how they interact with the world and how animals interact with them. So that's the basic idea.
Julia
That sounds very cool. So where is The Brand Library?
Cody
That is in Los Angeles, California. More specifically, I believe it is in Glendale.
Julia
So if you're in Southern California, you might have a chance to go see some of these in person, and I can say, as someone who has seen some of Cody's work in person, it's very very cool.
Cody
I think from what I've heard. It should be up for three months, so there's quite a big window, which is nice.
Julia
You have a shop online. Can people buy prints of these?
Cody
Yes. Upper Hand, I do have some little mini postcard size prints, and it's at my web shop, which is https://codyjimenez.bigcartel.com/.
Julia
Okay, perfect. Do you have a favorite painting or sketch or drawing that you've done?
Cody
I have this painting titled Piss Off, depicting my daughter's mom sitting on the corner of bed with this giant red crystal emanating from her shoulders. I think I like that one the most because it was one where I felt I successfully captured something I've been trying to do, which is like this really high realism with fantasy elements that are also believable. I feel like that's one where I really nailed it a few years ago, and since then it's something that I kind of keep as the the goal for future paintings, and I think, for that reason, it's my favorite.
Julia
Okay, so last subscriber question. I've gotten it from a few different people in different formats, so this is sort of an amalgamation of several people's questions, but the overarching theme is: What is your opinion on things like Midjourney, DALL*E, etc. The AI generated art?
Cody
I have back and forth opinions on it. I think as a tool, it's really interesting. The purpose of it, in how it can help some people get this visual idea out – because sometimes I think people who write or are trying to get an idea across, they don't have the visual vocabulary, or the hand, to really portray what they're saying. So in that sense, I see how it can kind of help people. I think what's negative about it is the people that use it. They can be very overbearing. The thing I see online all the time is like, see this has soul. Like they're saying their AI art has soul or something and then they typically bash on other artists that are spending a lot of time crafting something, even digitally, even in a 3D program or something. I see that often, and I'm not sure why it's like the common thing to say.
Julia
Have you played with any of them?
Cody
I haven't, no. I've been curious, but then I get distracted and I'm like I need to paint.
Julia
I know that a lot of people have been debating over whether this could replace human artists. Do you think that's actually realistic in any sense?
Cody
I think to an extent it can be. I don't think you can beat the hand of an artist that's skilled and knows what they're doing, because a lot of these AI things look really clunky and weird the more you look at them. And also beginning stages of paintings look clunky and weird when you look at them, until they get refined.
So I think it won't necessarily beat out an artist that knows what they're doing and has a track record of delivering great illustrations or communicating visually, but I think for a lot of people, just because technology has gone to a point where it allows a lot more people to create in general, everything's much more accessible. I think it'll be just like how in Garageband, you can make something – the music program that comes with every Apple computer. You can create simple beats, and if you really wanted to, you could put that on a YouTube video you make or something to that extent.
I think it'll replace low-tier projects, maybe like people that are just starting out trying to get their bearings on creating, and they need some sort of visual thing to go along with it. I think maybe that'll be replaced more often, but for more serious projects, I don't think so.
Julia
Okay, yeah, I think that's fairly comprehensive. I feel like I don't really know what to make of all of this myself. I know there are also AI writing tools that generate text, and I've heard that some authors... like I think there was even an article recently about an author who was writing like a novel every nine weeks and using AI to generate some of the text and then just like editing it and changing it, and I can certainly see how that could work.
I can't really imagine that there would ever be a point when all novels are actually AI generated, because I think that one of the things that I heard you say was, "Oh I have to get back to my painting, so I'm not really worried about this. I'm just going to be focusing on the act of painting, because that's my thing and that's what's interesting to me, or calming to me." And I think for writers it's kind of similar. A lot of them are, you know, they're not just writing books necessarily because they want to put out as many as possible. Some people are doing that, and some people are doing it because they just want to tell a story. And I think as long as you have people having that urge to create, then that's going to create things that aren't the same as what an AI would generate.
Cody
Yeah, yeah, definitely that makes sense. I also work part time at an art gallery, and paintings do still sell. There's something about the physical media of paint. Sure, an AI image is basically just a jpeg that people can see online, or maybe you could print it, but it doesn't really beat a physical painting. And also the act of painting, like that is very for the artist. And I guess you can argue that if you're using these AI tools, you're going through prompts and creating. But it's not the same, I don't think.
Julia
I think it's a different method of creation. I would say that creating music where you're taking a lot of samples to create something different and making kind of a collage of audio sound is kind of similar to what you're doing with AI-generated art. Because, as I understand it, in order to get what you want, you have to sort of give the machine a bunch of different prompts and try to refine them, and then I've also seen some artists starting with that and then taking the image file into whatever, Procreate, or Photoshop, and changing it to be more like what they envisioned. I don't have that visual art training and I don't have the expertise at all. I couldn't do that. So, for me, I'm like, well, if you're an artist and you know what you're doing and you know what you want and you start with this generated thing and then change it, I'm not sure that isn't art? And it's certainly not something the machine did all by itself.
Cody
No, it's true. Artists have always used tools to skip parts, essentially. Maybe not skip parts, but like just make things go faster in their process. And I've heard people saying that they'll use this to maybe get ahead on certain parts, like compositions or colors or something. I don't know personally anybody that's done that, but I could see how that's a possibility.
Julia
Yeah, that's fair. But, like you said, it's a little different if you're actually painting with oils on a canvas. That's going to have a different texture. It's going to have a different feel, and it's going to be a tangible, physical object at the end.
Cody
Yeah.
Julia
Cody, it has been delightful talking to you. If you would like to tell everyone where they can find you online, or where they can find your art out in the world, I'd love to wrap up with that.
Cody
Thank you. You can find all of my work at https://www.codyjimenez.com/. I have a bunch of links on there. Or my Instagram – @codyjimenezart is my user handle. I have links to some galleries that I work with. I show with Abend Gallery in Denver, Colorado. I also show with Gallery 1988 in Los Angeles, California, and my solo show will be with Thinkspace Projects. It's in collaboration with The Brand Library and Arts Center in Los Angeles, California.