Worlds of Possibility
Cloud Zoo: A Story by Moriam E. Kuye
A soothing and wondrous story about the anxieties of parenthood.
This is a story from the April 2023 issue of Worlds of Possibility. You can listen to an audio version narrated by Dami Olukoya on the OMG Julia Podcast, or read the full text below.
Listen to "Cloud Zoo - A Story by Moriam E Kuye" on Spreaker.
---
Cloud Zoo
by Moriam E. Kuye
Me and my husband haven't let go since having Alice. She's our precious three-year-old, who has our hearts on a leash, who has John tugged to his phone with our babysitter: "Yup, she only falls asleep with her panda these days." Once John is sure Alice is still breathing, he rests his phone in the grass. I'm smiling at him because we're just husband and wife for a night. I want him to admire the way we mirror each other: sat cross-legged in our garden, both naked and brown, chests rising and falling.
But John is a worrier. So, to help him let go, I chase his thoughts away. "Did you know a jellyfish is about ninety-five percent water? Or that water can be a solid, liquid or gas? Where are your thoughts, John?"
His silence is a good sign.
I taught him to let go, and I thank my mum for teaching me to—in a way.
When I was young enough to see mum as a giant, I slid beside her on our leather sofa. She was a nurse then, and I could never imagine her smiling as she patted down plasters and magicked lollipops. She was always grumpy, or tired or both. That evening I was streaming off fun facts: some people can't lick their elbows; the sun doesn't really go to sleep; it just visits another part of the world. Mum fell asleep. I stomped to our garden and stripped off all my clothes to catch a cold. But it was boring waiting, so I lay in the damp grass pointing out animals in the sky: first, angry cloud lions roaring at cloud elephants, then the typical stuff—fluffy swans fixing up giraffes with broken cloud necks. I became so calm that I melted. I pooled over my bones and then evaporated, a weightless air bubble cartwheeling over our laundry rack, until I plopped back on my bones and morphed into my body.
It always takes John a while because he's a worrier, but once he melts, I let go of my own thoughts — your fridge is leaking, you're a distant mother — and I melt too. And even with the burdens of my bones rushing back to me in emotions and thoughts, I'm just water now, I'm free, I am a jellyfish.
"Let's not stay up too long," John says.
I evaporate and leap over our red canna lilies toward the dusk orange swirls of the sky. I lead us over a neon street where partygoers screech on heels, their great migration to all things loud, and pulsing and bitterly intoxicating. I soar over traffic, through a sticky smog, toward the fairground blinking with lights.
"Remember our first fair date?" I say, condensing on a tree leaf, following the smiles of a carousel below. "I felt like a child. I wanted us to go on everything."
"You almost sound sentimental. What's wrong?"
A girl giggles with her mother in a spinning teacup. "Nothing. I just think we should do this together more."
John slips close to my droplet. "It's not so easy now. What if Alice needs me, and I'm not around, and then she grows up resenting me?"
"You're fine, John. My mum was distant, and we get along well enough."
"Am I distant?"
"No, you're the perfect father." And in our silence with merry-go-round tunes, I say, "Let's stir up some lightning."
"I don't think we should stay that long. What if Ange needs to call?"
"She's never had to. Ange is perfect with Alice."
I evaporate. I bowl over the sweet popcorn kernels. I rise above the teenagers screaming down a big drop. The clouds look grey this high; all the rides, and the voices, and the colours begin to shrink into distant, silent specks.
I learned as an adult that any job could turn a person grumpy. I wonder if Alice saw how tired I was yesterday — too busy thinking about lesson plans and biology papers to mark. She was waving her colouring-in of a rainbow zebra, and I think I remembered to smile. Did I smile when I told her how talented she was? Or did I sigh?
John joins me, and we swirl together as a cloud.
"Lola. I know tonight is just for us, but I can't shake the feeling I'm doing things wrong."
"You're fine. Alice loves you, honestly." He's always a ray of sunshine with her. I heat up, and our cloud charges. A bolt sparks, and it feels like a scream. "Do you think I'm grumpy?"
He ignites his own spark. "Sometimes."
I roll, and thunder booms. It feels like a sigh. "Do you think she'll remember me as a grumpy mum?"
"I just hope she remembers us at all. What if she doesn't need us when she's older?"
"Or what if she learns to let go and never comes back and lives as a broken cloud giraffe for the rest of her life?"
John greys. "Or worse, a cloud sloth."
"I just want her to be happy. And loved. Call us at least once a week."
"I was hoping for every day."
I swirl our cloud till it fluffs like cotton candy. "I want her to know that I love her and that I think she's special."
"She does. You're an amazing mother, my Lolade Omotayo—"
"Don't full name me," I say, and when he mirrors me in the air, I tell him, "You really are a good father. And a decent husband."
"And you're not grumpy, most of the time."
I blow off some steam. "Still in a hurry to get back?"
"We could stay for a bit longer."
John leaps above me, swelling as a cloud dolphin. And we vent and listen. I think I needed this, too. Though our worries aren't asleep, they seem far off in another part of the world. We dance and spark lightning; we animal morph and play, chasing each other as little fluffy cloud rabbits.
---
About the Author
Moriam E. Kuye (she/her) is a Nigerian-British speculative fiction writer from London, UK. She is a perpetual daydreamer who enjoys documentaries, games, and roller-skating on sunny days. She can be found lurking in a hidden corner of Twitter @moriam_emi.
About the Narrator
Dami Olukoya is a British-Nigerian actress and Voice artist based in Essex. A richly versatile narrator, Dami has worked across a wide range of genres, from Young Adult and Self-help to Fantasy and Thrillers.
---
Support Worlds of Possibility
If you are enjoying Worlds of Possibility, please consider supporting by becoming a paid subscriber through this website. Paid subscribers get early access to issues of Worlds of Possibility in ebook format. If you can't afford that, you can also support by subscribing for free to the OMG Julia Podcast and having episodes delivered directly to your podcatcher of choice. Every little bit helps me continue to pay creators for their stories, art, poetry, and more!
---
Update on the Worlds of Possibility anthology
The Worlds of Possibility anthology is progressing nicely! I have accepted the two additional poems that will be included thanks to the Kickstarter reaching the poetry stretch goal. Now I just need to format everything, get it all int he right order, make sure all the art is there, and get the final cover art from Grace P. Fong before I can proof the whole thing and send it to be printed. Grace has shown me some preliminary cover art sketches, and they look amazing! I can't wait to see the final version, which should happen sometime next month!
All in all, I'm on track to send books to my backers in October as originally planned. At some point after that, it will also be available on retailers for anyone who wants a copy, but missed the Kickstarter.
I've also been thinking about changing the way individual issues are distributed. Right now they're available only to people who subscribe to this website, but I am thinking about offering individual issues for sale. I haven't yet decided how I would do this or when or where, but if this is something you'd really like to see, let me know!
---
Why Didn't You Just Leave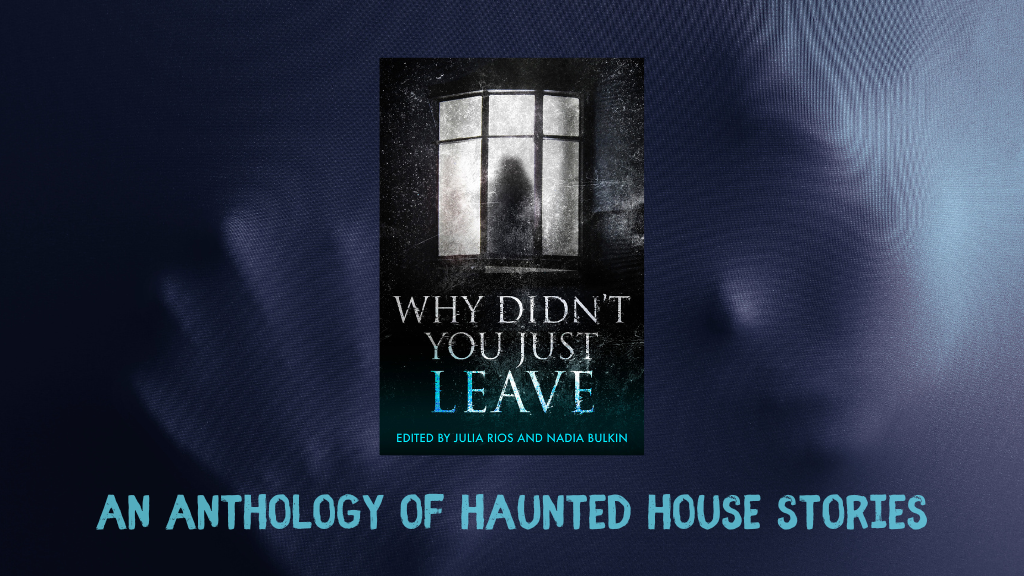 My other project, a scary ghost story anthology, is still open to Kickstarter backers until the end of this month! Why Didn't You Just Leave is a project I am co-editing with the wonderful horror writer, Nadia Bulkin. If you aren't familiar with Nadia, she writes sharp and scary stories that also read beautifully. She's also extremely well-versed in the horror genre – if there's a horror movie out there, she's probably seen it – and she has GREAT taste. I'm delighted to be working with her and our publisher, Eric Raglin. Eric is the head of Cursed Morsels, a small press devoted to publishing horror with a social commentary angle. When Nadia and I started to look for a publisher, Cursed Morsels was the first one on our list! We were thrilled when Eric said yes to this project, and it's been fantastic working with him.
You can back Why Didn't You Just Leave to get the book full of scary ghost stories, but if that's not your speed, you can also get other things like the cute ghost stickers I designed using stock art.
One reward Nadia and I are super excited for is the Manifest Your Own Digital Haunting pledge level, which is a small group zom with a paranormal expert. Our guest, Katharyn Birgfeld, is a paranormal investigator and medium, and she's agreed to come and share her experiences with us, and to answer our questions about hauntings! If you've ever been curious about how paranormal investigations work, what equipment ghost hunters use, etc., consider signing up for this! It's available both as a main reward level and as an add on.  
You've got until the end of the month to grab these cool rewards!