Worlds of Possibility
Happy Halloween! A Ghost Special!
Happy Halloween! To celebrate, here are two pieces from the October 2023 issue of Worlds of Possibility.
Happy Halloween! To celebrate, here are two pieces from the October 2023 issue of Worlds of Possibility. Paid subscribers can get the whole issue in ebook format here. You can also buy an individual copy of this issue without subscribing here.
You can listen to me narrate "Garage Ghost" by Julia LaFond and the artist statement for "Ghosty Dries Flowers" by Veronica W as a podcast on Spreaker, and you can also read the full text below.
Content note: "Garage Ghost" by Julia LaFond contains references to death by car accident, including some blood and gore.
Listen to "Happy Halloween - A Ghost Special" on Spreaker.
---
Ghosty Dries Flowers
by Veronica W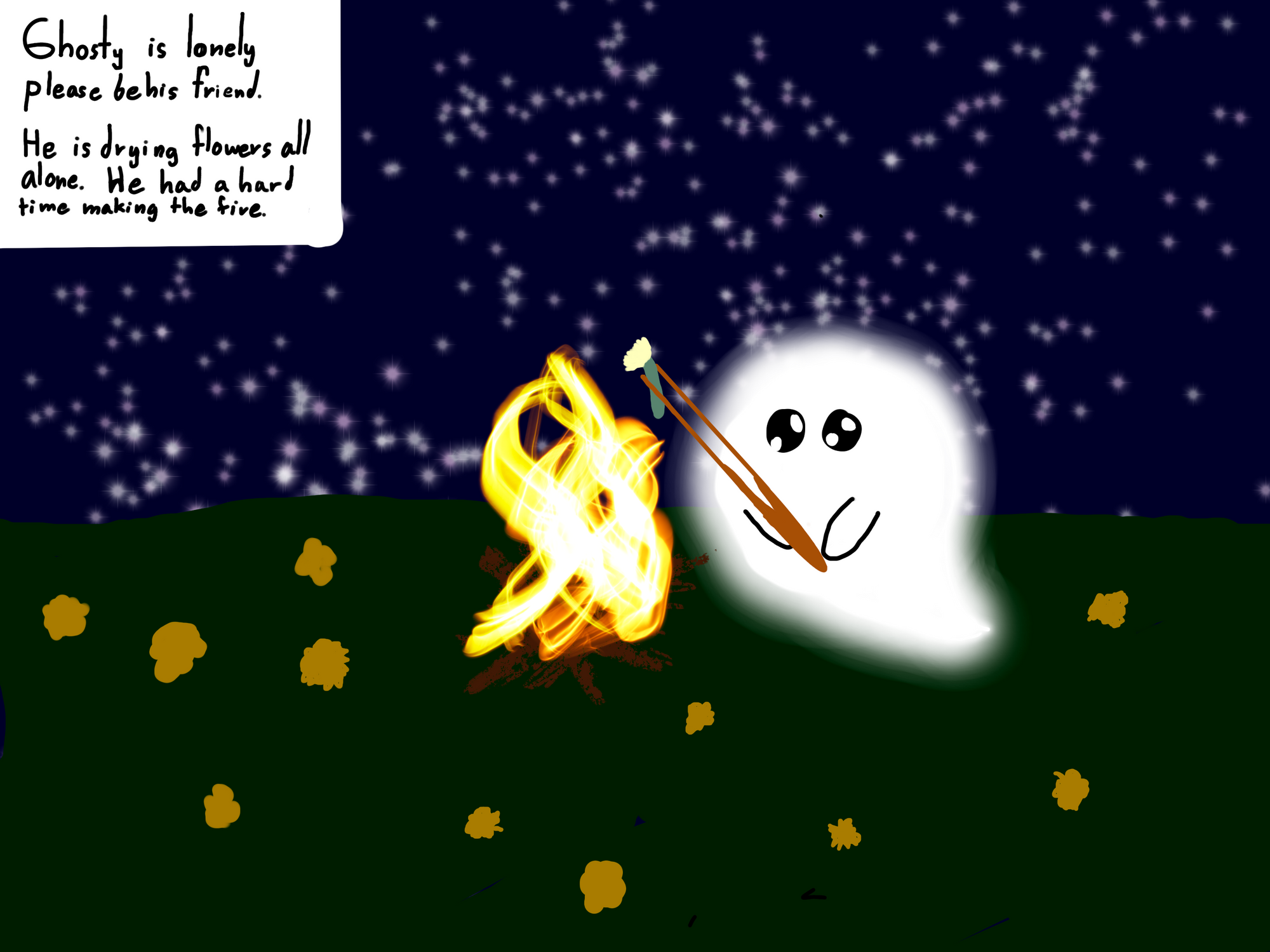 October is a good month for ghosts, and this issue's featured artist helps us get into the cozy ghost spirit with a digital painting of her original character, Ghosty.
Will you be Ghosty's friend?
---
About the Artist
Veronica W is a 4th grader living in Portland, Oregon, who likes to do gymnastics, sing, play with her friends, read, and draw. She likes making up stories about friendly ghosts and other creatures.
About the illustration
Ghosty is a character I developed during an October art challenge by Jenn Reese called "Autumn Hearth." Here Ghosty is sitting at a fire, drying dandelions with wooden tongs. He is always trying to make friends. He doesn't always get friends, but he is very friendly. Ghosty lives in a pumpkin house in a pumpkin patch, and likes booberry pie. Booberry pie is a blueberry pie, and when you cut it, ghosts come out of it. When he cuts it, the ghosts come out, and he plays with them for awhile. Then they go onto another pie. During the month of October, he will make friends with a fluffy puppy named Marshmallow, and a pinecone cat named Pinekitty.
---
Garage Ghost
by Julia LaFond
I had a bad feeling about this year's haunted "house." For one thing, having it in the abandoned parking garage — a glorified memorial to a way of life that nearly fried the planet — was tacky. Theming it around the accident was downright tasteless. Not that I believed in the Garage Ghost, but reenacting his tragic death for cheap thrills sounded like the setup for a horror movie where a vengeful spirit picks off students one by one.
It was only after I got volunteered to set up the laser displays that I realized what I should have been worried about: getting lost. The concrete walls were featureless even before my flashlight died on me. My feet ached and my heels were starting to blister, but there was no sign of the stairwell. I was going in circles.
Slumping against the wall, my thoughts also went in circles. Maybe I'd never find my way out. Maybe nobody else would find me either, dooming me to be the next Garage Ghost.
That's when I broke down crying.
"Are you okay?"
Gasping, I looked up to find one of the "accident victims" already in costume (not that I could tell who it was beneath all that fake blood). It would have been embarrassing if I weren't so relieved someone came looking for me. Once I explained, he led me back to the stairwell, cheering me up with atrocious puns.
When we got back to the group, they all stared back at me in confusion, and I did a double-take. They were all here, and nobody was in costume. So who…?
Behind me, the stairwell was empty.
---
About the Author
Julia LaFond got her master's in geoscience from Penn State University. She's recently had flash fic published via The Martian Magazine, White Cat Publications, and Thirteen Podcast. In her spare time, Julia enjoys reading and gaming. Website: https://jklafondwriter.wordpress.com/