editing
Let's talk about Mexican Independence
September is a great month to celebrate Mexicanx culture! And I decided to do that this year by inviting some Mexicanx creators to write stories and an essay...
One thing my father always made sure I understood when I was young was that Cinco de Mayo was not Mexican Independence Day. Cinco de Mayo is mostly celebrated in one region in Mexico, because it's a celebration of one turning point in a different (later) war. The Battle of Puebla happened in 1861 during the French and Mexican War, wherein Napoleon III tried to take over Mexico, already an independent country at the time—spoiler: it didn't work. Anyway, this would sort of be like saying that the 10th of September is US Independence Day because it's the anniversary of the Battle of Lake Erie in 1813 (a turning point in the War of 1812, and a morale booster for the US, but… not anything to do with the American Revolution at all).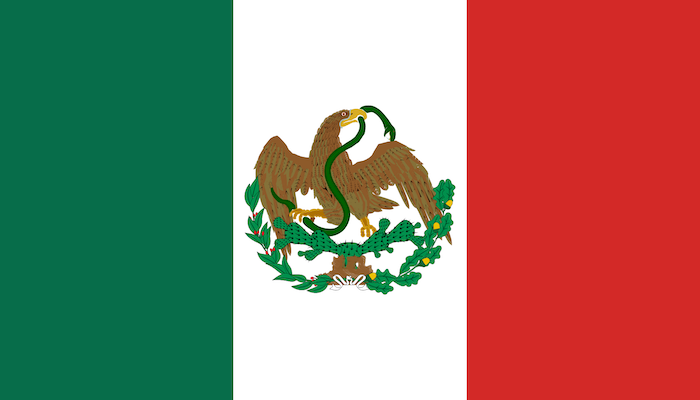 Image Description: The first flag of the Republic of Mexico (designed in 1823) with vertical green, white, and red stripes, and an eagle perched on a cactus and devouring a snake in the center of the white field. The flag has been through several iterations, but the main themes and symbols remain in the current version, last updated in 1968.
Mexico's War of Independence from Spain started about 50 years earlier than the Battle of Puebla that Cinco de Mayo celebrates. September 16th is the traditionally observed Mexican Independence Day, as it's the anniversary of a famous call to arms that a parish priest made in a town called Dolores in 1810. This moment is something that can loosely be compared to the signing of the Declaration of Independence in the United states. The Grito de Dolores (Cry of Dolores) signified the beginning, not the end of the struggle. Mexico's war against Spanish rule lasted for 11 years before Spain finally recognized Mexico as an independent country on the 27th of September, 1821 (hey, that's today 198 years ago! Coincidence? Or did I plan it that way?).
Fun fact for all of you who have forgotten your history lessons, or never learned US history in the first place: the formal recognition of US independence happened in 1783 with the signing of the Treaty of Paris. That actually happened on the 3rd of September, so September has a claim to Independence Month across both of my heritage countries!
Anyway, In Los Angeles, there's a big Mexican Independence celebration on Olvera Street, and my father used to take me to it sometimes when I was growing up. As a kid, I didn't really understand why it was so important to him that I understand that "Cinco de Mayo isn't the Fourth of July". If people wanted to celebrate Mexican culture in May, we should be happy, I thought. It wasn't until I went to college in the midwest that I really noticed what Cinco de Mayo party culture meant for a lot of people with no Mexican heritage, and then I started to see why it tended to upset my father. Cinco de Mayo in the US is a day for margaritas and nachos, mostly, but it can also be something where people with no Latinx or Hispanic heritage mash up all kinds of cultures. I've literally seen bars run specials for Bacardi (originally founded in Cuba, now with headquarters in Bermuda) and Imperial beer (which the ad in the bar window even explicitly said was the national beer of Costa Rica). Most of these things have nothing to do with Mexican culture, let alone Mexican Independence (though in my experience, many Mexicanx people do like a good margarita as much as anyone else, regardless of which origin story you choose to believe.).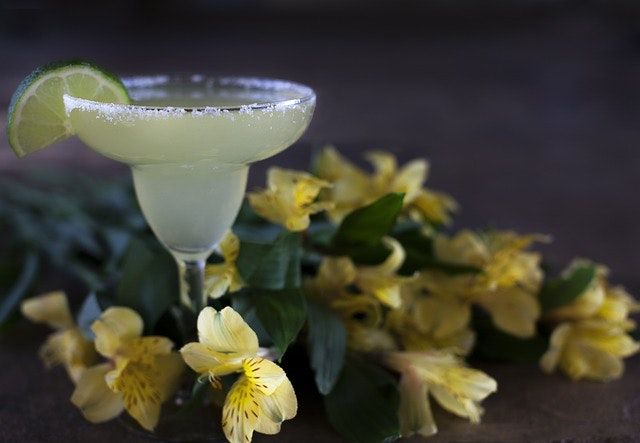 Image Description: standing in the middle of decorative yellow flowers is a margarita in a glass with a salted rim and a lime garnish.
Anyway! All of this to say, September is a great month to celebrate Mexicanx culture! And I decided to do that this year by inviting some Mexicanx creators to write stories and an essay for Fireside Magazine, and suggesting that the magazine also ask a Mexicanx artist to do the illustration for the month. Now that all of the pieces have been released on the web, I thought you might like to see them all collected together.
First we have "Shapeshifting Sorcery: the Persistence of Mesoamerican Magic" by David Bowles. If you don't already know about David's work, this is a great introduction. He's a multiple award winning writer of middle grade and young adult fiction books, and also a super cool academic who does frequent deep dives into Nahuatl linguistics and Mexicanx history and folklore on Twitter. He's also just really nice as a human. I knew I wanted him for my essayist right away when I decided to put together this themed bundle of content, and I was super lucky that he agreed.
Illustrating David's essay is the multitalented Mariana Palova. Mariana is an award-wining author as well as an artist. You can see the full illustration of the terrifying vampiric owl of Mexicanx legend here (or by clicking on the small detail section below).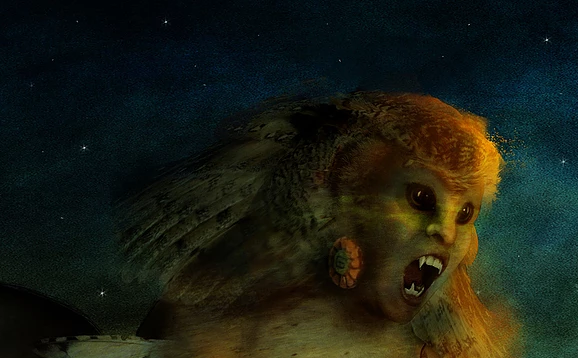 Image description: a small section of Mariana Palova's illustration for David Bowles's essay on shapeshifters. Seen here is the head of a creature that is part owl, and part human with feathers and vampiric fangs. Click on the image to see the full version at Mariana's website.
In addition to David's essay, we have three stories by Mexicanx authors. Each story was written in Spanish and then I did English language translations. I'm linking to the Spanish versions here, but you can easily switch to English on the individual story pages if you don't understand Spanish.
First is "Gallinas" ("Chickens") by Raquel Castro, a story about some boys who think there might by a shapeshifter in their town. Raquel is an author of YA books in Mexico, and together with her partner Alberto Chimal (another awesome Mexicanx author), she has a Spanish language book discussion channel on YouTube.
Next we have "Puebla de los ángeles" ("City of the Angels") by Libia Brenda. Puebla de los ángeles is the full name of the city where the famous Cinco de Mayo battle happened. Puebla literally means town, and waaaaayyyyy before 1862 this particular town was dedicated to the angels. Libia's story examines that history through a fantastical bureaucracy lens.
And our last Mexicanx Independence Month story is "La Caja" ("The Box") by Iliana Vargas. This is a surreal and tense story of a courier  on the subway in Mexico City racing the clock to deliver a monstrous hatchling before something very bad happens. Iliana's writing is all about the gothic and surreal in general, and this is definitely a prime example.
Of course these stories in no way represent the whole of Mexicanx speculative fiction, but they're three different styles of story, and three authors we don't see a lot of in English. I hope you enjoy them! And if you have recommendations for other Mexicanx stories, art, or other creative works, please feel free to share them in the comments!