Worlds of Possibility
Top Reviews of the Sweet Beauty Bakery, Home of Extraordinary Gender Reveal Cakes: A story by Jo Miles
If I could give Sweet Beauty Bakery more than 5 stars, I would.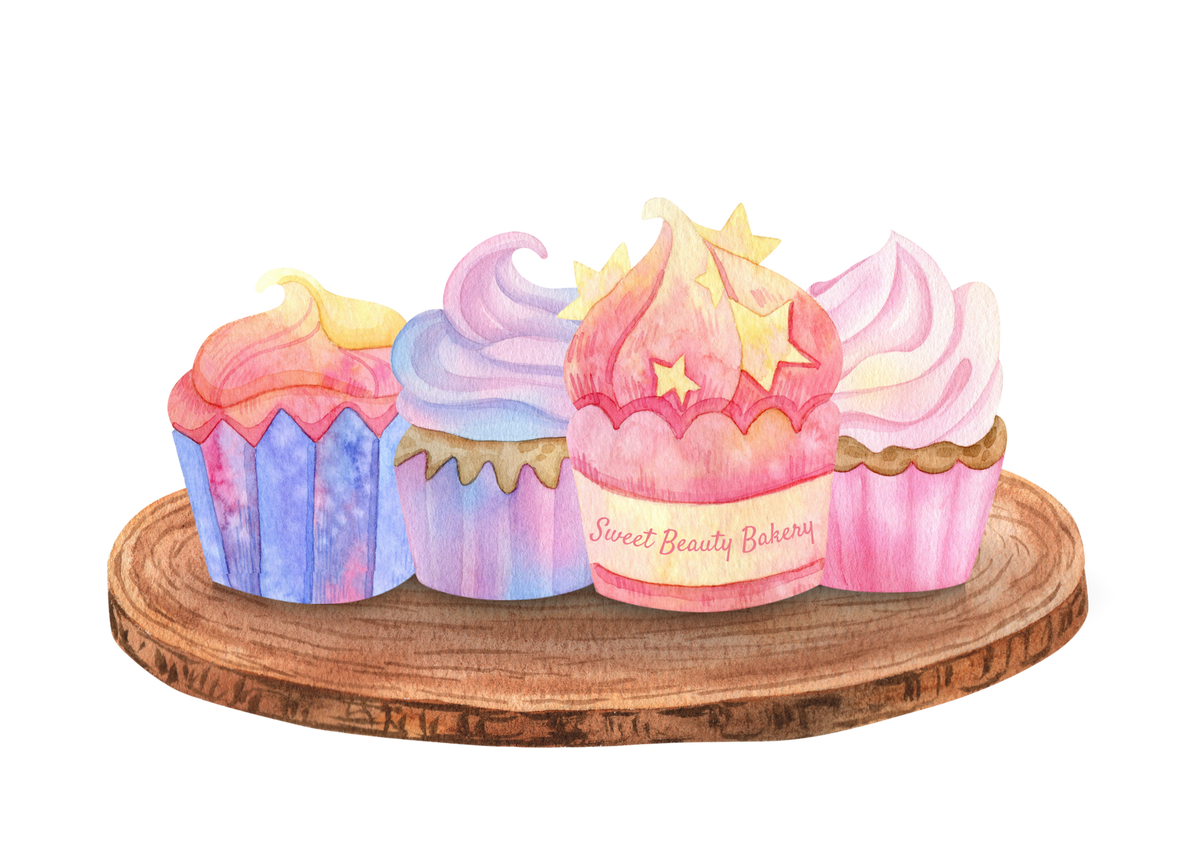 This is a story from the June 2023 issue of Worlds of Possibility. There's no link to that issue, because it doesn't exist yet! I'm releasing this story early to celebrate the Worlds of Possibility anthology Kickstarter reaching 75%! You can listen to an audio version on Spreaker, or read the full text below.
Content note: This story deals with themes of gender discrimination and transphobia.
---
Listen to "Top Reviews of the Sweet Beauty Bakery, Home of Extraordinary Gender Reveal Cakes: a story by Jo Miles" on Spreaker.
---
I wanted to release this story now to reveal one of the first stretch goal perks! You'll hear more about stretch goals as we get closer to the initial goal, but here's a teaser. For anyone backing at the sticker reward level, or choosing the sticker add-on, I'll be making stickers of the art for this story if we hit our first stretch goal!
You may notice that this art doesn't have an artist credit. That's because it's an image I made by combining several different stock art elements, and then also adding text. I haven't claimed credit as the artist myself because I didn't draw the items in the picture, but it also wouldn't exist as a whole without my choices to design it by combining things the way I did. In the anthology, there will be several different places where I use stock art elements, sometimes alone, as in the ornamental scene breaks for Jennifer Hudak's story, and sometimes in combination. In all those cases, there won't be an artist credited, but my credit is on the copyright page, where it says that the interior design of the anthology is by me.
The great thing about stock art is that it already exists and was created exactly for uses like this one. My using stock means the original creators get a small amount of compensation, just like they do when anyone else uses it. It's not quite as special as getting to commission original art, which is something I really enjoy doing, but it makes it possible for me (a person who doesn't have drawing or painting skills) to give a little extra oomph to things even when I haven't got the budget to pay for new art. Also, it's a fun creative outlet for me. Like editing, it involves a degree of discernment and curation, and then also, often  some tweaking to make it feel right for the project.
For this particular piece, I chose the four individual cupcakes, I put them together in the order that felt best to me, I moved them around so they appeared in front or behind each other, I added some shadows to the bottom so they appeared to have a little weight, I chose the wooden tray art, and then I chose a font for the text, added a curve so it looks like it is part of the label on that cake, and chose a color for it that seemed like a natural fit.
I really like the end result. I think it's fun, and I think it captures the whimsical spirit of this story, which I hope you will enjoy as much as I did. The second I read it, I knew it was one that I was going to have to accept. And it's going to be in the June issue, which is going to have, as one of its themes, pride! Because June is pride month.
---
Top Reviews of the Sweet Beauty Bakery, Home of Extraordinary Gender Reveal Cakes
by Jo Miles
Dylan T
★★☆☆☆
Made our gender reveal party a DISASTER
I don't like writing bad reviews, but they absolutely RUINED our baby's gender reveal!!! I should have realized something was off when the owner, Robin, set aside the sealed-up letter with the gender from our doctor, made my pregnant wife come all the way in from the car, and used this old Polaroid and snapped a photo of her baby bump!
So that was bizarre, but the cake looked fine when we picked it up on party day. Honestly, it was beautiful, with blue and pink fondant bows like we asked for. But when we cut it open, in front of everyone … it was purple. Sparkly and purple.
My mom was awfully confused, and my dad and FIL started a shouting fight over whether it was bluish-purple or pinkish-purple. Gramma, weirdly enough, just sat there serving pieces to the kids. FWIW, she said it was delicious, but my wife and I were too upset to try it.
Worst of all, the bakery owner refused to give us a refund and claims she "lost" our doctor's letter. So we STILL don't know the gender of our baby. Total waste.
Owner's response:
Dylan, I'm sorry you misunderstood our slogan of "the most effective gender reveal cakes around." I did explain our unique approach to you and your wife when you ordered the cake, and again when you called after the party. Unlike nearly all expectant parents, you DO have insight into your baby's actual gender, or will if you look up "mauve with sparkles" on the flavor guide on our website.
(If you insist on knowing about your baby's genitals, for some reason, talk to your doctor, but please don't confuse genitals with gender.)
I also explained our refund policy. If, by your child's eighth birthday, they don't feel this cake adequately expresses their gender, you're welcome to a refund or a coupon for 30% off your next cake. This offer expires by their twelfth birthday, however, as we can't guarantee their gender won't continue to evolve through puberty and beyond.
---
CharliesMomma22
★☆☆☆☆
What the **** sort of gender reveal is this?
I'm with Dylan T: this place is a joke, and not a funny one considering how much we paid for the cake!
How bad can it be, you ask? Our cake was CHOCOLATE. Dark, brown, chocolate.
Ridiculous! Who ever heard of a chocolate gender reveal cake? If there was any pink or blue dye, we couldn't tell. How are we supposed to decorate the baby's room now, or buy him/her clothes? Save your money and sanity — stay away from this bakery.
Owner's response:
Please refer to our cake flavor guide and I hope you'll see how lucky you are! Many of my customers would be thrilled to have a child with as strong a sense of self as dark chocolate.
Our standard refund policy applies. Additionally, we'd be happy to refer you to a therapist for parents having difficulty understanding their child's gender, or (when the time comes) a child therapist experienced in helping kids with difficult parents.
P.S. Please don't decorate your baby's room in blue or pink. There's a whole rainbow of colors available to you — but if you'd like to affirm your child's gender, try some black.
---
Jamie S
★★★★★
I never knew I needed this cake
If I could give Sweet Beauty Bakery more than 5 stars, I would. I came in to order a cake for my daughter's baby shower, not looking for myself at all, and was a bit annoyed when Robin, the owner, told me she'd need to meet my daughter to bake a cake for her.
I couldn't stop eyeing this display case of cupcakes, though. They were stunning and all just a little different from each other. I wasn't hungry, but it seemed a shame to leave empty-handed. Robin caught me looking, gave me this knowing smile, and told me to pick out my favorite. So I did.
She warned me before ringing me up, thank goodness. She explained exactly how her cakes work, so I don't know why these other reviewers say they didn't know what they were getting. I took the cupcake home, still kind of skeptical, until I bit into it …
… and inside was this glorious, vibrant, orange that tasted like sunshine. And suddenly, I knew. So many things came clear to me, things about myself that I'd ignored, or denied, or never had the words for in all my fifty-eight years, that I started crying. Happy tears.
I'm still figuring out the words, because a color isn't everything, but knowing that color makes the rest less scary.
So thank you, Robin. Please ignore the haters and keep doing your magic! I've already promised my teenage niece one of your cakes for her birthday.
Owner's response:
Thank you, Jamie. People like you are the reason I keep doing this. If you ever feel like you've changed or need some fresh insight, the cakes are always here for you!
---
About the Author
Jo Miles is a nonbinary author of science fiction and fantasy, and has stories in Fantasy & Science Fiction, Strange Horizons, Lightspeed, and more. Jo lives in Maryland, where they help nonprofits use the internet to save the world, but mostly serve the whims of their two cats. You can find them online at www.jomiles.com.
Support Worlds of Possibility
Normally this is the place where I ask readers to consider picking up a paid subscription to this website, but right now, the best way to support Worlds of Possibility is to pledge to the Kickstarter. If you've already pledged, or can't afford to pledge, you can show your support by sharing the Kickstarter link on social media, or directly with anyone you think might be interested.
May is my birthday month, and I chose to run the Worlds of Possibility Kickstarter in the weeks before my birthday because I want to make this month a big celebration. Stay tuned for more posts! I can't believe we're this close already, and I also can't wait to share more stretch goals with you!