Worlds of Possibility
Walpurgis Eve: A Poem by Laura Theis
Each year, come Walpurgis, Father bolts the gates...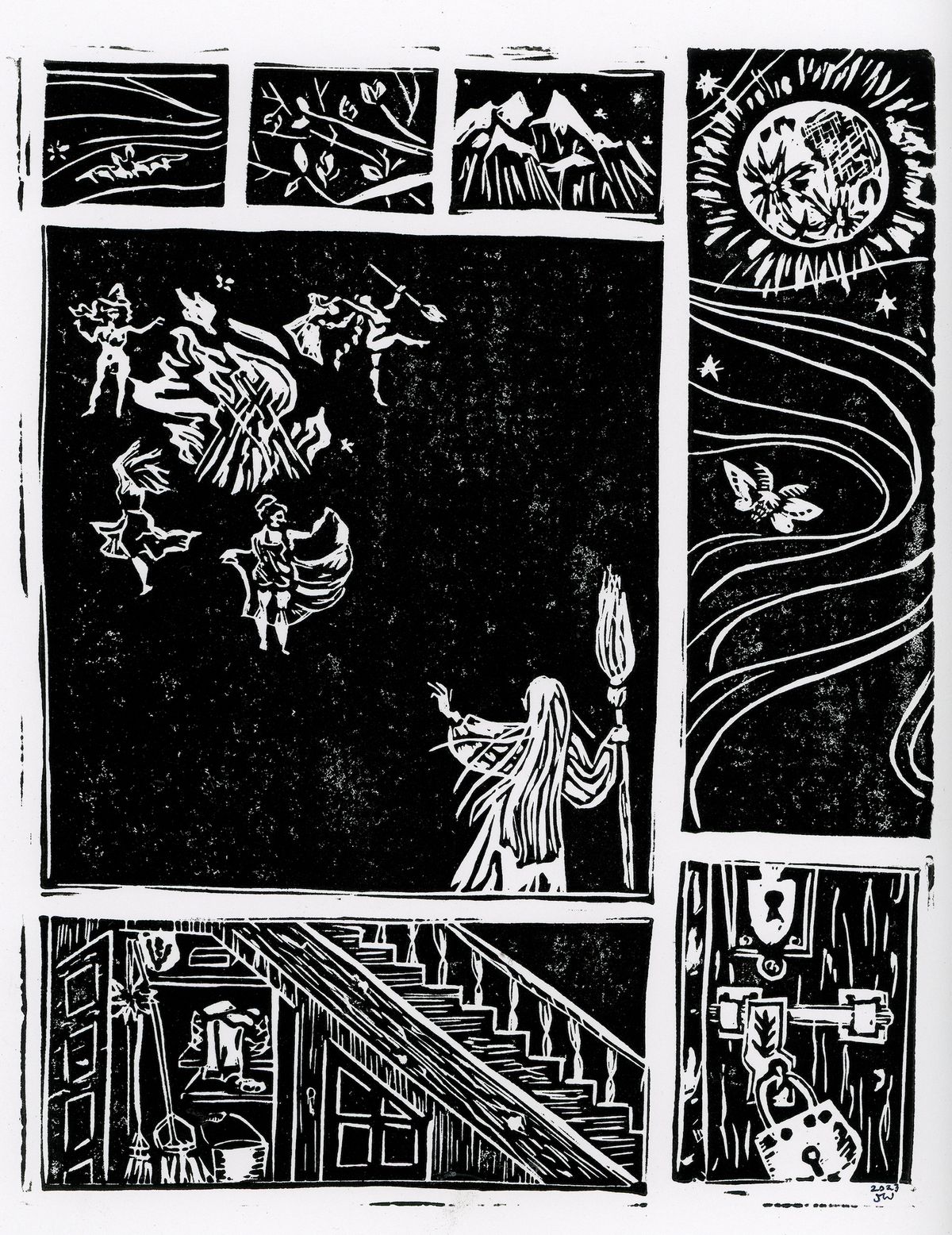 We're 82% of the way to funding the Worlds of Possibility anthology on Kickstarter now, and to celebrate reaching $7,000 in pledges, here's a poem from the April 2023 issue of Worlds of Possibility.
You can listen to me reading this poem on Spreaker and also read the text of the poem below.
---
Listen to "Walpurgis Eve - a poem by Laura Theis" on Spreaker.
---
Walpurgis is celebrated on the evening of April 30th and the day of May 1st. In Germany, where poet Laura Theis is originally from, traditional folklore holds that it's a time when witches gather in the mountains. Artist Jessica P. Wick has hand carved a selection of images suggested by the poem, including the cupboard where our narrator gets her broom, and a joyous coven of cavorting witches!
As of the time I'm posting this, there is ONE signed Walpurgis art print still available in the Kickstarter. The other two are spoken for, but one lucky person can still get a seign 9"x12" print to display on their wall!
---
Walpurgis Eve
by Laura Theis
Each year, come Walpurgis,
Father bolts the gates
at sunset, double-locks
the front door.
He does this, he says,
to keep looters and pranksters away
hold mischief and revels
at bay, shut out the mutinous night.

This year, Walpurgis Eve came
with a gale force. But Father,
now used to dismissing
everything wild in the air
or the eyes of young girls,
never bothered to hide

the key to the cabinet under the stairs
where the maid keeps mop bucket and broom.

And so I went with my sisters,
I'm here with my sisters 

I went with my sisters
to dance.
---
About the Author
Writing in her second language, Laura Theis received a Distinction from Oxford University's MSt in Creative Writing. Her work appears in venues such as Asimov's, Poetry, Mslexia, Magma, Rattle, Jellyfish Review, and Strange Horizons, and anthologies by Pan Macmillan, Broken Sleep Books, and AE SciFi, amongst many others. Her debut, how to extricate yourself, an Oxford Poetry Library Book-of-the-Month, won the Brian Dempsey Memorial Prize and was nominated for the SFPA Elgin Award. She was the recipient of the Society of Authors' Arthur Welton Award, the AM Heath Prize, EAL Oxford Brookes Poetry Prize, Mogford Prize, Hammond House International Literary Award, and a Forward Prize nomination. She was shortlisted for the Women Poets' Prize, Bridport Prize, Margaret Reid Poetry Prize, Alpine Fellowship, and a finalist for numerous other literary awards including the National Poetry Competition and the BBC Short Story Award. Her forthcoming book, A Spotter's Guide for Invisible Things has won the 2022 Live Canon Collection Prize.
About the Artist
Jessica P. Wick is an artist, as well as an author, poet, reviewer, and freelance editor. She lives in Rhode Island in an only occasionally spooky old house across from a Victorian Strolling Park. She's always loved illustration and feels a particular draw to watercolor, pen and ink silhouettes, and has most recently been playing around with linocut prints. You can read her writings at jessicapwick.com or see what prints she's offering for sale at foamlyre.bigcartel.com. Her instagram is foamlyre, her twitter is lunelyre, her love for the sea and twilight is well-documented.
---
Keep those pledges coming!
If you have already backed the Kickstarter, thank you! If you haven't yet, there is still time to get the ebooks, the print books, the stickers, the postcards, and more! Please keep sharing the Kickstarter! Your boost definitely make a difference, and the more people who join the party, the more chances we have to unlock exciting stretch goals for everyone to enjoy!
Next update, I will be posting a poem by Jean Goulbourne, and giving you a peek inside the print version of her collection, A New Day. PLUS I will be sharing another stretch goal, which is something that EVERYONE will get to have, not just sticker level backers!