editing
Bridge to Elsewhere is here for everyone!
Bridge to Elsewhere, the exciting anthology of stories set on spaceships that I co-edited with Alana Joli Abbott, is officially available for everyone today!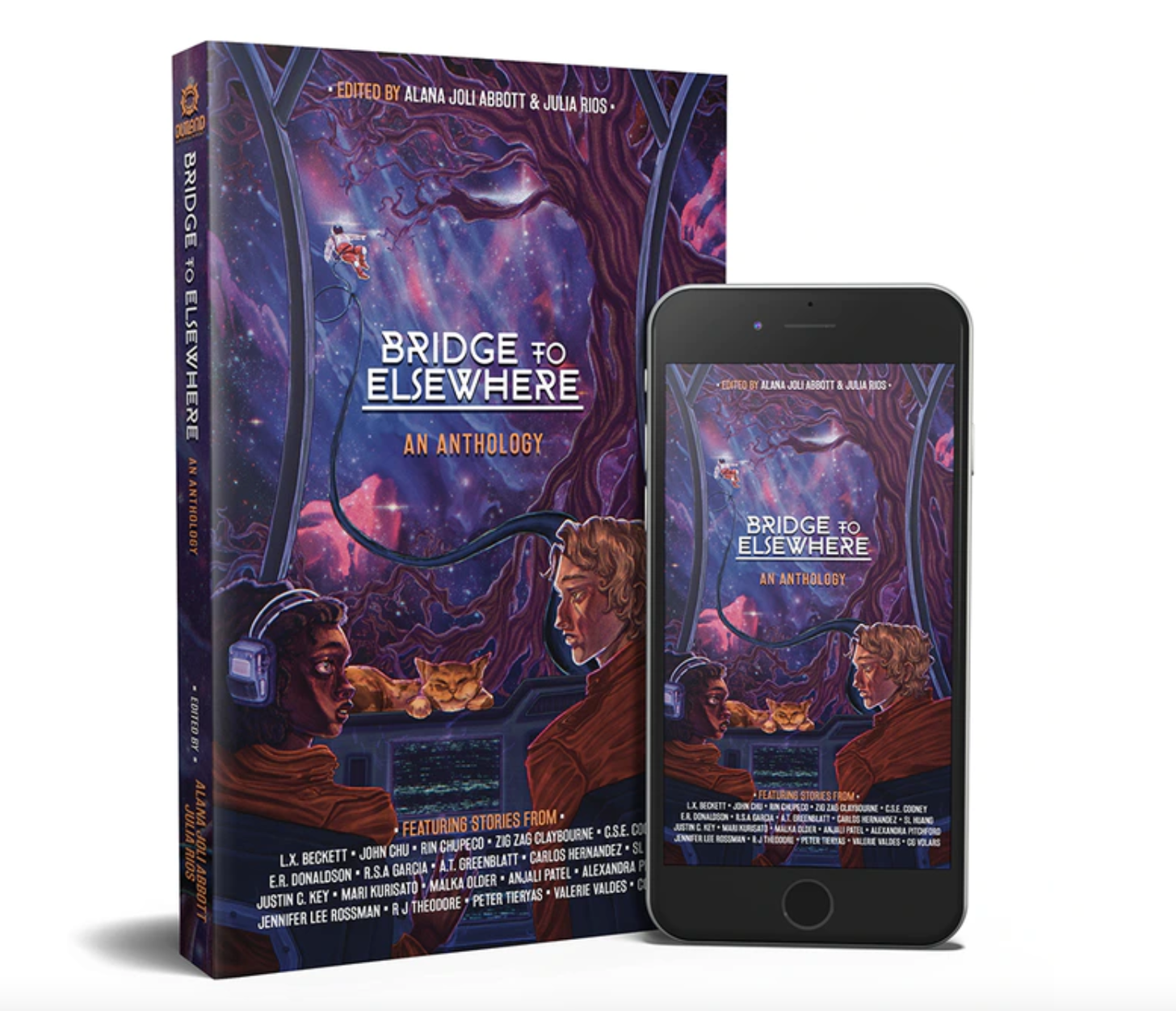 Happy Book Birthday to Bridge to Elsewhere! This exciting anthology of stories set on spaceships that I co-edited with Alana Joli Abbott is officially available for everyone today!  It's got 19 stories by 20 AMAZING authors. There's adventure, humor, tragedy, improv theatre, ship cats, and more!
Here's the Table of Contents:
"The Atrox Killboard"  by C.G. Volars – This story sets in motion Izo's space adventure arc in the Static Over Space series. When the novel starts, Izo's been kicking around on the Atrox Killboard for a few months. But how did he get there?
"Gort, Cinder, and Sphinx" by RJ Theodore – Imagine if cats were necessary companions for interstellar travel. Now imagine you are the one who has to clean litter boxes ... in space.
"How to Win Friends and Influence Rebellion" by R.S.A. Garcia – This one is set in the Lex Talionis universe. What happens when your traitor ex shows up being all appealing and ... compassionate? Will you, a supersoldier, begin to question everything you've ever been programmed to think?
"Salvage Blossom" by L. X. Beckett – Come for the mysterious sickness and wonky ship medical tech, stay for the family tension!
"Meteorites" by Anjali Patel – Four astronaut peers have each other's backs until the very end. Come prepared with tissues because this one is a tearjerker!
"Snowed In" by C. S. E. Cooney and Carlos Hernandez – What if all your space exploration and time alive and awake and conscious is dictated by the whims of capitalism and billionaire investors? Also, your ship's AI speaks in the voice of Vincent Price.
"Seven Things I Learned Traveling Through Space with a Genetically Engineered Lesbian Peahen" by Jennifer Lee Rossmore – If you have not already guessed from the title, this one is funny! And also the title is pretty self-explanatory...
"The Trip" by Mari Kurisato – What happens when a grieving person gets access to preserved memories of people they love and miss?
"Cumulative Ethical Guidelines for Mid-Range Interstellar Storytellers" by Malka Older – Welcome to your mandatory ethics training about the narratives we shape... in space!
"Whose Spaceship Is it Anyway" by John Chu – Someone gave the suggestion of "spaceship" at an improv audition and now it's up to the ragtag cast of improviser frenemies to figure out how to make it work ... and decide who exactly is getting tossed out the airlock!
"Team Building Exercise" by Valerie Valdes – Corporate team building exercises are THE WORST, right? Especially when they ask you make terrible choices about who exactly is getting tossed out the airlock!
"The Planet Builders" by Peter Tieryas – Are we in a simulation? Or some grad school student's worldbuilding project?
"Quantum Leap" by Justin C. Key – That feeling when you go into space searching for other planets and find a giant tree in space... and enlightenment?
"Planetary" by ZigZag Claybourne – Is death the end? Or can you live on in some form?
"Warranty" by Rin Chupeco – That awkward feeling when your ship's medical AI has the personality of your long lost love who swears all the time...
"Of Dreamers and Prophets" by E. R. Donaldson – This one is a Chronicles of Nethra story about what happens when you find a planet that everyone's been searching for, and it's ... not what it seems.
"Silence in the Dark" by Alexandra Pitchford – Say you're in possession of a military ship and it gets attacked and then the actual military finds you and captures you... say they offer you a deal to go investigate the ship that attacked you... This is probably totally fine and safe...
"The Ship Cat of the Suzaku Maru" by S. L. Huang – Toshi prides himself on being the most excellent of ship cats, and I think you'll see why.
"The Music of a New Path" by A.T. Greenblatt – To close this anthology out, we have a ship powered by music, a crew that works in harmony, and hope for a way to grow past your dead end job.
I hope you love this one as much as I do!
There's also a special bonus companion to this book: Scenes from Elsewhere, which contains two stories. The first is by my co-editor, Alana, and it's about an android attending an improv show for the first time. The second is by me, and it's a holiday romance set in space. Scenes from Elsewhere was written as a special bonus for people who backed Bridge to Elsewhere during its crowdfunding phase, and those backers got to vote on their favorite space tropes and romance tropes for my story.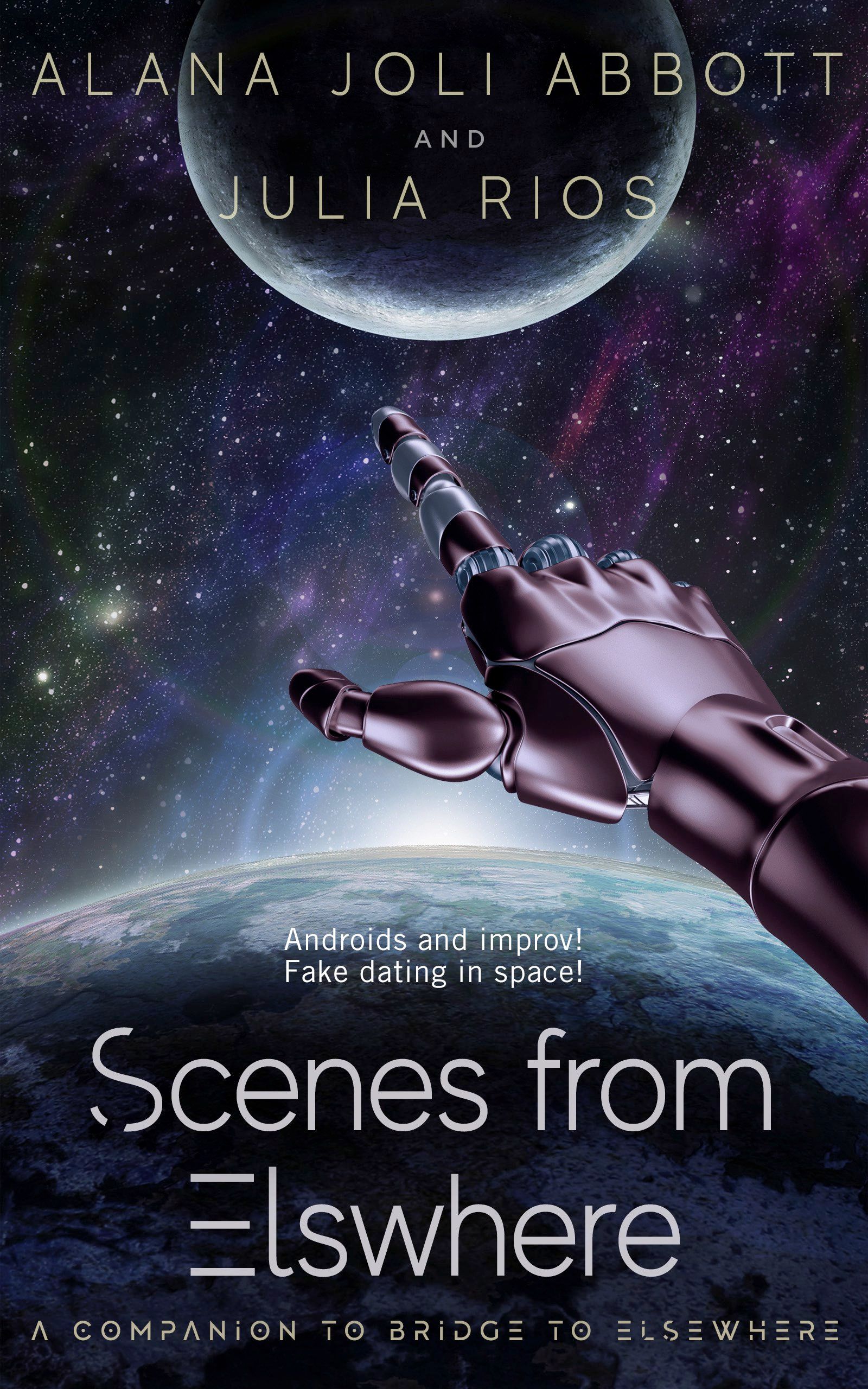 If you would like a copy of Scenes from Elsewhere, send an email  to julia at juliarios dot com with some proof that you bought a copy of Bridge to Elsewhere, and I will send it to you!