This Is Why We're Like This
Donald's Snow Fight
With a potentially historic blizzard in Boston, we present you this very on topic podcast episode about a 1942 Disney short starring Donald Duck.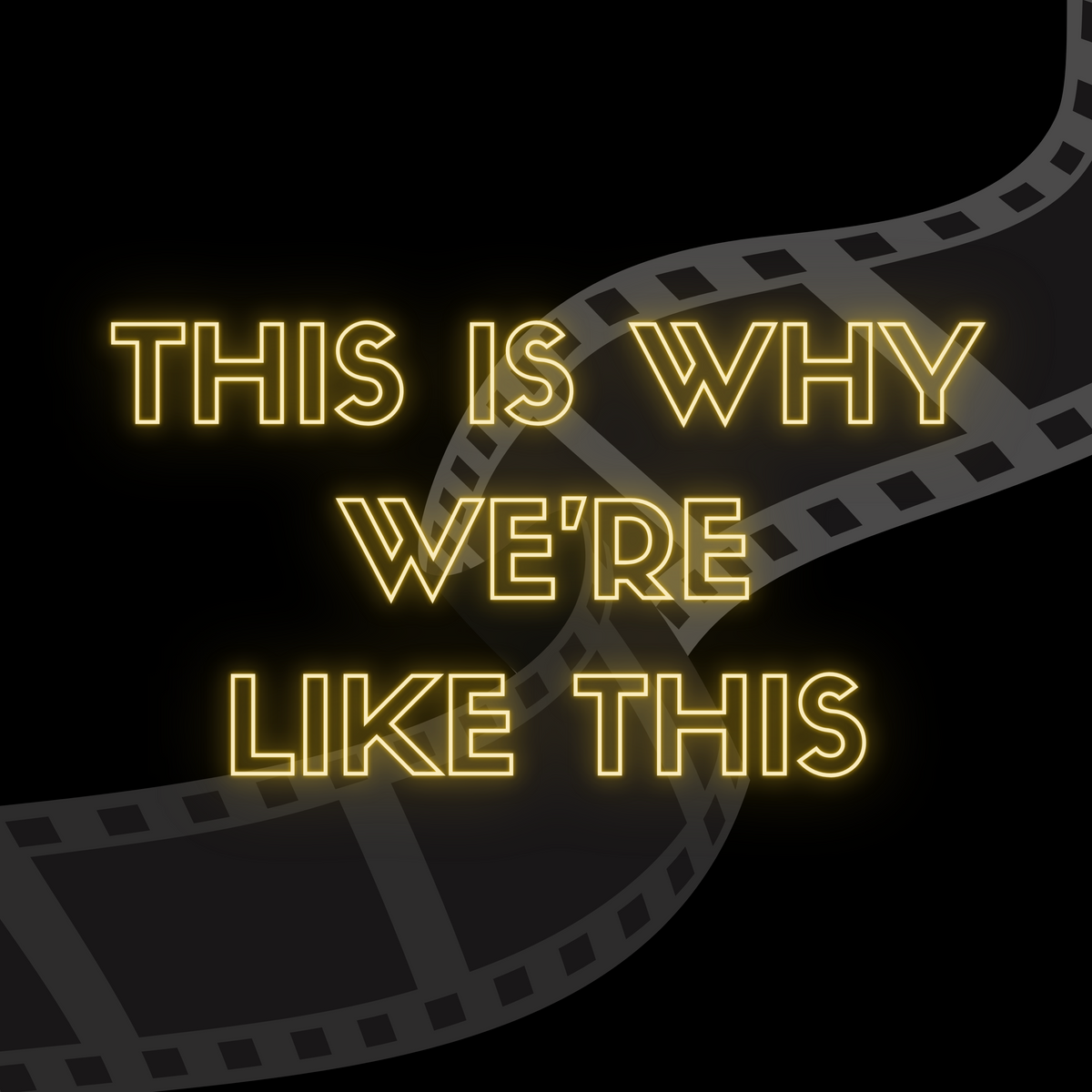 Greetings on this, the first Annual Snowmo Sapiens night! With a potentially historic blizzard in Boston, we present you this very on topic podcast episode about a 1942 Disney short starring Donald Duck.
It's Donald's Snow Fight!
Listen to "Donald's Snow Fight" on Spreaker.
---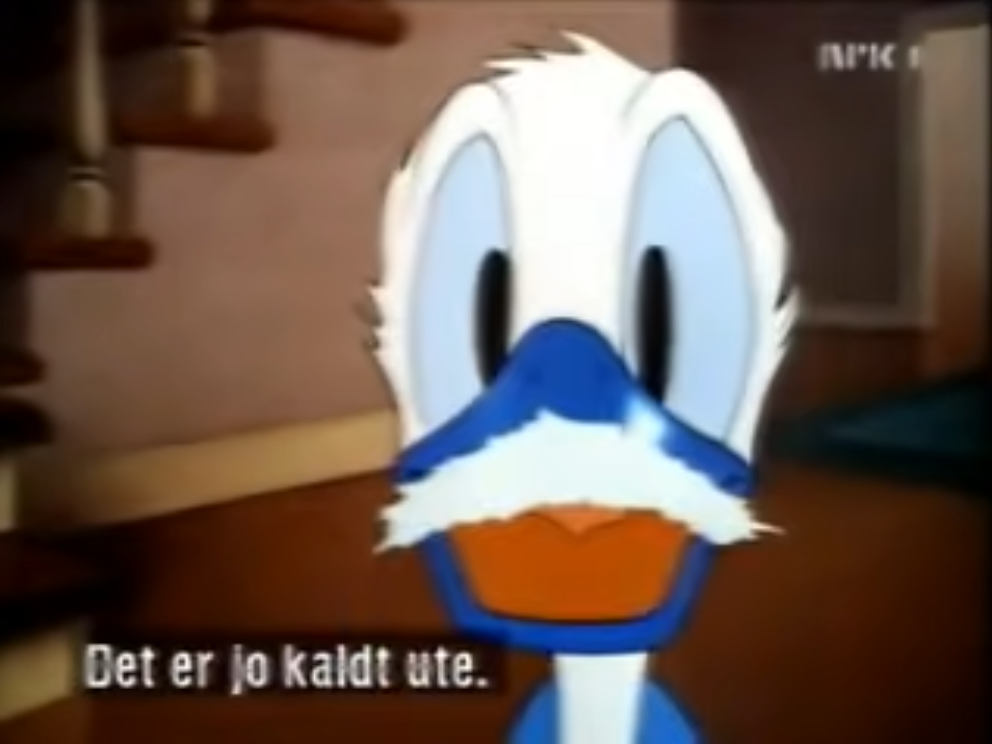 Geoffrey remembered this one from his childhood, and this is not exactly an After These Messages, but it is sort of in that spirit, recorded to go with The Dog That Stopped the War.
We get into a BUNCH of stuff with this, from inventing new holidays to discussing François Truffaut's famous assertion that there's no such thing as an antiwar film, to the Finnish Ducktales theme, to Splash Mountain and The Song of the South.
So, cozy up in a blanket, build yourself a snowman (or put three ice cubes in an adult beverage), and join us for some anti-clericalism and fornication (okay, only a little mention of that, not the actual deed), 'cause it's just six months til Snowmer!
You can read a transcript of this episode below if you like.
---
00:00.00
juliarios
Welcome to This Is Why We're Like This, a podcast where we talk about snow and war and ducks that should die based on what happens to them, and the television shows that we watched as children that shaped who we are for today, for better or for worse. I'm your host, Julia Rios.
00:20.86
Geoffrey
I'm your other host Jeffrey Pelton
00:33.42
juliarios
I realize that I completely like was so traumatized by The Dog that Stopped the War that I didn't even say the part about TV shows and movies that shape us for better or worse in the last intro. I was just too sad about that dog. Um, but today we're talking about the follow up to The Dog the Stopped the War, and this is like, it's sort of an After These Messages. It's just a little bonus. It's Donald's Snow Fight, a 1942 short cartoon starring Donald duck and his nephews, Huey, Dewey, and Louie. Geoffrey, you suggested this so I'm guessing you remember seeing it as a child.
00:57.40
Geoffrey
Yes, and I actually remember this pretty well. Um, even before we started watching it I remembered a lot of little things, especially the way when he makes, when Donald makes his ice shell, the the sound it makes as it freezes and then the ting when he when he clicks it, and I, it turns out I remembered most of it as I watched it. I definitely think I pre-remembered the snowman that was actually a rock and that, and I didn't remember that he built a snow pirate ship until I saw it. But as soon as I saw I remembered, "oh right, they're going to melt that."
01:36.58
juliarios
Ah, yeah. Yeah, and it makes sense for Donald to build a snow pirate ship because he is a sailor.
01:54.24
Geoffrey
Also I think we know now why Huey Dewey and Louie are are being raised by their Great Uncle Scrooge rather than their Uncle Donald.
02:01.91
juliarios
Um, because Donald is in no way capable of taking care of children.
02:10.93
Geoffrey
Donald is barely capable of taking care of himself.
02:15.81
juliarios
I Don't even think he's capable of that.
02:30.37
Geoffrey
No. As a kid, I enjoyed the Donald Duck cartoons, but I don't think I really got them. Like I kind of got that I was like, "am I supposed to be on this guy's side?" But then I'd be sad for the things happening to him. It's like, no, the whole point of a Donald Duck cartoon is you almost like Donald Duck but then he loses his temper and he's an asshole and he wrecks everything.
02:45.29
juliarios
And bad things happen to him, but you can't feel too bad about it because he brought it upon himself. Ah, yeah, it was interesting to me watching this like right after watching this other snow war movie.
02:48.90
Geoffrey
Yeah.
03:02.50
juliarios
I was like oh these are both definitely teaching children how to do snow wars. This is also very very dangerous. If you did any of the stunts in this, you would really hurt someone / yourself.
03:14.86
Geoffrey
But you have to, I'm sure you understand if this was one of my main inputs as to what playing in the snow was like, I had unrealistic expectations about what you could do in a snowball fight.
03:23.91
juliarios
Oh one hundred percent, yeah. So to explain what happens in this, it's a short from 1942, and in it Donald Duck wakes up. He looks outside. It's very snowy. He peeks his head out, his beak turns blue, his bill turns blue. He comes back inside. He has a snow mustache over his now very dark blue bill.
03:43.41
Geoffrey
I Love the shade of blue they use for that. That's, it's so good.
03:56.67
juliarios
And he's like, "oh, it's really cold out there." So then he gets his overcoat, which is very big and bell shaped, and his sled, and he goes out to have some good old fashioned snow fun, which seems all fine. And he takes the sled to the top of a hill and he notices that down at the bottom of the hill are his nephews who are playing with the snow and making a snowman. They're having a good old time and he decides that it will be super fun to come and just sled on into that Snowman and wreck it.
04:25.87
Geoffrey
Just wreck their shit completely. I also remembered so one very vivid sense memory of this cartoon is when he's at the top of the hill you see [duck noises to the tune of jingle bells] and he sees the kids. He's like [Duck jingle bells noises] - uh-oh!
04:45.80
juliarios
Yeah, so he sleds into their snowman, wrecks it, they end up with like— One of them has the snowman's arms on its arms. Another one has the snowman's body on his body, and the third one has the snowman's head on his head, and they're like oh no. So then they hatch a plan to get back at their Uncle Donald. And they have some comic business where there's like whispering through the giant snowhead and then they build their little snow fortress and decide to start launching the snow war. Donald, of course, not to be outdone, builds his snow pirate ship and comes across the frozen lake at them. And they proceed—
05:22.97
Geoffrey
Well, what you didn't mention, but we mentioned earlier, is that the first thing they do is they build another snowman but this one is an insulting effigy of him and it contains a giant boulder.
05:24.29
juliarios
Oh, right, right. Yeah, they build a giant snowman caricature of Donald Duck and they write Uncle Donald on it so that he'll be upset. And he sleds into it to wreck it and it's covering a boulder. So then he he kapows into it, and it's very bad. If he were a real person and not a cartoon duck, he would be very much at least severely injured if not dead from the crash. But. Um, this is cartoon land. So he's fine and so he builds a pirate ship he comes after them. They have like straight up warfare where they're like throwing snowballs. Donald like decides to wet his and make ice rockets and the little duckling kids get seriously messed up as well. Like everyone in this would be dead if they were human in real life. They decide they're going to do one better. They make their own snow rockets. They're hollow, they put mouse traps in them, and they shoot those at Donald.
06:40.47
Geoffrey
Um, and actually they make a a MERV out of it. If you're not familiar with the term, It's a multiple entry—ah shit. Maybe it's not a MERV. Dang. What's the thing? It's got multiple warheads. Um. Multiple, ah, multiple… MIRV. Multiple independent reentry vehicle. So they make these shells with the mouse traps. Then they put those in a picnic basket. They launch the picnic basket. They have a rope tied to the basket to open it up and it drops a series of shells as if it were a bomber.
07:21.24
juliarios
Yep.
07:29.86
juliarios
Yup, so they do that. Donald gets mouse traps stuck on his bill and on his hands and on his tail. The first one we see is on his tail but like he's got them all over. It's a bad scene. Ah, this would be very bad news if it were real. Ah, but it's cartoon land. So that's fine. He's just angry and we love to see Donald Duck get angry. So then he ah like tries to get back at them and they launch a bunch of fireballs at him and ah the fireballs eventually melt the pirate ship completely and it melts a hole through the ice in the frozen lake and Donald gets sucked into the water. So again, like very bad scene. He would die if he were human.
08:13.61
Geoffrey
And we don't see him okay again later in this instance.
08:21.96
juliarios
No, he's just been killed in a frozen lake. His nephews then proceed to do a little um, terrible Native American war dance around the melted pirate ship ruins. Um, so that's culturally insensitive and bad. Um, but like yeah, and that's the end of it, really. Good old fashioned fun in the snow!
08:45.26
Geoffrey
I Mean the the difference between this and and our main episode, what we watched there. There are many differences. One is: this is just so much better done.
08:54.45
juliarios
It really is. So like, I will say a couple of things for this one. Ah, it's It's really fun cartoon stuff. So like you're watching it. It's got good sound effects. It's got good cartoon animation and it's a fun watch. It's short. It gets to the point. It doesn't waste your time and it's fun to watch Ah, the other thing I will say is that Canadians and cartoon ducks have the thing in common where they are just terrible to each other, just awful to each other. And also do very dangerous things with snow.
09:31.36
Geoffrey
You know there are a lot of Ducks In Canada
09:34.85
juliarios
Ah, yes, but Donald's american um Donald is 100% like patriotic.
09:39.83
Geoffrey
But you know it's worse than a duck? A goose.
09:44.70
juliarios
Ah, so you're saying the Canadian version, who is like Ronald Goose, is much worse.
09:54.99
Geoffrey
Um, yeah, even worse.
10:09.40
juliarios
Okay, yeah I will say, however, that if the lesson that we take away, if we can take away a lesson from the first one, is that war seems fun, but actually it kills your dog and it's no fun in the end. Ah, the lesson from this is war seems fun and then the end you kill your uncle and that's fun.
10:20.20
Geoffrey
I mean, I think another lesson is don't don't start a prank war you're not going to win.
10:29.66
juliarios
Yeah, Donald shouldn't try anything, basically. It never works out for him.
10:36.86
Geoffrey
Well, and this is, I mean, most of the cartoons I can remember with Donald and his nephews. They always start with Donald doing something bad to the nephews and the nephews always outsmart and defeat him. Um, just be nice.
10:54.66
juliarios
Yeah, yeah, like if you're if you're bad to kids they will come for you and it will will not work out well for you.
11:05.72
Geoffrey
Yeah, they haven't learned restraint yet. They haven't internalized the lesson of death. They'll straight up kill you they they won't care.
11:15.28
juliarios
Uh huh, yep, this is true. This is absolutely true. My little nephew came over to a to wrap presents and he wanted to watch Home Alone, which we watched last year as a family, so I let him watch it. Ah, but again like he was— he really, really wanted me to watch the action sequences with him. And I was making Christmas cookies in the other room, so like I was kind of not really involved, but then he was like "no, you have to come. It's like the best part!" So I came and I was just like, "oh no." Like everything that happens in this sequence is just terrible. Like there's stepping on a nail and slipping on ice and burning your hand and getting hit in the face with a hot iron and walking on crushed glass and like all of it is very painful. Um, and I was just sitting there like cringing and covering my ears and he's like, "why are you covering your ears? It's not even loud." I was like yeah I just just want to be shielded from the pain but he was like, "no, it's great. The bad guys are getting their their stuff that's coming to them!" and I'm like, "Yeah, you haven't learned that people are human and that you also could feel all of that."
12:28.35
Geoffrey
And that's why your nephews probably think of you as their cool Uncle Julia and not their mean Uncle Julia who who who wrecks their shit for no reason. Ah because you know you know and Donald does not.
12:36.36
juliarios
Um, yeah, that's fair, That's that's fair. Ah, but yeah, hopefully hopefully they won't just it's ah, drown me in a frozen Lake. Ah, Ah, anyway, so yeah, that was a it was a lot.. There was a lot going on in that.
13:00.69
Geoffrey
That was only 7 minutes it it so much more happened in that 7 minutes than happened in the entire 90 minutes of ah the beanie war. Yeah.
13:07.18
juliarios
You know it's true. Yeah, and we didn't see a dog die. So that was nice. So ah so Geoffrey when you watched it you said you just basically remembered all of it while watching it.
13:22.60
Geoffrey
Basically yeah yeah I must have seen I must have watched this one a lot.
13:26.16
juliarios
Okay, all right. It's interesting because it's not really available on streaming now. Ah I had to find it on on daily motion. So. It's not like on Disney plus and I don't know why like I don't know. Ah, whether they're keeping it out of rotation for a reason like I'd say like oh maybe it's because of the culturally insensitive war dance that they do at the end. Um, but like there are other things that are on Disney plus that are equally offensive where they just like have a note at the top that's like. Ah, it portrays outdated stereotypes. the end.
14:06.34
Geoffrey
Oh you know? what? um I'm looking it up on Wikipedia and it is part of a collection called from all of us to all of you which I know I watched a lot because that was sort of one of their Christmas specials.
14:23.21
juliarios
Huh.
14:24.36
Geoffrey
Originally aired on ABC in like the sixties, I guess, or the 70s.
14:30.83
juliarios
From all of us to all of you in animated television Christmas special and ah first presented on December 19th, 1958. I wonder, so like an interesting thing about Donald Duck is that Finns love Donald Duck and love Donald Duck comics and cartoons. Um, which I don't know if you know anything about this? Um, but the reason for it is that apparently back in the day the finnish television like bought the right. They needed cheap filler cartoon and I think it was for Christmas day specifically. Um so they they bought the right to Donald Duck cartoons because those were the cheapest and they were like here. Well just put a bunch of Donald duck cartoons on and then you know everybody will be happy. And so finnish kids grew up watching Donald duck like on Christmas and as as like a marathon type thing all day every day on Christmas and they love it. Um, so Donald Duck is very popular in Finland and there are like you can still buy like the comic books are present in the world everywhere there. And ah finish people just like they've seen all the cartoons and they love them ah to the point that like when we were in Helsinki in 2017 I want to say we went to one of our friends hotel rooms and their hotel room was decorated with Donald Duck pictures um like the the hotel had chosen that is decoration. Ah also like hilariously and completely unrelatedly at some point in the early two thousand s the finished duck tales theme song had a little moment in the US internet meme time.
16:14.80
Geoffrey
Oh I remember.
16:17.32
juliarios
Because it has one line that sounds like "your arms are broken" when there was even like a you're the man now dog page that was just a picture of somebody in a cast with "your arms are broken" playing over and over again. Um, well so during that time I like learned, I looked it up the whole Finnish song, and I looked up the lyrics, and I looked up the translation for the lyrics and I learned that the Finnish Ducktales theme song translates to "sometimes good, sometimes bad: ducks. woo.-oo" And I was like that is hilarious and I have to learn how to say that in Finnish. So I learned how to say, "Joskus hyvää, Joskus pahaa, Ankat! Ooh-oh!" So I learned that. That's like the one Finnish sentence that I know, if you can even call it a sentence, that I know how to say.
17:15.73
Geoffrey
So if you're air dropped into Helsinki. You know how to ask for help.
17:27.70
juliarios
And so then in 2017, the worldcon was in Helsinki, and I was like, "I know one Finnish phrase." And like in my mind, I had also like made it— in our household lingo—it has become a thing. So we like made up this whole backstory where it's like oh yeah, Finnish people say this all the time. It's like a saying for them. Um, you know it's like you know "sometimes good, sometimes bad, ducks. Whatever." And that like you could just say "ducks" like that would be a response to a question from a Finn like
"Oh, how was your travel?"
"You know, ducks."
Um, but everybody understands that's the short form of "sometimes good, sometimes bad." Um. So I went to Finland and I was like I literally know how to say 1 thing. It's a thing that in my mind I have built up as like a common idiom that does not exist. Ah um, ah then the this year I actually like explained this to one of the Finns that I know and I was like was like "yeah, the only thing I know to say is you know, sometimes good sometimes bad, ducks." and she was like "woo-oo" because Finnish people love Ducktales of course because they love all things duck. In the Donald variety. Even though Donald's not usually on Ducktales. But yeah, Finns do not, I confirmed with her, they do not say sometimes good sometimes bad ducks as a common phrase.
18:58.70
Geoffrey
Ah.
18:59.82
juliarios
And she said that that's kind of a weird way of saying it that like they clearly just did to make it match the rhythm of the of the music. But um.
19:07.87
Geoffrey
Turns out Swedes don't even say "Bork Bork Bork" either now.
19:12.16
juliarios
Yeah, that you know of.
19:14.02
Geoffrey
I've asked. At the very least they deny it.
19:20.70
juliarios
Ah, fair enough. So yes, that's Finland's love of Donald Duck. So I was wondering while watching this like how how many Finnish children like know and love this cartoon. I bet they do. Like, you could see how this would be very popular in Finland. I was watching this and I was like man like I know they love Donald Duck to begin with but like this is just tailor made they have snow all over the place.
19:34.20
Geoffrey
Plus they get so much more snow and they are used to having to engage in Guerrilla Tactics against larger neighbors. This must be super popular.
19:40.35
juliarios
They got snow sports, they're used to fending off larger armies… Um.
20:01.53
Geoffrey
But looking up that this was part of a or sort of a regular Christmas special reminded me of something and that it's actually something that I want to take this opportunity to tell our our listeners about that I that I hope and I'm I'm trying to bring into the world. So, this special that we just saw, um, what in it would you say directly relates to Christmas?
20:28.74
juliarios
Ah, in this particular short I mean it's snowy and he wears an overcoat and the jingle bells theme like basically but the overcoat being like a bell and Jingle bells.
20:43.69
Geoffrey
but "jingle bells" wasn't even originally a Christmas song. It's a winter thing exactly like the song "winter wonderland."
20:47.20
juliarios
No, so like it's a winter thing but I think a lot of things that are presented at Christmas are just winter themed and that's fine. Okay I see where we're going. This is just a setup for you to monologue about "winter wonderland".
21:04.88
Geoffrey
No no, winter Wonderland is just a short stop on the journey. Ah, there's also, less popular these days, but "baby it's cold outside." Um, all right? So keep that in mind.
21:09.22
juliarios
Oh no, oh no.
21:24.72
Geoffrey
All right point 2: So in the fall the kids go back to school and then there's Halloween and then there's Thanksgiving and then there's Christmas and then you fall right into the armpit of the year where there's like nothing, you know.
21:28.87
juliarios
Ah, yes.
21:44.49
Geoffrey
Maybe Valentine's day if you are part of a relationship where you enjoy that.
21:46.60
juliarios
So like interestingly my mother has always loved Valentine's day which is really ironic and hilarious in some ways since her romantic life has not worked out super well. Ah, but she loves it and she always celebrates it, and when I was a kid, she would like make heart shaped pancakes or whatever that day and she still does this for like her grandchildren, so it is apparently entirely possible to be excited about Valentine's day while not being in a relationship.
22:18.22
Geoffrey
I suppose that's true, but it it seems to be rather the exception than the rule. Doesn't it seem like we need a holiday maybe around the end of January? Something super chill. Ah, maybe make it a floating holiday like Thanksgiving like it always happens on a Saturday night.
22:34.89
juliarios
Um, I mean I feel like this is what Carnival and and Mardi Gras and stuff are for.
22:42.43
Geoffrey
Oh yeah, there are those.
22:43.45
juliarios
I also think that if you look back at earlier calendars for like Christmas season, it doesn't end until candlemas, which is like the second of February. Um, so like I guess if you go back a few hundred years like it's still Christmas and certainly in some places like we're recording this in early January um and some people still do the twelve days that doesn't end until epiphany so that it is still Christmas.
But other people, like, I think the queen of England, Queen Elizabeth II, doesn't take down her Christmas decorations until February second, so she's still following the old like Candlemas season.
23:32.40
Geoffrey
What I'm suggesting, and and we would start here in the United States, is the last Saturday night of of every um of every January is you can have your winter party and it's just winter. We take some of the songs and stuff and decorations from Christmas that aren't really Christmas themed—.
23:58.94
juliarios
So you're saying move winter wonderland and baby it's cold outside to the end of January.
24:03.87
Geoffrey
And and here's the big get, here's where, because every new thing needs its flagship, right? You know if you're starting a tv network you need your anchor show. We're taking Frosty. We are taking Frosty from Christmas we are moving him to this winter holiday which may be called snowman day or so or snowmo sapiens day or whatever. My vision is something that is intentionally low key and fun.
25:59.55
juliarios
So ah, what do people do for this holiday in your in your ideal world?
26:07.68
Geoffrey
So I think because we're stealing Frosty as our central icon, the making of a snow person of some form. Now, this could be a full on you know, big as a child Snowman or this could be 3 ice cubes stacked up in an adult beverage if that's how you want to go, and you may be thinking well the seasons are different in different hemispheres. Does that mean that in the southern hemisphere they should celebrate this in the last at the last weekend of July?
26:28.25
juliarios
Okay.
26:46.15
Geoffrey
Yes, I think that's I think that's how we would do it.
26:47.71
juliarios
Okay, so what do what do people around the equator do and when do they celebrate it?
26:51.93
Geoffrey
Ice cubes. Oh um, oh they're gonna have to choose a hemisphere.
26:59.85
juliarios
Um, okay, so you just like base it if you're above the equator…
27:06.69
Geoffrey
Like if you're like on the equator, you can do both, and you know what? it's so hot where you are, you deserve it.
27:15.74
juliarios
So like the interesting thing is I feel like this could just be a biannual ah holiday here. Ah because a lot of people do Christmas in July. A lot of people get to the middle of summer and they feel really hot and they want to remember the nice things about winter. And the way that they do that is by making Christmas in july.
27:37.88
Geoffrey
Holy crap Julia Julia you're a genius!
27:43.36
juliarios
Ah, okay, why? what are you suggesting now?
27:55.87
Geoffrey
We make an official July wintertime event and we don't call it Christmas in July because that's that way we can legitimately steal Frosty and, you know, that's why he can only be around that day because it's magic. See, here's the thing. I'm talking about stealing the stuff from christmas. People might be saying "oh what don't you like Christmas?" No, man, Christmas is overcrowded. Christmas doesn't need Frosty.
28:19.59
juliarios
Okay, so so you're so you're talking about like having a snowmer.
28:34.12
Geoffrey
you're on fire, Julia! Snowmer.
28:36.03
juliarios
Ah, and then in Australia they just actually have snow during that time.
28:38.63
Geoffrey
Well, they could have Snowmer in January. But yeah, so this also has the advantage of sort of pruning down a lot of the cruft that is assembled around Christmas I say you've you've got to it for christmas.
There's Jesus stuff and there's Santa stuff and otherwise it's just winter. You know there's there's already a very large cast of characters. You've got Jesus, Mary, Joseph, Shepherds, Wisemen, Angel, Herod… um, or if you go Santa, you've got Santa, Mrs Claus, elves, reindeer… um, say Christmas has presents. Christmas has peace on earth goodwill toward men. Christmas can keep all that. Snowmer is about cooling off and. Getting some of that winter magic back with our with our friend, Frosty. Frosty the snowman, official mascot of Snowmer, coming this summer.
30:35.96
juliarios
Yeah I mean I I feel like yeah I the winter wonderland and Jingle bells thing is kind of nice. We could do that. Ah, Jingle Bell is a song about like getting into dangerous drag races in sleds and also feeling up girls when you crash.
30:55.83
Geoffrey
And winter Wonderland is a song about um anti-clericalism and fornication.
31:02.87
juliarios
Like yeah we can pretend that this Snowman is a reverend that makes everything Okay, um yeah I could see Snowmer taking off. We just have to like get on the commercial aspect of it in this capitalist world that we live in.
Ah, all right. So ah, let's let's go back to Donald and his snow fight. So "from all of us to all of you" is available in its entirety on Youtube and it's like 50 minutes long, but I haven't watched it. But it's apparently like a bunch of different cartoons spliced together. Um, and it is apparently shown every Christmas eve at 3:00PM in Sweden, according to an article I found on the internet. presumably also in Finland because I know the Finns are into Donald. But yeah, apparently Swedish people see it on Christmas without commercial interruption. Um, do we even talk about notable people? This is a Disney production. It's all notable people for Disney, so I feel like we can leave that alone.
32:23.31
Geoffrey
Um, yeah I think I think that would be yeah.
32:28.54
juliarios
Ah, Clarence Nash is Donald, the original Donald, so that's that's where that is all right? So Geoffrey, does it hold up? We talked about lessons already. I feel like the lessons are good.
32:40.32
Geoffrey
Yeah, I think it holds up pretty well mmhmm.
32:47.35
juliarios
Yeah I think it holds up. I think we I could do without the war dance. That was a real downer, but like you know it's good animation. It's fun cartoons. You understand why Disney was popular as a cartoonist. Scarier then or scarier now?
I would say not scary personally.
33:08.59
Geoffrey
No, although that there the the sense of the danger of all this, I think was greater when I was younger.
33:16.34
juliarios
I Mean like the sense of the danger of it is pretty great for me now. I think that we all understand that what happens in cartoons isn't real and you wouldn't do that at home.
33:28.60
Geoffrey
Um, but I'm not… I think when I was a little kid watching it I was excited to try out some of these various tactics, and when I finally get to be in a snowball fight but I got to be careful.
33:46.69
juliarios
You're excited to make some ice rockets and fill them with mouse traps. Um, yeah, okay, ah most painfully dated moment.
33:57.51
Geoffrey
I think we mentioned it.
34:03.72
juliarios
Yeah, that's got to be the war dances. Okay. Would you show it to a child?
34:04.20
Geoffrey
Um, yeah.
34:07.28
juliarios
I probably would. I feel like I'm always torn on this. Like cartoons that are so full of violence, like, do you show them to children or not? And I don't know, but it's probably fine, but also like I don't want kids to like learn that they should then engage in tactical warfare with each other for fun, which is the thing that like certainly I think kids when I was young did. We played like live action. GI Joe in my neighborhood. Um, and I'm pretty sure like that was all based on trying to like actually get into wars and I feel like teaching children to play at war is not a great choice.
34:48.90
Geoffrey
Well, if you do show this to a child, or some other things, and they get way too into it, there is a remedy.
34:56.73
juliarios
You show them the dog dying. Look, it looks fun, but you will kill your dog. Um, yeah.
35:15.88
Geoffrey
So who was it that said it was impossible to make an antiwar film? Was it Truffaut?
35:26.46
juliarios
Ah, okay, yeah.
35:35.62
Geoffrey
I think that The Dog Who Stopped the War proves him wrong because ultimately it does not, oh dang, I was going to say it does not successfully glamorize war. But I don't know, when I was a kid, I must have thought it was pretty cool.
35:56.63
juliarios
Yeah, I mean I think both of these basically make war look really fun and then it's like it's sad that the dog dies, but I don't think that that actually— I think it's like disconnected from the fun of the war enough that it doesn't really take away from the idea that you're glamorizing that it's fun to try to attack each other.
36:23.85
Geoffrey
Perhaps if Truffaut had said it's impossible to make a film an anti shoddy snow construction film, then the dog who who stopped the war would be a refutation of that. Because it does come. You know, you at no point in that movie. Do you do you feel, Oh Wow, this it. It is good. They did not build that fort as as stout, as sturdily as as they believed.
36:56.72
juliarios
Yeah that's fair, um, so I'm just gonna like read ah the anti-war film quote that the origin of your it's impossible to make an anti-war film which is an an interview with Truffaut that Gene Siskel did back in the day. I'm trying to find a date, but I'm not sure what date it happened. Ah, anyway, the the little snippet in question:
Q. There's very little killing in your films. How come?
A. I find that violence is very ambiguous in movies. For example, some films claim to be anti-war but I don't think I've really seen an anti-war film. Every film about war ends up being pro-war.
Q. Every film? Even a film like Kubrick's Paths of Glory, or his Dr. Strangelove?
A. Yes, I think Kubrick likes violence very much.
Parenthetical aside from Gene Siskel: I have thought about Tuffaut's point for the last two weeks and only now am I beginning to understand and agree with him. And Paths of Glory, which so many people consider the strongest anti-war film ever made, the film doesn't so much condemn war as the French government that thought it necessary to sacrifice its soldiers. War isn't hell; it's just the men who run them are very frequently hellish. And every war film, just like every war, has its heroes and that, too, seems to cut across any anti-war sentiment. As Truffaut said, it makes violence ambiguous.
So that's where that's coming from, and that's why I would definitely say that I feel that's where my ambiguity is coming from on any cartoon violence because it's like on the one hand, yes, we all are aware that like cartoons aren't real. On the other hand, it is glorifying violence, and I feel like I have the same kind of —like about the Home Alone thing— where it's like, yeah, my nephew really likes that part. He really likes seeing the the bad guys get clobbered and seeing violent things happen to them and like, is that a great thing to be teaching kids? I don't know.
39:21.21
Geoffrey
Do you know, listener?
39:24.39
juliarios
Um, so but like at the same time I feel like it is ever present. I don't know that I would stop a kid from watching it, though I don't need them to be watching war dances. So maybe I would stop them from that part.
39:42.65
Geoffrey
Well, it's very helpfully like the last 3 seconds of the of the thing so you don't even miss anything good by stopping then.
39:59.48
juliarios
Yeah, so you could stop it. Yeah, there's so much that we just kind of like put into stuff and don't think about later, and that really does shape kind of like who we are and what we think about things.
40:07.24
Geoffrey
Not the last time. It's not the first time nor the last time I am compelled to say, "what the shit, the past? what the shit?"
40:15.40
juliarios
Yeah, yeah, and like with this specific Donald Duck cartoon it's like well it was made in 1942 so it was a product of its time. Um, I feel like at that point we fully expected kids to be playing at pretending to be. You know, warlike tribe members and that was just a thing um in popular American white culture. So it's not terribly surprising. Um I would be surprised if Disney took that same sort of thing now like if they if they made a new Donald's Snow Fight, I would be very surprised if it contained that.
41:01.79
Geoffrey
That would that would surprise me as well. Yes.
41:05.25
juliarios
I do feel like Disney is trying to do better. Um, like certainly they're retheming splash mountain to Princess and the Frog. Ah, but like. The fact that Splash Mountain was even made as a Song of the South ride in 1987 is kind of like, "oh you're not that far removed from a time when Disney thought it was fine."
41:30.55
Geoffrey
What cracks me up is even at the time though you couldn't get that movie.
41:35.13
juliarios
Um, well you could because it was released in the theater like the year before. I saw it in the theater as a kid and that was the last time it was out.
41:43.56
Geoffrey
Oh.
41:49.98
juliarios
And then I think that there was enough kind of like people noticing when they were watching it that that was really bad that they kind of complained that Disney was like oh let's just not talk about that and put it in the vault, and they're like but we are making this ride based on it. So let's keep putting Zippity Doo-da in our singalongs and that'll be fine. And then this ride is just about the animated parts and not about the rest of the movie, but like you can't really sweep it all under the rug like even if you're so if you're using the animated songs that are songs taught to animals by singing former slaves who are happy to still be on the plantation.
It's like I don't think you can really quite… you're not getting away with it the same way that you think you are, and like at the same time they were making like the new hotels at Disney World and um one of the hotels that is now named Port Orleans was named Dixie Landings. So that was the thing they made in the 80s. But like the 80s was an interesting time. Like I was also shown Gone with the Wind uncritically in fourth grade at school. Um, and like there was no, "oh, the portrayal of slavery and this is bad." It was just like yeah the civil war was a rough time for these people who lived in the South and it's very sad that Scarlett O'Hara was hungry.
43:17.75
Geoffrey
Look how hard they had to work after the war because they didn't have any help.
43:24.49
juliarios
It's a big shame that, as Gone with the Wind tells us, those bygone Romantic antebellum days are gone with the wind. Um, so you know like.
43:31.49
Geoffrey
Mmhmm.
43:39.40
juliarios
On the one hand, I'm like, I want to say we've come a long way. On the other hand, I think we've come some way and we're not that far from the point where we all thought this was ok and by we all, I mean like white America in general. And there are lots of people out there who still think it's okay, but I think… I think things are changing. I think some some progress is being made anyway, and we at least have like Encanto and Coco and Moana and all that stuff. Stories that are not just completely stereotypes of other cultures than white European culture.
So we'll see. So anyway. Ah, this went to a darker and more philosophical place than I was intending, but that's where we are.
44:42.56
Geoffrey
But on the other hand, we invented Snowmer.
44:44.63
juliarios
We did invent Snowmer. Also, if you're listening to this and you want to know more about the history of the Song of the South, I highly recommend Karina Longworth's series on it on You Must Remember This, because You Must Remember This is a podcast where she does deep dives into Hollywood history. And she has a bunch of seasons that include things like the communist blacklist and world war 2, and her latest one is on Dean Martin and Sammy Davis Jr. But a few seasons ago, she had one on Song of the South, and it was like a 6 or 8 part series where she just went into like all of the actors who were involved and all of how it was made and Disney's role in things and why people saying "it's a product of its time" like that excuses everything is pretty wrong.
45:43.58
Geoffrey
Yeah, apparently it was super protested.
45:45.34
juliarios
Oh yeah, no, it was like Disney like straight up asked people should I make this movie and they were like well you can do that if you're really careful and definitely don't make it about slaves being happy to be on the plantation and like singing and stuff and he was like, I'm going to go with my gut and my gut says make it about that. Ah yeah. It was not universally well received even at the time. Ah, but it was the kind of thing that like it was out in the movie theater in the 1980s, and I saw it in the theater, and I think Moss might have seen it as well. I feel like one of Moss's relatives might have taken him to it. Ah, I know I saw it and like I didn't understand why it was never available ever again because I was very young. But now I'm like what??? they were showing us what!? As a kid, I was just like yeah zippy do da and talking animals.
46:45.34
Geoffrey
And with that, I suppose we can return you to your regularly scheduled programming.
47:06.75
juliarios
Um, all right? and then we'll catch you next time.