This Is Why We're Like This
The Dog Who Stopped the War/La Guerre des Tuques
It's a new year! And we are starting it off on a super downer note with a movie about a dog dying… Uh. Sorry?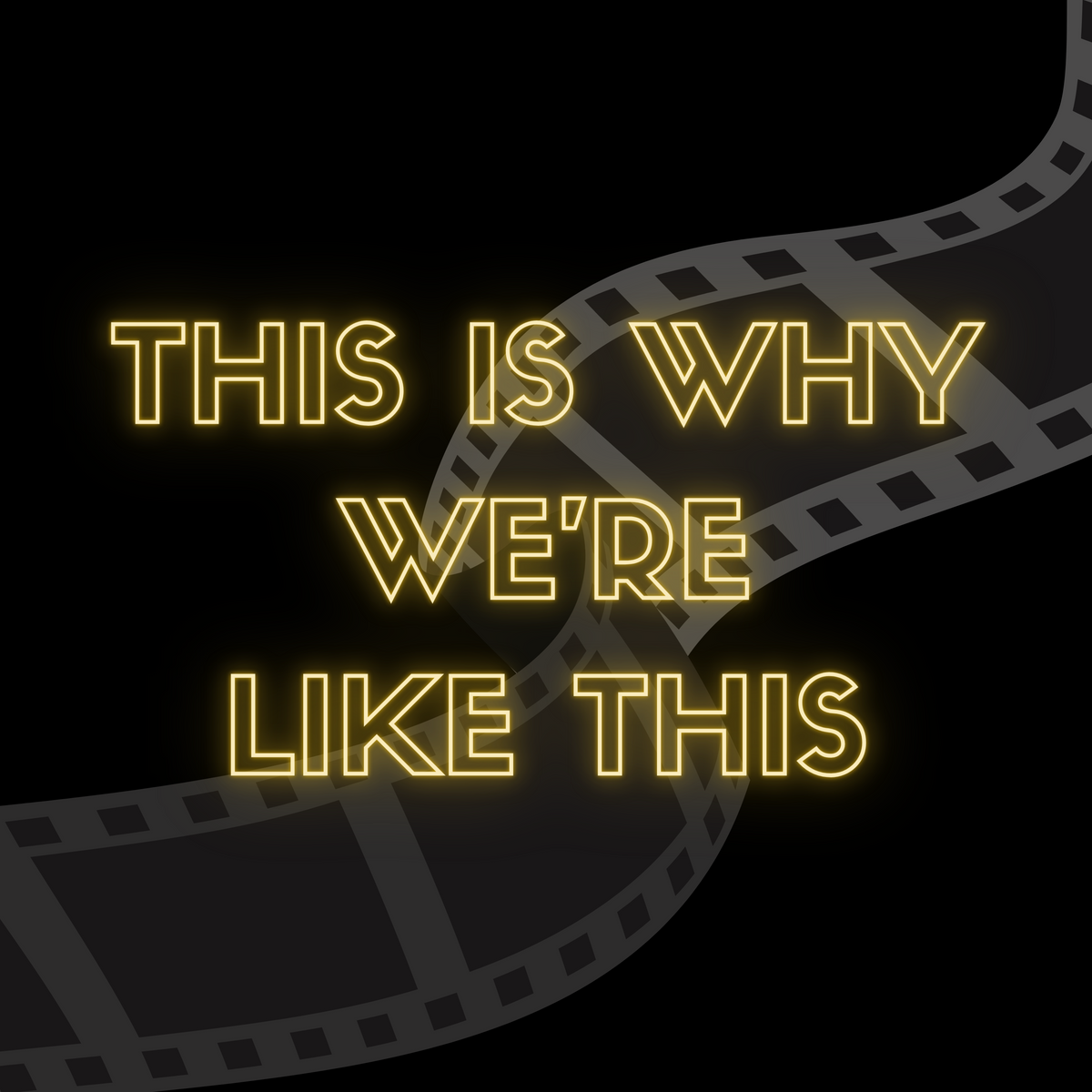 Hey! It's a new year! And we are starting it off on a super downer note with a movie about a dog dying… Uh. Sorry? But possibly our suffering is your joy, in which case, you're welcome!
Listen to "The Dog Who Stopped the War/La Guerre des Tuques" on Spreaker.
---
We also have a new feature at long last: transcripts! You can read a full transcript below these show notes!
You can watch the preview for this movie (in French without subtitles) and get the sense of the goofy sound effects and NO WARNING that this is a movie about a dog dying horribly.
Before we proceed further, please heed Geoffrey's warning from 35 minutes in (right after we talk about the singer of the end credits song and her history with abuse):
35:10.99
Geoffrey
Wow We should... We should just put a ah ah like a comprehensive stone cold Bummer warning on this episode.
… Yeah
Sorry.
the abuse thing is just for a couple of minutes (from about 33 minutes to 35:10) if you just want to skip that bit.
---
If you're still with us, here's Geoffrey's summary:
"I know I watched this at some point when I was young, but I remember almost nothing about the circumstances. Was it on tv or did we rent it? Can't be sure. I know there was a large-scale snowball fight, and I was jealous because we didn't have snow when I was a kid and I thought an epic snowball war would be totally awesome. I also was a big fan of the Donald Duck cartoon where he has the snow war with Huey Duey & Luey.
Anyway, there's a totally sweet snowball war but I guess it gets too real and then the dog dies in the snow."
---
This is pretty accurate! Also we learned there are a few differences in the subtitles, like a main character, Pierre, is called Marc in the subtitles, apparently! And then there's Frankie Four Eyes…
This movie has a 7.6 star rating on IMDb! People really do apparently love it! Are you one of them? We would love to know.
P.S. We tried a new recording style with a soundboard and… the outro did not work as planned. Please enjoy the chaos as we scramble to recover. It's pretty silly!
---
Transcript
00:25.28
juliarios
Welcome to this is why we're like this, the podcast where we talk about snow and war and snow wars and dead dogs. Ah. I'm your host Julia Rios and today's is all Geoffrey's fault.
00:44.83
Geoffrey
I'm your other host Geoffrey Pelton and yes and apologies upfront. um, also up front. We should probably we should probably clarify. Ah, she's not kidding.
00:58.17
juliarios
No, no, it's just straight up. This is just a terrible terrible time where we're going to talk about a dog dying.
01:00.39
Geoffrey
So.
01:04.26
Geoffrey
If if animal death bothers you, this is not your episode.
01:08.12
juliarios
Yeah, it's it's ah it's a rough one. Ah so today we're going to be talking about The Dog That Stopped the War, as it is known in English or la guerre des tuques, as it is known in French because it is a Canadian movie from Quebec. Made in the eighties. It was the first of the Contes pour tous, which also brought us such hits as The Peanut Butter Solution.
01:34.64
Geoffrey
Except except The Peanut Butter Solution had an English dub but this did not so.
01:40.52
juliarios
This did not yeah yeah, so I tried to figure out I know that it's supposed to be available to rent through Apple and I couldn't figure out how to do it. Um, and Moss was working so I couldn't bother him which meant that I just ended up watching it in French without subtitles. And I was like I have no idea if there's an English dub anywhere but probably not. Anyway, it's fine. So luckily I understand French.
02:10.55
Geoffrey
Well my my French is very bad so it's fortunate that I was able to get the Apple rental to work.
02:16.16
juliarios
Well, that's good I'm I'm glad that you had subtitles. Um, it's a it was still wow. It's quite a quite a film. So Geoffrey um, do you want to tell us a little bit about what you remember from when you were a child and you first saw this and like I have your summary but ah. But if you want to give us just a little.
02:39.15
Geoffrey
It's all very vague. But I know I saw this when I was a kid I know
02:42.92
juliarios
Like how old do you think you were?
02:51.00
Geoffrey
oh gosh I want to say I want to say younger than 10
02:51.16
juliarios
Okay, and did you like it?
02:53.54
Geoffrey
I Don't think I did um I.
02:54.94
juliarios
Okay I just wondered... all right I I'm gonna stop you there and I'm just gonna read your summary before we go further. So this is Geoffrey's summary of the dog who stopped the war. Ah, it's the dog
That stopped the war which is a thing that gave me a little trouble when I was searching. It's it's that and not who.
"I know I watched this at some point when I was young but I remember almost nothing about the circumstances was it on TV or did we rent? It can't be sure. I know there was a large scale snowball fight and I was jealous because we didn't have snow when I was a kid and I thought an epic snowball war would be totally awesome. I was also a big fan of Donald Duck cartoon where he has the snow war with Huey Dewey and Louie. Anyway, there's a totally sweet snowball war. But. Ah, guess it gets too real and then the dog dies in the snow."
Um, yeah, okay, so that's basically the plot of this movie.
03:56.82
Geoffrey
So we can revisit. We're going to revisit memories later. But um I'll just start by saying when I was a young boy growing up in California I daydreamed about really awesome, you know, large scale snowball fights all the time. I thought—
04:12.98
juliarios
Yeah.
04:16.24
Geoffrey
I thought the snow was like the coolest stuff ever. Um, actually no pun intended there. Um now I live in Massachusetts as an adult and ehhhhhhh.
04:31.59
juliarios
It's like you got to like shovel your walkway and not slip on ice and yeah, it's less. It's less fun as an adult than it seemed like when I was a kid too, also growing up in Southern California
04:38.93
Geoffrey
uh huh.
04:44.78
juliarios
So the plot of this movie is that there are these kids in a village in Quebec and it's about to be Christmas break from school and ah one of them brings to show and tell his grandfather's like hunting horn. And they're all like mocking him for being like so military and ah they call him like mon general ah, but then he's like you know what we should do during the break? and the kids are like what? and he's like, "we should have a snow war." And ah then he gets them all on board and they all agree that the rules are that like the teams won't talk to each other during the war it will last the whole winter break and end when they go back to school um and that it will start at dawn and end when night falls each day. The smaller team is going to build a big fort and the team with more members is going to try to attack them and whoever ends up occupying the fort at the end of the vacation is the winner of the war. So those are the rules. Ah there's no real reason that I could discern why they were having this war just other than that it seemed cool. Um, this movie hinted at a lot of like possible ways that it could dive into like. Various personalities and tensions in the village. But then it didn't really go into depth on any of that. It just kind of had kids fighting a war against each other and then like a lot of action scenes with very whimsical sound effects of snowball fights and like. All of those snowball fights were totally coded as super fun up until the last thirty minutes of the film where like there's this this slow dread building where you know something bad is going to happen to the dog and then the dog dies because he gets caught in a snow, or she, I guess because her name is Cleo um, Cleo.
06:43.20
Geoffrey
She.
06:46.38
juliarios
Cleo, she gets caught in the collapsing snow fortress and buried and dies and then all the children bury her and a song plays over the end about how like love came after the war and now the war is over. So um, yeah, when the dog dies all the kids are like oh the dog died. We're going to stop playing snow war now and bury the dog. Um, there's also like ah the leader of the other side of the war from the guy who has the hunting horn. Is the one who has the dog and ah he kind of like has a friendship with his next door neighbor Sophie who is a girl like there's there's a scene where like there like most of it is there to show you how awesome a snow war is. And it's all fun in games until someone's dog dies basically and there's a scene where they like attack the snow fort and 2 of the kids have to escape in a toboggan which is super sweet like they go down this chute in a toboggan and then they go all the way down the mountain where they've built the snow fort and it's very cool and.
07:57.30
Geoffrey
It shoots out of a a secret tunnel ah built into the snow fort like a false wall.
08:02.84
juliarios
Yeah, yeah, like it's all very cool. Um, except that it's not cool because it's war and there's actual casualties. So. There's also a point where like. The kids who are defending the fort fill a bunch of snowballs with like ink so that they're effectively paintballs and they get all the other kids covered in in inks and things and
08:28.92
Geoffrey
Except they leak and they get themselves covered in paint too. It's it's ah it's pretty dumb.
08:35.90
juliarios
right right. Ah, yeah, so there's but there's like not much to the actual plot of the movie, I guess.
08:45.10
Geoffrey
There's a love story I guess? Luc
08:45.81
juliarios
Yeah, okay so tell me how you felt about this love story like tell me about your experience of this. Yeah.
09:00.46
Geoffrey
I didn't like it. Um, but I mean it was definitely there. Luc, the ah the petit Napoleon ah obviously has the hots for Sophie and she seems kind of interested like there are a couple times where they talk to each other give each other the eye and there's some chemistry. Um, it's.
09:01.20
juliarios
Yeah.
09:17.70
juliarios
There's like a late night kiss as well. Um, and I think this is all illicit because like I think she's sort of on the other team so they're not supposed to be talking.
09:20.44
Geoffrey
Yeah.
09:25.99
Geoffrey
Yes, she's definitely on the other team and and and it is it is I guess Love across the trenches or or whatever. Um.
09:35.64
juliarios
Yeah I I don't know, I didn't have a lot of good things to say about this movie that it opens with Luke getting out of bed and going up to the attic and on the way he passes a basket full of sleeping kittens who are adorable and he tells them to go to sleep. And then he gets his grandfather's hunting horn. So then like in one later scene you see him also holding a kitten and I was like oh kittens they at least don't kill the kittens.
10:02.33
Geoffrey
So that was him
10:05:21
juliarios
Yeah, that was him.
10:06.36
Geoffrey
It was so strange that I that I thought maybe I was misremembering and that scene with the Kittens and the horse boy posters was um I don't know what they call them in French but they were.
10:18.40
juliarios
Oh the Leroux twins? oh the pacifists? Yeah yeah, the pacifists. I Forget what their names are um, it's some kid and his cousin. Yeah like ti-guy or something like that.
10:21.60
Geoffrey
Ah, no, the ah the the pacifist. But the main one someone someone the loon they they call him an english.
10:26.40
juliarios
oh the pacifists? Yeah yeah, the pacifists. I Forget what their names are um, it's some kid and his cousin. Yeah like ti-guy or something like that.
10:32.60
Geoffrey
I thought that might have been him because the first thing we see about Luc is he's waking up in his bedroom with his horse poster on the wall. You know, cuddling some kittens ah, and then we see him being an absolute dictator among his his school chums.
10:38.40
juliarios
Um.
10:56.85
Geoffrey
And then later on we see him cuddling some animals and then we see him you know being addict being just a real piece of shit and then we see him like sort of having tender feelings for Sophie Ah, and and then he's an asshole again I.
11:10.18
juliarios
And then they all bury a dog together and the war is over. Ah yeah, it's It's really weird, but no, that was him because he goes up to the attic specifically to get that hunting horn which he brings to school the next day. Ah for show and tell and it's like oh okay I guess.
11:29.16
juliarios
That's sure. Okay, um, yeah, and the twins are just kind of like weird little comedy relief twins they they're hockey players and sometimes they show up in their hockey helmets and they're always wearing like 100% matching outfits.
11:45.66
Geoffrey
I felt that that was a missed opportunity I felt that they were really underdeveloped because there's one scene where where they actually play around with the idea and that's they both and they they have adjoining rooms phone rings one goes out talks to to Luc leaves goes back into his room. Phone rings again. The other twin comes out picks it up talks to Luc. Um, they end up being on the same team which yeah.
12:09.86
juliarios
Yeah, they end up being on the same team and they're on Luc's team I feel like you could have done a lot more with really most of this but they didn't... but apparently it worked because this was apparently the highest grossing Canadian film of 1985
12:25.96
Geoffrey
Oh not only that but did you did you see the that that they remade it in 2015 and made a sequel called race so the the remake was called snow time or la guerre des tuques 3D
12:29.68
juliarios
That that they remade it in 2015 in in cgi. Yeah I did in 3D yeah yeah or Cleo in english.
12:44.39
Geoffrey
3D and it had a sequel called race time. Um I don't know if they kill a dog in that one too. Um and a spinoff television series called snow snaps about the younger kids in the village.
12:48.87
juliarios
Um, huge.
12:59.88
juliarios
Yep, yeah, so apparently like this was a thing and that people liked well so that's that's what the internet would have me believe I did ah text one of my canadian friends shortly before we started recording and I was like. So as a child like did you ever watch la guerre des tuques, or the dog who stopped that stopped the war? and she said that she didn't know like maybe that title could sound familiar but she couldn't remember it so I sort of gave her a brief synopsis of the plot. Um, and I was like oh it's about you know kids in a Quebec village that decide to have a snow war over the Christmas break and she was like oh that's cute and I was like yeah, it's actually really sad and ah the dog stops the war by dying and a snow fort collapse and she was like what? Ah. So apparently this was not something that she remembered actually seeing as a child. Um, she said that like maybe it was the kind of thing that they would have shown in class and that she would have like seen part of or talked through and I was like I could 100% see kids talking through this because it's kind of slow moving except sometimes you have fun snowball fights.
14:09.52
Geoffrey
With zany You know sound effects, I was very mad at the sound effects. Um, except there was an instant where we had diegetic sound effects because um.
14:27.51
Geoffrey
Lucie, I think her name is, Sophie's younger sister, um is at one point helping defend the fort and every time she beans someone she goes she has a horn next to her ammo bucket and every time she beans someone on the head she goes Honka honka on the horn which I thought was pretty great.
14:43.54
juliarios
Yep, no, that's pretty good. So upon rewatching this in your adult self years. Um, just now did you like did things come back to you or was it all kind of a blur.
14:57.22
Geoffrey
It was kind of a blur and and my experience watching it this time was different from what I remember. for 1 thing I don't remember it being in french.
15:12.93
juliarios
amazing. like was there an english dub? because one of the weird things that I was noticing I read both the english and the french Wikipedia pages on this um and in the english version. It's like.
15:16.73
Geoffrey
Ah I don't know.
15:29.52
juliarios
Talking about how there's a kid named Marc that has a dog named Cleo and I was like ah his name is Pierre though and in the french version his name is pierre on the the french Wikipedia page his name is Pierre so like was there an english dub where they called him marc.
15:31.86
Geoffrey
In. Yeah.
15:44.59
Geoffrey
I don't know but he was marc in the subtitles.
15:47.58
juliarios
Oh he was Marc in the subtitles? He wasn't pierre. Okay, that's really weird I think his name is pierre. Maybe I'm like now I'm just going to look up the french the french Wikipedia to see if no his.
16:03.24
Geoffrey
In Imdb he's listed as pierre.
16:06.64
juliarios
His name is Pierre his just his name is just Pierre. That's so weird that they put Marc in the subtitles, I wonder if there was like an english dub where they call him Marc and it is tiguy la lune.
16:15.40
Geoffrey
Um, it's possible I mean I figure.
16:22.99
Geoffrey
Yeah, they call him. It's not Ti Guy in the subtitles or in the English. Yeah.
16:24.67
juliarios
Um, and then ah and his cousin Daniel Blanchette from Victoriaville because's not from there. He doesn't even go there.
16:43.61
Geoffrey
So one thing... so I definitely as a kid thought that this snow stuff was more exciting snow fighting and that snow fort. Um, probably because I had a very unrealistic idea of of what you could do with snow like I thought that you know.
16:51.16
juliarios
Yeah.
17:02.74
Geoffrey
Giant snow forts were just sort of what you did and that of course you know, 20 to a side epic snowball wars with with ah you know multiple castles and trenches and and and all of that we're just de rigeur where it snows.
17:22.38
juliarios
And like they might have been I feel like Tori did tell us about making some sort of elaborate snow ball fight for situation and they do that in the peanut butter solution. Don't they?
17:22.66
Geoffrey
Um...
17:38.88
juliarios
Or is that not something that happens then is that just something we talked about in relation to this movie while talking about the peanut butter solution and now I now I mixed it all up in my head? Okay, that's that's possible.
17:44.48
Geoffrey
That could have been that could have been because I don't remember anything like that. Um I also don't I mean I and I also remembered that the dog died but I don't remember just how fucked up the whole dog situation is in this.
17:56.58
juliarios
Ah so bad from the very start. It's just like oh my God What is what is happening here?
18:06.70
Geoffrey
Because everyone like all the kids like Cleo but her family is super mean to her all the time. she's like not allowed inside when she's freezing. She gets blamed for shit she doesn't do.
18:09.58
juliarios
Um, Cleo ah, like yeah they chain her up in the snow.
18:22.76
Geoffrey
And at the end there's there's a part where she breaks out. Ah off of her chain to go find Marc or Pierre and at one point her chain gets stuck in a different fence and she's just sad standing there with it I mean.
18:34.26
juliarios
Yeah, but if she'd stayed stuck in that fence. Maybe she wouldn't have died in a snow fort. like ah it's 100% just a very sad time for Cleo all the way through.
18:39.21
Geoffrey
Um, yeah, this movie this movie is like.
18:48.36
Geoffrey
This movie is 85% percent looney tunes shit and 15% animal abuse.
18:53.54
juliarios
Ah, ah yeah I would even go like 80/20 or maybe even seventy five Twenty five I'm not sure the definitely like the looney tunes or the Hannah Barbera sort of thing feeling to to all the snowball fights.
18:58.51
Geoffrey
It could be.
19:05.69
Geoffrey
A lot of a lot of wah wah wah type stuff. You know there's a part where the the attack Luc and his his his friends they they they carry a ladder around a lot because they multiple times try to scale the wall on a ladder. Um.
19:25.41
Geoffrey
And it just gets pushed right over as you would do if you were defending a fortification from people attacking on a ladder. Um, there's a lot of um, a lot of the the actual fighting is I guess the initial fighting is going to be done a lot with ah with with. Wooden swords and shields but because of the nature of the fortifications that ah that Frankie Four Eyes designs. Um, most of it has to be snowballs because they can't actually reach each other with weapons. Um. There was one part. There was another part that i actually did like. it's... they put a false door on the snow fort and the attackers come up to Ram it and it's just it's just like a cardboard cut out of a door on solid ice and they just fall back down.
20:05.79
juliarios
Ah, yes, ah, but like it laid against the thing. It's good. Oh man. Ah yeah, so. Basically really I I feel like it teaches kids a lot about how to fight war because they were really using Solid Medieval Warfare tactics throughout. There were catapults and ah.
20:41.25
Geoffrey
Ah, and treachery.
20:42.26
juliarios
They were scaling walls and laying siege and betraying each other and using projectile weapons and actually hurting each other like the first battle ends when Luc gets injured and then like there's multiple points where kids actually get like hit in the head with blocks of ice I get them like oh my God This is really like you're scaling a pretty high wall and also getting beamed in the head with block of ice. This is danger.
20:59.24
Geoffrey
Yeah, ah.
21:09.50
Geoffrey
This movie reminded me of stories. My dad will tell would tell of um his childhood in Canada because of course he knew kids who put rocks in their snowballs or or ice.
21:24.83
juliarios
Oh my.
21:27.50
Geoffrey
Even even ice will will hurt, um and and the the dangerous nature of some of this. Um I I know one of his I believe one of his classmates... so they used just to sled down a hill. Um, that was at the bottom of the Hill There was a cemetery and If you get up enough speed ah on your sled. Apparently you can hit a head headstone and break your neck and die.
21:53.50
juliarios
no oh God that's terrible.
22:04.71
Geoffrey
Also apparently um, the the snowplows would leave Big huge piles of snow that you could dig a fort out of but then the snow plow would also come and pick that and plow that up. Um, and you could be inside it and a couple kids from his hometown. Yeah, so.
22:12.94
juliarios
And you could be inside it. Yes.
22:24.80
Geoffrey
Canadian Canadian winter is not safe. Um.
22:26.49
juliarios
Yeah, yeah, okay, well great. Also like, I I wonder how common that sort of thing would be today because I feel like things have changed an awful lot since we were children because I can totally imagine children running free and doing this nonsense when I was a child which this was released in that June five I cannot actually imagine people just letting the entire neighborhood of children run around unsupervised at this point like those parents were really operating under this sort of like.
22:56.83
Geoffrey
I Imagine a lot of these.
23:03.69
juliarios
It's light so get outside and don't come back to bother me until it's dark again.
23:04.56
Geoffrey
Yeah, yeah, it's um, well the the you know sometimes you'll you'll hear Well you know older people will say well we did X Y Z Whatever when I was a kid and I turned out fine.
23:22.91
juliarios
I'm like yeah but your friends that died didn't turn out fine.
23:23.50
Geoffrey
Um, that's that's sort of survivorship bias. Ah.
23:37.41
juliarios
like exactly oh my God Okay, um so what will you never forget Having seen this again?
23:39.29
Geoffrey
Um I think I'll I'll never forget how much I dislike this movie. Um, but that's that's too general. Um.
23:48.53
juliarios
Um, yeah, like is this really beloved? like I I I I guess I don't know.
23:54.12
Geoffrey
Apparently it is.
24:01.73
juliarios
They did a whole like 2009 they did a reunion of all the actors from this and then they did a documentary about it that was like the the dog who stopped the war through the years um but like I tried to watch it and it was like so like sign into your account for the…
24:10.68
Geoffrey
Okay.
24:19.10
juliarios
Cable carrier in Canada or whatever in order to watch it and I was like okay no I will not be paying for canadian cable tv in order to watch a documentary about this.
24:29.59
Geoffrey
I think if I remember sort of anything beyond what a bummer the whole dog situation is um and I even wrote myself a note at the end like I knew what was happening, but I Still can't believe they killed the fucking dog.
24:37.13
juliarios
Oh my god it's such a bummer. Like watching it I'm just like oh man, and the lead up to it where like first she's chained outside to her doghouse that you have seen them building and then she's pulling at the chain you see like. Pierre goes to go do the war and she wants to come with him and she whimpers and he looks back at her and then he decides to leave her and she stuck chain to her doghouse and she's sad and she pulls the chain like this goes on for a while and then finally she breaks the chain and she runs but after the children. And then she gets caught on the second fence and she's like sad and she just really wants to be with those kids and then she finally gets to be with the kids and dies the snow fort collapse.
25:29.37
Geoffrey
And they remade it and of course the dog dies in the remake too!
25:32.22
juliarios
Because that's the whole point. The whole point of it is like you have a snow war and a dog dies like and I feel like it's supposed in some ways like you can read that like don't do war because then people die and it's sad. Except that like all the war stuff is seen as super good. Fun. So I Guess it's like do war but watch where your dog is I don't even ah, whatever makes no sense.
25:52.70
Geoffrey
yeah.
25:59.96
Geoffrey
And like can you imagine like, I don't remember this, but like imagine being a kid and you're in it like. If. You're just watching this in in Quebec or whatever. It's La guerre des tuques. okay so so it's it's a war the war of the kids with the winter hats right?
26:17.43
juliarios
Yeah, yeah, it's like the Beanie war.
26:20.96
Geoffrey
Okay, whatever. But if you're watching it in english it's the dog who who stopped the war and so you're getting to the end like, oh boy, how's the dog ending the war... oh.
26:26.78
juliarios
Oh that's that's how the dog stopped the war. Okay, yeah, like well even just calling it the like the beanie war. It's like okay well this doesn't really have anything to do with the dog oh well I guess it does the dog is presence who ends up dying. That's great. Oh yeah I will never forget just like the building dread of watching poor cleo and like the whole time I was just like Cleo. No. Feel like this is the most niche content. Ah ever that I think I've done for this podcast. But um, there is. There's an australian in show for children. Ah that is a mermaid show called h2o just add water you can watch all of it on Netflix if you are so inclined. It's ridiculous. And it involves 3 teenagers in Australia named Cleo Emma and ah Rikki and they turn into mermaids um, so there's also a like TikTok fad that happened probably six months ago so now it's ancient. And no one remembers that even on Tiktok. that's like 10000 years in Tiktok time. Ah, where people who remember this show from when they were children, which is to say like 20 year olds remembering ten years ago, are are doing their like nostalgia reenactments of it with their best worst australian accents. Where like the premise of just add water is that like if they get wet then they turn into a mermaid if they manage to stay dry. They can be human, but when they get wet they turn into a mermaid. So. There's like a whole trend on tiktok of people going cleorrr norrrr not the condensation. Um. And so it's always cleor nor and ah the whole time I was like nor cleor. Don't go after the snow fight! don't do it! anyway. Ah so yeah, the the most niche content possibly ever for the 1 potential listener which is moss who I don't even think listens to this podcast. Ah who will understand.
28:36.90
Geoffrey
Um.
28:40.90
juliarios
Australian Mermaids australian mermaid tiktok and this movie which he refused to watch with me.
28:47.70
Geoffrey
Good choice Moss by the way I mean on not watching this movie. Um.
28:51.50
juliarios
Ah, yeah I was like I have to watch this movie. It's ah about kids having a snow fight and a dog dies. Apparently so do you want to watch that with me? and he was like no.
29:07.83
Geoffrey
The other thing. The other thing I think I'll remember from this is what little shits those kids are most of the time they're not likable. They they they're constantly bullying younger kids um and each other.
29:12.61
juliarios
Right? Ah, no no I same story in the peanut butter solution. And these are these are absolutely kids who would come up with a rhyming chant about someone being bald on the spur of the moment like.
29:32.86
Geoffrey
Exactly. the reason that the teams are what they are was because Luc was such a jerk about the rules and how things were going to run that some of the kids just decided. They weren't going to play and they got bullied into playing. Um.
29:43.68
juliarios
haha
29:51.14
Geoffrey
And I'll also think it like the Chief bully is also the horse boy you know it's the the horse boy who loves Kittens it's.
29:56.93
juliarios
I Yeah I get I don't know it's a lot.
30:04.66
Geoffrey
Quebec is a land of consequences. Also I don't know if you ever if you've ever seen a ah a show called Letterkenny it's ah it's it's set in I think Ottawa but.
30:12.60
juliarios
I've heard of it but I've never seen it.
30:17.69
Geoffrey
There's there's a part. There's an episode where they go fishing in Quebec and and and each of them pronounces Quebec differently. Um, you know queebec kaybec it like just all the time. Um, but ah yeah, that's that's what I'll remember.
30:34.96
juliarios
Yeah, okay, ah so do we want to talk about notable people? Do you have any? Okay, all right tell me what you do have.
30:42.16
Geoffrey
Um, sure, um, actually notable? No. so, ah Julian Elie, the Pierre Slash Marc went on to become a documentary filmmaker.
30:58.39
juliarios
Yep.
31:02.10
Geoffrey
Um, or at the very least he has made 2 documentary films ah le dernier repas, which is about death row in Texas and soleils noirs, dark suns about murder in Mexico.
31:02.99
juliarios
Um, okay yep, le denier repas is the last meal in English by the way in case, you're wondering.
31:19.52
juliarios
Yay.
31:20.65
Geoffrey
You know he he he's kind of dark. What, did someone did someone kill his dog in this snow when he was a kid?
31:28.17
juliarios
Ah, yeah, yeah, someone clearly did... oh man. Ah, okay, yep, so so that's ah Julien Elie. do you have others, or is that your your 1 notable?
31:38.75
Geoffrey
That is all I could find.
31:45.90
juliarios
Okay, so my ah this is also not notable, but in the french Wikipedia page for this movie. They have some like trivia about the film and um, one of the trivia bits that they say is that ah Hélène Arseneau is the mother of sophie tremblay in the movie. And ah, she's actually in real life. Also the mother of Sophie Tremblay— the actress who plays sophie tremblay. So, like, Sophie when you see her interacting with her mom, It's her real mom.
32:21.86
Geoffrey
What about the sister? are they related?
32:24.90
juliarios
Ah, no I didn't get anything about the sister. I don't know that she's related to any of them, but she could be... ah none of these people seem to have gone on to do much else at all like I kind of looked them all up and they mostly didn't have other credits except for like a documentary about themselves being in this film.
32:42.70
juliarios
Ah, so that's not very much. Ah yeah I don't think that Lucie is played by Maryse cartwright which doesn't have the same name as sophie— as the actress who plays Sophie —so I think she's not related.
32:56.66
Geoffrey
I Have to say, I do have to say, in all fairness for child actors, They did not seem to be doing a terribly bad job.
33:03.20
juliarios
No, they did a good job for acting that that was that was fair. It was solid like especially for the 80 s you know, solid child acting um, so there's that yeah it won a ton of awards one of the other pieces of trivia is let me just find that.
33:22.80
juliarios
Ah, the the dog that stopped the war was one of the most successful and popular movies from Quebec in the 1980s and it is today considered a cult classic ah by children from that. Generation apparently ah, the other notable thing I have more or less like how notable is this is Rock Demers was the ah producer of this and he produced a bunch of the other contes pour tous which includes the peanut butter solution and a bunch of other stuff. And he celebrated for that they gave him like a special award in 2012 for being like so involved in producing children's films in Canada I think he died in 2016 so he was no longer with us. but ah but yes he he was responsible for both of these films. Um, great and the the song at the end is by Natalie Simard who was apparently a very famous child star in Canada who went on to have like a recording career. But then like it apparently turned out that she she had like a whole Tv show where she wore like a princess dress on Tv and it it was like Natalie's tv hour or whatever. Um. But she eventually like said that she'd been being sexually abused by the producer of her albums and shows since 1980 and then eventually like he was convicted and served three and a half years in prison and ah. She eventually moved to the dominican republic so that she could escape the media. So not really a happy story. Ah.
35:10.99
Geoffrey
Wow We should... We should just put a ah ah like a comprehensive stone cold Bummer warning on this episode.
35:32.46
Geoffrey
I Mean, in all, honestly, in all honesty, fuck this movie. I know I'm the one who brought it to us. But.
35:37.69
juliarios
And I was like Wow This is just a lot. This is a lot. Ah, do kids remember this fondly? which is why I like texted my Canadian friend. I was like look had had you ever seen this and she said no describing it more and she's like what. What? Ah but yeah Canadian children's content is just weirdly dark in my experience I don't know have I have I talked I feel like I must have brought this up during the peanut butter solution but I talked to you about the the our Canadian girls books right? Okay, so like.
36:12.44
Geoffrey
I Don't recall.
36:16.28
juliarios
One summer my sister was doing an internship in Canada and we went to a used bookstore and I picked up in our canadian girls book which I thought was going to be like the american girls but canadian um because it was like from the same time period and clearly the same concept.
36:25.36
Geoffrey
Mmhmm.
36:30.61
juliarios
And I guess it was but um, this book was called Marie Therese: dark spring, ah, and it was about how this little girl in Montreal had like her, Ah, she lives in horribly cramped quarters with all of her family.
36:47.19
Geoffrey
Oh I think you did mention? yeah.
36:50.10
juliarios
And her father is like a firefighter and then he gets injured and he is out of work. Her mother has has this baby and the baby is like ah sick with dysentery or something and marie therese is really worried that he's going to die like her previous baby brother and they're like you know don't get too attached to the baby because he's probably going to die. Um, and then he does die and she's really sad about it and people are like you really should just get over this and then like her family's extended family has to come live with them in their cramped room and her father is injured at work and loses his job. Ah, so they're not bringing money in and her mother has to take an extra sewing but they like don't have any money. Ah it starts I think with them like lining up to use the outhouse and the stinky neighbor being in the outhouse because it's shared and then like she picks Weevils out of the grain with her cousin as a fun pastime. Ah, but then she and her cousin who are basically besties get into a fight because she's upset about her little brother dying and her cousin's like you're so selfish and then she like thinks that she wishes her cousin had died and not him and then her cousin gets sick with whatever epidemic is going around. And she almost dies and Marie therese thinks she's going to die and that it's all her fault. Ah, but then the cousin doesn't die and at the end Marie therese comes and visits the cousin is like I'm so sorry I wished you were dead and it's my fault you were dying and the cousin's like stop being such a selfish bitch. Not everything is about you and you didn't cause this but like thanks for nothing. Ah and then they decide to pick weevils out of the grain again. Um, so this is one of the that's the whole book. Um, this is one of the books. And there's like a bunch of other books about Marie Therese like 4 or 5 books and I haven't read the other ones because I just got this one from a used bookstore but like in that book it was like look for the other books and like the next book in the series was Marie Therese: a season of sorrow. So what? how can things get worse than dark spring? I don't know. Um.
38:55.82
Geoffrey
The good times are over for Marie Therese. we wanted to ease you into things with a nice fluffy story, dark spring. now, shit gets real.
39:08.83
juliarios
So yeah, so like I… and they had like a bunch of other canadian girls from different places… and like the one set in Nova Scotia was about a giant explosion that like was apparently a real explosion that happened at the docks and like a bunch people died and so it was a girl who like lost a family member in this explosion and things are really hard. Um and like. I don't remember what the other ones were but they were all like this tells us about important times in Canada history and like all of them were just terrible disasters and people being miserable. Whereas like I I don't know that you Geoffrey would have read the american girl books when you were a child. They're like, Samantha is a rich girl in 1904 and she has an aunt who's a suffragette and gets to ride in a motor car and try ginger snaps.
39:45.96
Geoffrey
I Have not.
40:00.55
juliarios
And Molly Grows up during world war two when life is kind of hard so they have to like ration and collect scrap metal. Um, that's that's like a not I feel like... ah it's Kirsten I think has like a friend die of an illness.
40:08.30
Geoffrey
Um.
40:20.10
juliarios
So there is like one where somebody died, but it's not like the entire family and they all then guilt trip her for feeling bad about her baby brother that died. Um, also that like that's like a traumatic thing that everybody recognizes this traumatic. Ah.
40:35.60
Geoffrey
So so there's a stereotype of canadians and in the United States I don't know if it's as strong as it was when we were younger. But of canadians being um, super polite and and.
40:38.65
juliarios
So.
40:54.37
Geoffrey
Maybe a little um, a little soft what if on the DL, Canadians are all just super hardcore.
40:56.26
juliarios
Yeah, yeah.
41:02.86
juliarios
Ah, well if you're to believe and the people in this movie and the peanut butter solution, They're just dicks.
41:09.13
Geoffrey
Just vicious Bastards bent on bent on destruction and an indifferent to the suffering and the world around them.
41:20.10
juliarios
Yeah, yeah, and I don't know it does definitely go against the stereotype that I certainly grew up with of Canadians being super polite.
41:31.30
Geoffrey
I Mean most of the ones I've met were really nice. Um.
41:34.91
juliarios
I mean yeah like I have canadian friends. They all seem very nice. But I mean you know there are bad canadians… I think there are all kinds of people in Canada when one is… where also, like, you look at the people who…
41:43.20
Geoffrey
Well yeah, of course.
41:54.50
juliarios
Have historically run the city of Toronto like Ford not super great.
42:01.70
Geoffrey
Yeah I mean the the ah the the history of of you know, indigenous Canadians you know shows us, There have been some real Shitty Canadians Um, but.
42:07.75
juliarios
Oh yeah, I mean that's certainly, yeah.
42:18.49
Geoffrey
I guess canada is a land of contrasts, or is it? is there something here? you know Canada what is up how can you contain both the greatest hockey players and some of the greatest hockey players in the world and the peanut butter solution.
42:23.42
juliarios
In conclusion Canada is a land of contrasts.
42:35.00
juliarios
I mean it's like asking us though like how can we contain x and also Donald Trump like pick anything that's good that ever came out of America and Donald Trump right
42:50.91
Geoffrey
I think I think it would be more like asking how we can contain X That's good and say, a talking cat.
42:58.91
juliarios
I mean, I like a talking cat better than this movie.
43:04.89
Geoffrey
Ooh. Ah, that's a rough one for me.
43:09.34
juliarios
They don't kill the cat. they fake you out, but they don't do it. They 100% kill that dog.
43:13.54
Geoffrey
That's true. They don't kill whereas in this. They absolutely kill that dog. There's no, maybe maybe you? you think we're kidding or or haven't seen this or no they fucking do it and. Have a funeral and the dog is lying there dead as they give it grave goods like grain orsomething.
43:34.87
juliarios
Yeah, what do they cover the dog in? it was like is this is it rice? is it, is it like meal worms that will eat its corpse? I couldn't tell.
43:52.80
Geoffrey
Yeah.
43:53.76
juliarios
It was rough. they buried the hunting horn with him, though. So I guess, you know, an end to war... Lessons. Okay, yeah, what lessons did you learn from this film Geoffrey.?
43:59.37
Geoffrey
Lessons. Yeah.
44:08.00
Geoffrey
A few. um one is ah make sure if you're using an experimental weapon to test it first. Um, the the paint, the paintballs. The paint snowballs are very effective but they backfire and get every, you know, they do just as much damage to to their wielders as they do to their the various victims. Um I guess the lesson is even if people don't like you because you're a horrendous, um, authoritarian, more than half of the people are going to follow you anyway.
44:49.82
juliarios
I Mean that's certainly true in my experience.
45:05.31
Geoffrey
Um, if you're going to fake a terrible injury to try to stop people from fighting you, you've got to fucking go for it. You don't, that kid, you know what his problem was? half measures.
45:08.51
juliarios
He laughed? Yeah I that this is like a part that we didn't talk about so the pacifist kids find a trap and they spring it and it snaps and then they're like we have an idea. Let's pretend that the trap got one of us. And then they'll stop fighting so they pretend that one of them is super hurt from this trap in which they carefully arrange over his boot. Ah this works fine until ah, he starts laughing and he's unable not to laugh. So The other kids know he's not actually hurt. And they're like oh it's all a trick. Let's go back to snow war.
45:45.13
Geoffrey
If he had the courage of his convictions. They would have reset the trap and he would have stepped in it.
45:49.58
juliarios
Geoffrey, don't don't give canadians any ideas. I think we've shown that's not safe.
45:55.67
Geoffrey
Ah, but it would have worked though.
46:01.26
juliarios
Um, okay, ah yeah, so like I guess the lesson I took away from this is that war might seem fun but then dogs will die. Um, so it's not as fun as it looks I Guess um, that's my best lesson. Ah my my other lesson is that apparently um.
46:14.30
Geoffrey
Well, ah.
46:20.47
juliarios
Everyone in the 1980s was terrible to each other and animals and also that I should just not watch more canadian children's films ever again. That was my other lesson.
46:23.81
Geoffrey
And. Yeah I mean I Guess there's there's an intended less the intended lesson I think is is is is very good is that you know you might be all RahRah War is going to be fun, but ultimately it will. Not only will it be tragic, but it will take something from you that you did not expect to lose and that and you're going to think Wow This isn't fair. Why why this? But that's that's how War does.
46:53.42
juliarios
See, I really want that to be the clear lesson, but it doesn't really feel like the lesson like.
47:02.82
Geoffrey
Right? Because the problem is this isn't actually a war. This is a snowball fight.
47:07.91
juliarios
Well and also just like they. There's a real disconnect where they just kind of make the words like oh we're gonna have a snowball fight and then all the snowball fight scenes are just super fun and then like the second the dog dies, Everybody is like oh well, let's stop having a snoball fight.
47:31.29
Geoffrey
Yeah I mean really, it's a more effective lesson on you know, build safer forts.
47:38.53
juliarios
Yeah, yeah, yeah, yeah, because like I don't feel like the snowball fight is really necessarily like the thing that they're villainizing here. It's just like oh it's a sad. It's almost like just a sad accident the dog dies.
47:54.42
Geoffrey
Um, yeah, stay home and play with your dog sometimes.
47:58.61
juliarios
ah ah ah yeah so anyway um yeah that's that's what I've got is my biggest lesson is like maybe I should stop watching canadian children's. Okay, ah so let's do our lightning round ah does it hold up Geoffrey yeah I mean I don't think so either. But apparently they thought it did enough to remake it in 2015.
48:17.14
Geoffrey
Oh God no.
48:26.44
juliarios
Um I did note that so like in 2015 that remake also won the same award for being the highest grossing Canadian film. Ah which let me find the page on that. Ah. Say the dog that stopped the war... I got to go go find it okay dog stop the war and the next one which was snowtime.
49:02.12
Geoffrey
Yeah it's snowtime.
49:06.10
juliarios
Ah.
49:08.54
Geoffrey
In english, and in french it was le guerre des tuques 3d.
49:18.88
juliarios
It's… this doesn't want me to search for snowtime, autocorrect wants me to ah, keep it to Showtime, which is not snowtime… I'm just looking for the correct —there we go 2015... Okay, so it won the the golden reel award. Um. Or the golden screen award as it's known now. Um, which is for the highest grossing canadian film. But here's the numbers on it. Its budget was twelve point five million its canadian box office take was 3.36 million, ah, so that's not a great. Box office turnaround on that budget. Um, its major making up for that is that in China it did thirty one point five million so I guess it was the 2015 version was big in China.
50:12.50
Geoffrey
Oh and they got Celine Dion on this one.
50:14.15
juliarios
Yeah, yeah, Celine Dion did it because by that point Natalie Simard I think was already in the dominican republic, having fled Canada, so she didn't redo the theme.
50:23.72
Geoffrey
And they talked to Celine Dion and she's like ah ah contes pour tous needs me! of course!
50:29.60
juliarios
I Got my start there with the peanut butter solution! exactly. Ah yeah so I don't think it holds up either. But apparently other opinions are available.
50:34.49
Geoffrey
How could I turn aside a conte pour tous in need?
50:47.59
juliarios
Okay, um, scarier then or scarier now?
50:52.61
Geoffrey
Ah, now.
50:57.12
juliarios
I'm gonna go with now too. Although I would have been very disturbed if I had seen this as a child as well I think as an adult I am more scared for even just like what the kids are doing to each other and as a kid I would not have thought about that.
51:02.17
Geoffrey
I think.
51:11.89
Geoffrey
As an adult I'm scared that, you know, we exist in a world where where there are people. This was their favorite movie as children.
51:19.69
juliarios
Yeah, that's terrifying, that's that's utterly terrifying. all right? Let's move on from that. ah, most painfully dated moment.
51:30.23
Geoffrey
I Mean we already touched on it, didn't we? these are these are free range children. Um probably more so than in almost any movie. We've watched so far.
51:34.78
juliarios
Yeah.
51:43.96
juliarios
Yeah I feel like the the time that's the most painfully dated of that is probably the scene where it like is actually getting to be nighttime and sophie is at the fort trying to like get things situated for the next day and take back the like losses that her team has suffered and ah the other team finds her and chases her down the mountain and then she like wanders into the road and almost gets hit by a truck. Um, but she doesn't… she survives, but the fact that all these children are just allowed to like literally.
52:05.70
Geoffrey
Just, eep
52:21.12
juliarios
Chase each other into traffic at night is not ah, not an ideal situation.
52:29.30
Geoffrey
Oh, and then there was like a a metadated moment because at one point when they meet in the church on Christmas Luc, um, proposes a truce for the day. Ah, and that is so 1914
52:40.26
juliarios
yes
52:45.92
juliarios
Ah, well Luc is clearly stuck in 1914 with his grandfather's hunting horn and his war tactics I'd say the other candidate for dated moment is the point where we have the comedy bit with the 2 twins answering the phone because.
53:02.55
Geoffrey
Wass that laurel and hardy?
53:05.75
juliarios
Because there is one landline and it's outside their two rooms and they each like go out to answer the one telephone. That's a very 1980s sort of a thing and not. You know they don't even have their own phones in their rooms. They have one line for the house and it's outside their rooms.
53:25.65
Geoffrey
And then there's one thing that I I didn't mention earlier and I don't really know… it doesn't fit in any category. But I think there's something we should point out: the plan was for this war to go on the full two weeks of vacation…
53:37.50
juliarios
Yeah.
53:43.18
Geoffrey
and the hours of operation of this war were going to be dawn to dusk, and so much of it is just them sort of hanging out in the fort doing chores waiting to get attacked. Oh what a terrible way to spend… I mean.
53:51.10
juliarios
Um, yep.
53:58.54
juliarios
I Guess like they do make it look kind of fun because like they've built a fort and they're hanging out in the castle and they made like a hot chocolate station there so they can have hot chocolate while they're there. So I guess that's kind of fun.
54:12.37
Geoffrey
I Guess I guess that's that's um, my ah sort of a most dated moment is no one has any other form of entertainment that draws them away from it.
54:22.57
juliarios
Right? Well and like I said it's There's like even conversations with the parents where it's like pretty clear that they're not really supposed to be in their houses during the day like the parents have clearly been like you all go outside with the dog. Um, and so.
54:32.56
Geoffrey
Mmhmm.
54:42.34
juliarios
If you're going to have to be outside I guess you can be hanging out with your friends in a snow fort and drinking hot chocolate and playing with a walkie-talkie. So okay, ah finally the most important question. Geoffrey, would you show this to a child?
55:00.64
Geoffrey
Oh hell no.
55:03.94
juliarios
Ah, yeah, that's a no from me. I would not even show it to an adult. I don't recommend anyone watch this movie. if this was your favorite, though, Please tell us! we'd love to hear all about that.
55:09.62
Geoffrey
God I mean you've got at least a 70... Yeah, um, you know, sorry for sorry for saying fuck your favorite movie. But your favorite movie sucks I'm sorry.
55:22.65
juliarios
It but I'd love to hear why if it was your favorite like if you enjoyed this film, Why did you love it?
55:30.25
Geoffrey
Can you imagine showing this to a kid. You've got like an 80% chance of spending the next 2 or 3 days listening to a child cry about a dead dog.
55:37.60
juliarios
Yeah I don't know man. Oh.
55:42.90
Geoffrey
Why? and this was made by adults! Why would adults do this to themselves? It's like hey Canadians show this to your kids is was this like a prank that the movie makers played on every parent.
55:47.62
juliarios
I don't know, and it was celebrated, like people love it. So I don't know I don't.
55:59.75
juliarios
I don't know I will say I was at my sister's house on Christmas day and her her sister in law was there and her sister in law said that she had listened to the episode that my sister was on with a buttercream gang and that she was enjoying the podcast and I was like oh yeah, she's like. Yeah, like there's a lot of weird movies from child like there was this one. The peanut butter solution I was like oh yeah, we did an episode on that one. She's like yeah like a kid. He's like puts it to grow pubic hair and I was like yep, that's a whole that's a whole thing.
56:33.20
Geoffrey
You remember correctly, First of all, you didn't dream it. The peanut butter solution is a real movie. second of all, yep, kid tried to grow pubes succeeded horribly.
56:44.54
juliarios
And succeeded but all too well... succeeded all too well the 10 minute version, the extended, the extended Taylor's remix Ah, with a short film. Ok so ah yeah I think that does it for this one I think ah we will catch you next time.
57:13.41
Geoffrey
I Think so.
57:25.69
juliarios
sounds good, Geoffrey. all right see all later.
Interesting. Will we actually get to the end maybe whoa What it's happening.
57:37.37
Geoffrey
Yeah, oh no.
57:43.57
juliarios
Why is it so slow?
57:46.47
Geoffrey
I don't know but we got to keep this part in.
57:48.81
juliarios
Um, okay, ah like what can… I didn't make it… oh I don't know why is this happening. Why is it so slow. It wasn't slow previously I don't know man. I tried to make the outro work and ah it's it's on super slow speed. I don't know what's up with that. Maybe we just don't really get an outro for this episode... anyway, this is why we're like this is a podcast brought to you by Julia Rios and Geoffrey Pelton. you can find us online at this is why underscore pod on Twitter or on. Ah this is why we're like this dot substack.com and ah our intro music is made by mom plaisir. You can find them on band camp, all right? ah.
58:38.83
Geoffrey
And our outro music is made by moooooooooooonnnnnnn plaaaaaaaaaaiiiiissssiiiiiiirrrrr.
58:42.73
juliarios
our outro was brought to you by slooooooow people... all right? Well we'll catch you later.