Worlds of Possibility
Introducing the October 2022 Issue of Worlds of Possibility
The note from the editor included in the ebook version of the issue, introducing the October 2022 contents of Worlds of Possibility.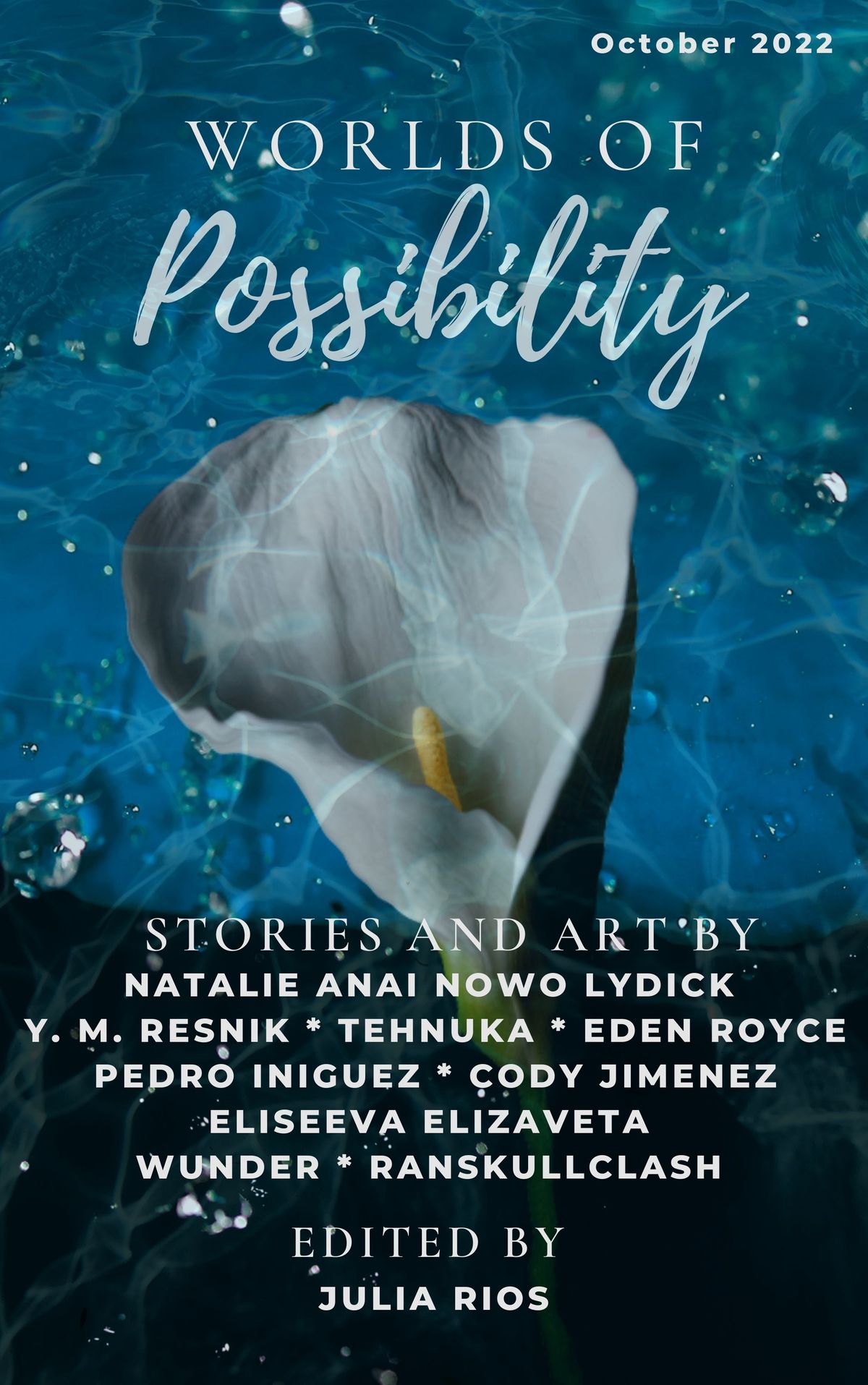 The October 2022 issue of Worlds of possibility is now available for subscribers! If you would like to get a copy, you can subscribe at any time on juliarios.com and visit the October issue page to download it in ebook and PDF formats.
Subscribers may also download the August issue.
The October 2022 issue contains five original fantasy stories and three original illustrations as well as a reprint of an artwork by our featured artist, Cody Jimenez. Below is the editor's note I included in this issue.
---
Welcome to the October 2022 issue of Worlds of Possibility. The ebook version is only available to paid subscribers, but all the contents inside will be released free to the public on https://www.juliarios.com/ and on the OMG Julia Podcast. If you enjoy what I do with this project, please tell others. Subscriptions make it possible for me to continue paying creators for new work. For those who can't afford to pay for a subscription, subscribing for free to the OMG Julia Podcast also helps!
The featured artist for this issue is Cody Jimenez. I met Cody in 2018 when we are both part of the Mexicanx Initiative, a group organized by the artist John Picacio, which brought creators with Mexicanx heritage to the World Science Fiction Convention in San Jose, California. From the first moment I was introduced to Cody's art, I loved his bright colors and sense of wonder. Cody has allowed me to reprint his painting, Upper Hand, in this issue, and I also had a conversation with him about his artistic process.
I'm also including a story set in Mexico by another Mexicanx creator in this issue. Pedro Iniguez is a writer I had the honor of sharing a table of contents with in the anthology Speculative Fiction for Dreamers. That anthology, published by The Ohio State university Press, contains stories, poems and comics by something like 40 creators with Latinx heritage. I loved Pedro's story in that anthology, and so I was thrilled when he submitted this one to my open call in April. "Magic Lucha" is a story about healing, magic, and lucha libre! I hope you'll love it as much as I do.
"The Chavrusa" by Y. M. Resnik is another story with deep cultural roots, but not Mexicanx ones. This story is about the struggles a smart and studious queer teen girl faces growing up in an Orthodox Jewish community. How can a girl get to college if the school won't provide her transcripts? The answer may lie in choosing just the right study partner… This story has an accompanying illustration by Ranskullclash.
In "After 10pm" by Natalie Anai Nowo Lydick, two siblings are making their way in the world outside the Rez for the first time, and it's full of colonialist nonsense and arbitrary rules. Who cares if they go for a swim after the posted pool hours? And does it really matter if the gate stays closed?
Like all the other stories in this issue, "Elephant Doctor" by Tehnuka is a story that involves things working out in a somewhat unexpected but actually kind of wonderful way. Honestly, I wish I could have Dr Gajan as my doctor! This story has an accompanying illustration by Eliseeva Elizaveta.
Our final story for this issue is "3am Eternal" by Eden Royce. I've been a fan of Eden's work for years, even before her amazing novel, Root Magic, scooped up multiple awards including the Ignyte Award for best middle grade novel. I was delighted when she agreed to write me something for this project, and even more delighted when I read Mik's story. This story has an accompanying illustration by wunder.